LETTER | All eyes were on the Pakatan Harapan convention last Sunday – not entirely due to the opportunity to witness all opposition leaders sitting alongside former prime minister Dr Mahathir Mohamad, but more on the long-awaited decision to name Harapan's prime minister candidate (referred from now on as 'the decision'). And it did not disappoint one bit – for all the wrong reasons, that is.
After a reported 11th-hour meeting between Harapan leaders the night before, it was finally decided that Mahathir will be Harapan's PM candidate with PKR president Wan Azizah Wan Ismail as the deputy PM candidate. Can you hear me sighing in disbelief and shrugging at the irony of it all?
It was further reported on the day of the convention that a scuffle broke out between Amanah delegates and PKR members who dubbed themselves as "Reformis 98" – as the latter were unhappy with the decision. Not only that, Wanita PKR chief and Ampang MP Zuraida Kamaruddin (photo) also expressed her disappointment over the decision, arguing that Mahathir should only hold a senior minister position if Harapan wanted to win GE14.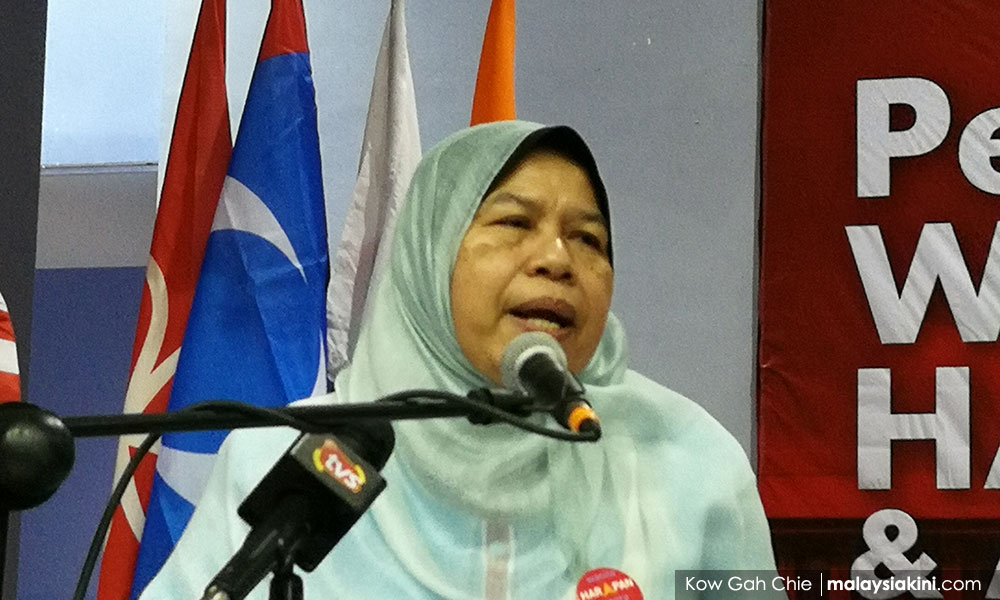 Maybe Zuraida should remember that Mahathir never settles for anything less than the top – just look at his journey in seizing and holding his PM seat for 22 years. That record speaks for itself.
It seems pretty clear now that Harapan still has a lot of work to do to convince most of their members regarding the decision. And you can't blame them – imagine coming together under one banner and supporting the cause of a jailed prominent politician – only to be asked to succumb to the man that put him in jail in the first place and hand-picked the party's opponent. As a prominent blogger puts it, this is "like Israel appointing Hitler as its new Prime Minister".
Sangeet Kaur Deo, daughter of the late Karpal Singh, also voiced out her disagreement with the decision, warning "this will introduce the rebirth of Mahathirism" – a well-known leadership style for all the wrong reasons. If the late Karpal Singh was still alive, you'd expect him to strongly disagree with the move to alleviate the very man that he used to lock horns with - frequently. But as the saying goes, "let bygones be bygones"; I can only guess that the decision was made with that saying in mind.
Looking at the bright side
But with the current political scenario as it is, the decision does make sense – so let's start by looking at the positives. First of all, common sense tells us that in order to win a general election in Malaysia, any political bloc must garner more than half of the Malay votes.
We can guess that by naming Mahathir as their PM candidate, Harapan will gain a very well-known Malay figure who will be able to penetrate into the rural areas which are BN's strongholds that Harapan has not been able to influence after kicking PAS out. These BN-Malay strongholds will play a key part in GE14 and it will be interesting to see if the much-predicted "Malay tsunami" would occur. More specifically, all eyes will be on Kedah and Johor – the two predominantly Malay states that Mahathir and Bersatu will go all out on.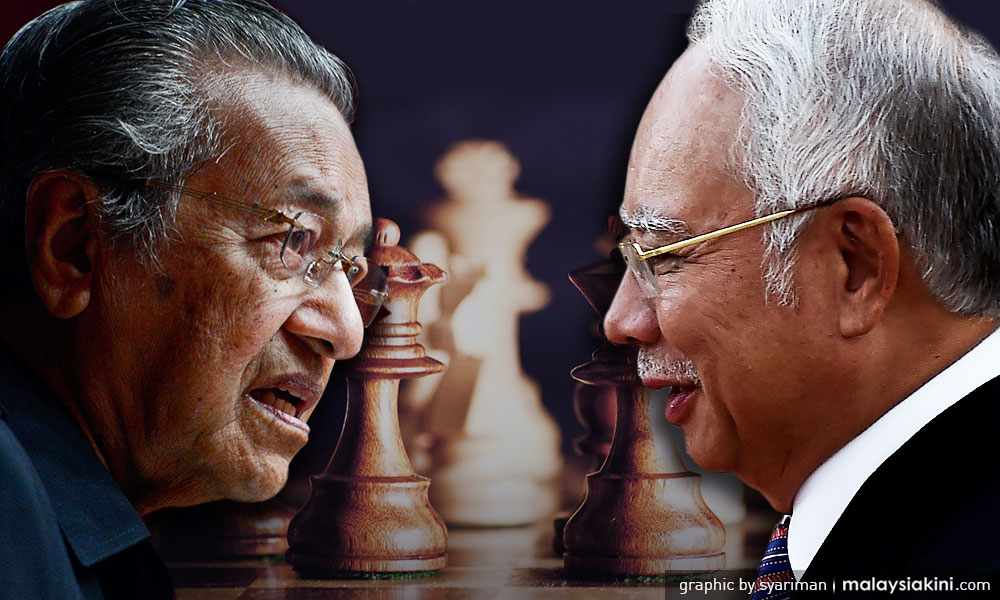 By putting Mahathir at the helm of Harapan, the GE14 scenario and battlefield will shift entirely around Mahathir Mohamad vs Najib Razak and not DAP-led Harapan vs Umno-led BN as some analysts have put it. Kudos to Harapan; from a political strategy, this makes a lot of sense.
One, Malaysians are very much in debt to Mahathir for bringing up Malaysia to what it is now – the underhanded strategies used during his tenure aside, no one can take away what he has done for Malaysia. Two, if the scenario revolves around DAP-led Harapan vs Umno-led BN – it will scare away most of the Malay voters and ultimately shutdown Harapan's chances.
GE14 will be an interesting one to dissect – will 'the decision' lead to a backlash, destroy Harapan's hope of winning and send them back to rebuilding mode, or will it help them succeed in Malaysia's "first past the post" system.
A spit in the face
Personally, I am disappointed. 'The decision' clearly shows the length (and desperation) that the opposition bloc would go to finally win a GE. For starters, the question of morality and consciousness are thrown out of the window the second Mahathir put his foot on the other side of the divide.
I understand if Harapan did this to ensure its political survivability past GE14, but they have to also understand that this is a spit in the face of all the rakyat. The rakyat, after the jailing of Anwar Ibrahim at the turn of the century – have been taught to disapprove and go against the ruling government but yet here we are back at square one.
We deserve a strong opposition bloc to serve as a check and balance to the ruling government – not one that chases every opportunity at hand with very minimal morality at play. We deserve an opposition bloc with a strong mandate to compete against the ruling government – not one that cherry-picks sensational issues due to its nature. And last but not least, we deserve a PM candidate who is thoroughly relevant – not an old man with vengeance on his mind.
What about the youth voice?
On that note, another question comes to mind – aside from Anwar, is there no other credible or suitable candidate for PM? For all the talk of empowering the youth, introducing new reforms and looking towards the future – most are still looking at a 92-year-old man for leadership. Don't get me wrong, Mahathir is still as sharp and smart as he was during his golden days – but scrolling through social media comments on an iPad will not suffice, if you catch my drift.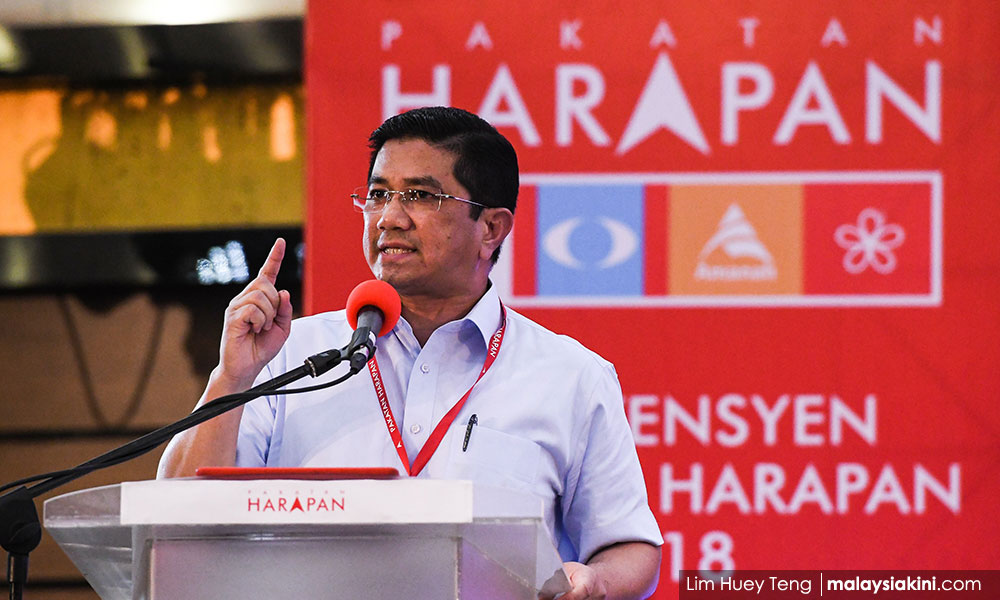 Here's a suggestion – what about Azmin Ali (photo) as the PM candidate and Nurul Izzah as the DPM candidate? Both are young (so to speak), have shown great leadership skills and are very much able to attract voters.
Both Azmin and Nurul Izzah have never lost any seat that they contested. The former is doing a good job in propelling Selangor into becoming one of the best performing states in Malaysia. The latter has held off both Shahrizat Abdul Jalil and Raja Nong Chik in Lembah Pantai – a feat which initially seemed impossible due to the popularity and seniority of both of the contenders.
With these candidates, Harapan will be offering something that the ruling government is not ready to offer – a young, vibrant and new look to the country's leadership. With the outcome of GE14 to be determined by a huge number of first-time voters and youth voters, these candidates only make more sense. While other developed democratic countries are already embracing youth political participation, our beloved nation is still pretty much stagnant in this aspect.
That brings us to the closing argument – what will 'the decision' mean to the youth of our nation? When will our call for a change in the nation's leadership be heard by both sides of the political divide? When will we move towards more matured politics? Decisions like this have forced the youth away from politics – we are living in a modern era with technology at our fingertips, then why are we still looking at the past for leadership?
If this norm of nominating and even electing "old-timers" to represent our government continues, it is as if the country is taking 20 steps back and not 20 steps forward as it should be.
This nation is a lively and colourful one – let's not put it to waste.
---
The views expressed here are those of the author/contributor and do not necessarily represent the views of Malaysiakini.