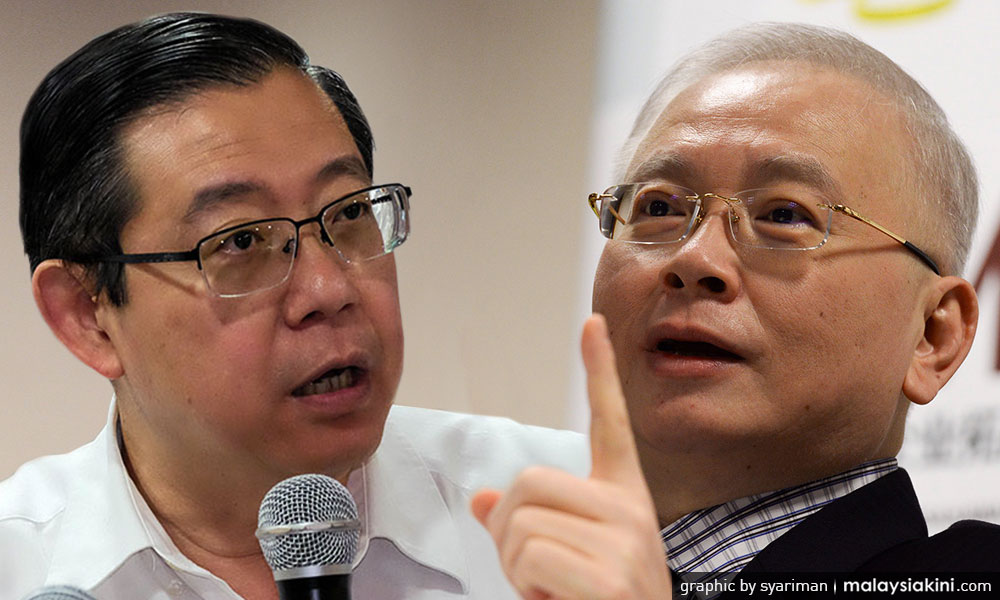 Pointless to rebut Wee until he comes clean on '10 lies'
LETTER | There is no point in rebutting fake news or new false allegations by BN leaders, like Minister in the Prime Minister's Department Wee Ka Siong on the three highways and tunnel project, when Wee refuses to fully account and come clean for his previous 10 lies against the Penang state government, but is going all out to sabotage this project to alleviate traffic congestion.
Can BN leaders and Wee prove their lies that:
There was corruption and kickbacks involving millions of ringgit to state government leaders;

There was no sabotage of this project by BN leaders or Wee as well as no abuse of power by Liow Tiong Lai in "abusing his office for political gain" in getting information from the China Railway Construction Corporation (CRCC);

I said that CRCC was a shareholder of Consortium Zenith Sdn Bhd;

Ignored that I said that CRCC is the main contractor and insinuates that a fashion company is involved in building the three roads and undersea tunnel project;

Alleges state government leaders' role in awarding the contract to Zenith when the Penang state secretary heads the Penang State Tender Board comprising senior government officials, while refusing to answer why there has been no investigation by MACC on the RM55 billion East Coast Rail Line (ECRL) that was awarded without open tender;

Trying to drag the Penang state secretary into the political arena by alleging that the paid-up capital of Zenith, when they were awarded by open tender, did not fulfil the minimal RM381 million;

The agreement was not stamped, especially the legal commitments, by the main contractor;

The additional letter of commitment by the main contractor to ensure the completion of the project was not legally binding because it was only an appendix to the main agreement;

Implied that CRCC is the sole consultant; and

Claiming that payment was made to the contractor for the undersea tunnel.
The state government has been very open and transparent in answering the intensive public scrutiny in the BN media on the three roads and tunnel project, unlike the BN government's silence on the 1MDB scandal or ECRL project.
Wee is playing dirty. Wee is misusing BN's control over the news and TV media, by refusing to come clean on the above ten lies against the state government. I will no longer play Wee's dirty game of serially hopping to a new lie to cover up the old lie.
I am shocked that Wee is privy to information from the main contractor for this project, CRCC, that even the state government is not aware of. Wee even claims to have knowledge of how much or how little CRCC was paid by Zenith, raising questions on the source of his information.
Again, MCA leaders like Transport Minister Liow Tiong Lai and Wee are acting as if they are a spokesperson for CRCC and forgetting their role as a Malaysian minister. This validates two of our contentions.
Firstly, where is the corruption involving kickbacks of millions of ringgit to state government politicians leaders, when MCA leaders are now reduced to squabbling over whether CRCC is a contractor or a shareholder of this project, or how much or little CRCC was paid by Zenith?
This is best answered by Zenith. Can Wee prove corruption or explain what the MACC is investigating when this project was awarded by open competitive tender?
Secondly, this substantiates suspicions that Liow is abusing his powers to pressure CRCC to reveal information, even though Liow is not a party to the contract involving the Penang state government, Zenith Consortium and CRCC. Liow has no right to talk to CRCC but it appears that CRCC can establish contact with MCA leaders, but not with the state government.
The situation with CRCC is almost the same with Consortium Zenith key leaders, particularly those detained by MACC.
Zenith is not communicating publicly as before. After all, it is understandable that those involved in building roads and an undersea tunnel have never expected that doing so could lead them to being detained in a lock-up. Clearly Zenith has been intimidated with their detention by MACC.
Should CRCC withdraw from the project as the main contractor, then we know who sabotaged it. Again, the Penang stage government reserves our legal rights in court to ensure compliance by the contractor with the principal agreement.
What has the people of Penang to gain from this sabotage by BN and MCA which will only worsen traffic congestion? BN had failed to provide a solution when they were in power, and now they want to destroy a possible solution initiated by the state government.
---
LIM GUAN ENG is chief minister of Penang.
The views expressed here are those of the author/contributor and do not necessarily represent the views of Malaysiakini.