LETTER | The Joint Action Group for Gender Equality (JAG) denounces in the strongest terms all forms of harassment and violence against the participants of the Women's March 2018, whether perpetrated virtually or physically.
We call for the government, policy makers and law enforcers to ensure proper investigation against the harassers and to decry these acts of bullying and abuses.
The Women's March on 10 March, was a collective effort by women's rights advocates, organisations and coalitions, organised in conjunction with International Women's Day.
The march had five demands. They are to: eliminate gender-based discrimination; eradicate rape culture and sexual-based violence; strengthen women's political participation and democratic rights; eradicate environmental degradation, and; ensure equal opportunities and wages.
Hundreds of spirited Malaysians, predominantly women, marched on the street with placards championing an array of issues, including, among others,: migrant and domestic workers' rights; against domestic violence; against sexual and gender based violence; for women's leadership; indigenous women's rights; LGBTIQ rights; for women's bodily autonomy; against biased trade agreements; for greater women's political participation and many, many more.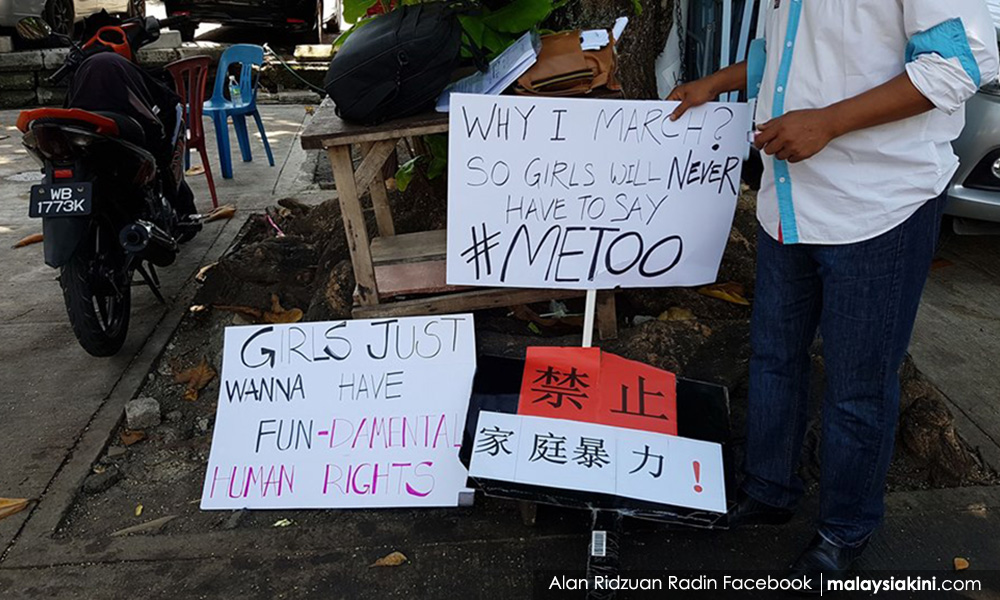 It is extremely disturbing and utterly unacceptable that participants of a peaceful and inclusive march calling for gender equality and non-discrimination are attacked and harassed, both online and on the ground.
Volunteers and staff of Women's Aid Organisation (WAO) were seen harassed and intimidated by four men, who identified themselves as 'pro-government NGOs' in front of Dang Wangi police station.
Two of them are identified as Baha Taha and Alan Ridzuan (Ridzuan Radin Tiger Alan), and their own video recording of how they chased and threatened the participants from WAO was uploaded to their Facebook account and shared through their Facebook posts.
Their arrogance clearly indicated that they expect that they and their acts of intimidation to be protected by the government.
We also continue to see the reoccurrence of online harassment and violence against participants.
This year, toxicity and violence showed its face again on social media and participants of the march were belittled, ridiculed, sexualised, harassed, name-called and body-shamed. In some posts, extremist, rape, hate and violent comments and threats were made.
The LGBTIQ people were specifically targeted. Some of the worst allegations was the disbelief that women are paid lower than men, and a number made fun about the demand to eradicate Malaysia's rape culture and sexual-based violence.
Historically and globally, on International Women's Day, women have come together with the marginalised and with men who are unafraid of gender equality for events, strikes, and marches to celebrate our struggles and collective power in making changes in different ways, to advocate for gender equality and women's rights.
It could not be emphasised enough that participation in the Women's March is legal, legitimate and an inherent human rights to all.
It is important to note that while these attacks are heightened and reactionary towards #WomensMarchMY, they are, however, not new. They are part of an on-going and everyday occurrence faced by women, LGBTIQ individuals, and those who advocate for gender equality.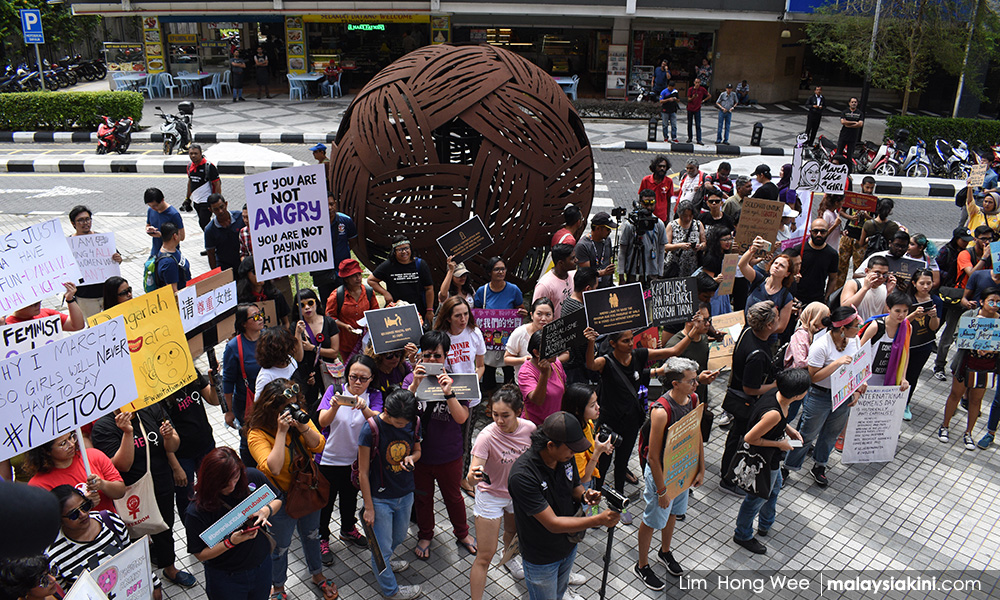 The increased visibility of the 2018's Women's March and a higher number of participants, as compared to a smaller turnout last year, have also brought about a more severe attack. It goes to show that how much time, effort and energy some individuals are willing to put in to punish and silence women who dare to be speak out or claim their public space, whether it is on the street or on social media.
The internet has made it easier for us to connect, engage and critique. The feminists and women's rights activists do not expect zero debate and exchange. In fact, robust discussions on women's rights and feminism are highly welcomed and encouraged.
Unfortunately, many of those who disagree with the Women's March resort to uninformed, personal, highly emotional and destructive comments, threats and speeches. The harassment and violence in response to #WomensMarchMY only show how toxic the environment is, and the challenges faced by women and minorities in asserting their rights to public and political participation, freedom of expression and freedom of assembly.
The time for silence is long over. If we want to build a developed nation where people of all genders have equal access to opportunities and resources, those in power need to act against the harassers and those who perpetuate hate speech and incite violence.
JAG urges the government, law and policy makers and law enforcers to speak up against such hostile actions and violence against Women's March. We call for all Malaysians to resist normalisation of such sexual and gender-based harassment and violence, not only towards the participants of the Women's March, but to women, LGBTIQ individuals and all in our everyday lives.
We stand in solidarity with everyone who participated in #WomensMarchMY. Many men who are unafraid of gender equality joined us on the 10th. We ask you to stand in solidarity too.
What you can do
Tag your Members of Parliament on social media and urge them to denounce such hostile actions and violence against participants of the Women's March.
Flourish your social media, Twitter especially, with positive messages about the Women's March or work done by local feminists and women's rights groups using #WomensMarchMY and #WanitaBangkit
Join WAO's social media campaign #BangApaHal?! to highlight the absurdity of these persistent attacks against women and men who speak out against gender inequality and patriarchal norms and values.
Support and endorse the Women's Manifesto here. The Women's Manifesto is a document of women's demands in Malaysia. There are 10 themes in the manifesto, and of relevance here is the demand for the elimination of sexual and gender-based violence and harassment.
Endorsed by the Joint Action Group for Gender Equality (JAG):
Persatuan Kesedaran Komuniti Selangor (Empower)
All Women's Action Society (Awam)
Association of Women Lawyers (AWL)
Justice for Sisters
Perak Women for Women (PWW)
Persatuan Sahabat Wanita, Selangor
Sabah Women's Action Resource Group (Sawo)
Sisters in Islam (SIS)
Tenaganita
Women's Aid Organisation (WAO)
Women Centre for Change (WCC)
---
The views expressed here are those of the author/contributor and do not necessarily represent the views of Malaysiakini.