LETTER | No need to search for this word 'reveiling'. There's no such word.
I just made that up, pun intended, just as I have only very recently learned that a new word has come into term: Dehijabing.
What does it mean exactly? Simply, it means making the decision to take off the hijab.
As a person who personally takes her hijab seriously and have it on proudly by choice, I am far from feeling insulted. I knew the reasons for my decision and I am assured by my values.
Differences do not mean contention.
Rather, I am highly intrigued by this idea and therefore, seek to understand on this matter further. I am also working to get my hands on the book to analyse through my own reading, and not merely the cover.
According to Maryam Lee, the author of Unveiling Choice: "What people need to understand is that the hijab can be both liberating and oppressive, depending on the situation and context. The problem is not the hijab per se, but the social conditions that compel a woman into or out of her hijab."
Dearest Maryam,
I agree with your statement. I agree with your freedom to speak. I agree with your point of view, which is personal to you.
You have such a beautiful name that depicts virtue, piety, honour and devotion.
Herewith, I wish to share the beauty of veiling up and the values I unveiled when I decided to get into my hijab.
From your statement, two words struck a chord with me: Oppressive & Compel.
This is highly unfortunate as no woman should ever feel compelled into making a decision and fall oppressed by that decision.
Speaking of decisions - and before any of you read further - I am going to draw a line that we are all going to agree on: Donning the hijab only applies to Muslim women as part of faith and devotion.
Continuing this discussion: Admittedly, over time, wearing 'tudung' has become part of the Malay culture.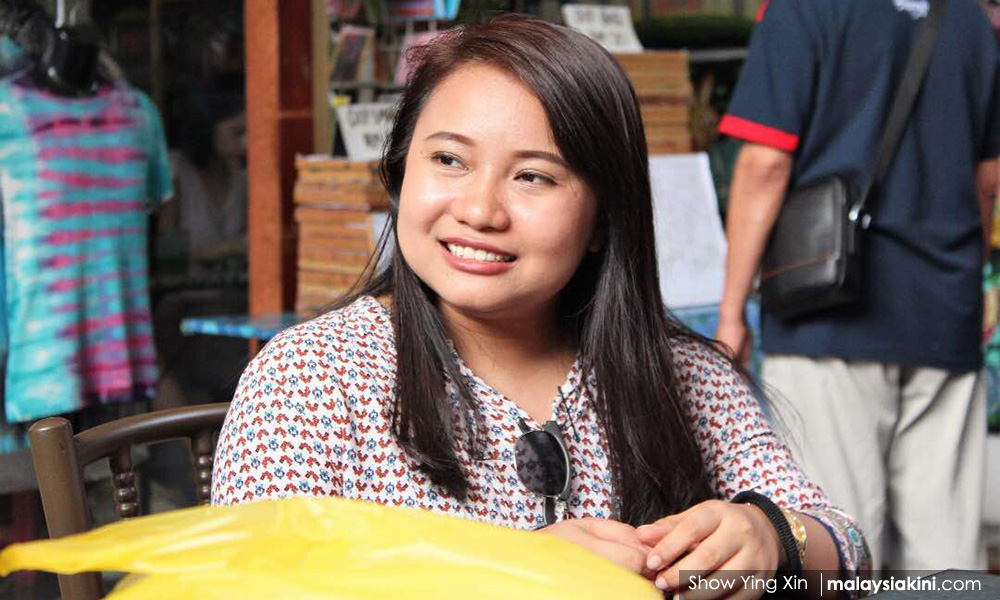 So, when Maryam Lee (photo) pointed out that Malay girls who decided to not put on the hijab or later decided to take it off are oppressed and feel compelled into making certain decisions, I feel enraged!
Enraged by the fact that, as members of the society, we allowed this to happen.
Let's be clear.
We need to admit that there is a dichotomy between the beautifully written guidance of Islam and the practice of Islam in this country.
As I seek to uncover the talks and walks of Maryam Lee and those alike, I am going to share my take on getting covered.
I am hesitant to use the word hijabis or non-hijabis. It is, to a certain extent, disturbing.
It feels so distant!
If we all belong to the same faith, why do we let a piece of cloth stand in between and divide ourselves, based on a decision so personal?
On that reason, I feel responsible and sorry for those Muslim women out there, especially those in this beautiful country of ours, who are compelled to put the hijab on!
That should never be the case.
I, like most Muslim women who have decided to put on the hijab, totally understand what it feels like to be without one.
Because we weren't exactly born with hijab on! In fact, we were born stark naked! Putting on the hijab was a conscious decision.
That conscience comes down to understanding the beauty and purpose
of putting on the hijab itself.
We all have our own journey and this is mine.
I see hijab as part of my
1. Self-care:
At 13, I went to a residential secondary institution where it was compulsory for the female students to wear hijab. As a stubborn teenager, I obliged within the compound but did not see the purpose. As soon as I was out of the gate, I pulled off my hijab there and then. Yup, true story.
I made the decision to put on the hijab at 15, after I realised I actually liked the way I look.
I was at the stage of self-acceptance. I discovered that I love the way I am and felt beautiful.
I realised I am precious and like all precious beings, I should be well-guarded.
From that day on, I decided to cover myself properly and have never discounted my coverage ever since.
2. Protection:
Once I read about how damaging the UVA and UVB rays are to our hair, I was like, whoaaa, He is indeed the Wisest! Isn't it cool that the hijab is also purposeful in that sense?
On a deeper reflection, putting the hijab on has protected me from succumbing to external validation. Nothing feels more content than being comfortable in our own skin.
It protects my modesty, not only physically. Above that, it protects my values by being a reminder that I am made of virtue and precious, therefore I should act in accordance with my moral ethics.
My hijab is the measure of my self-respect.
3. Devotion:
At the beginning of this article I have laid down that hijab only applies to Muslim women and by that, I meant those who Believe.
Speaking of Belief, if we call ourselves Muslims, there should rightfully be only one Truth as guidance.
Okay, I am walking on thin ice here.
I am not going to make it about me, you, us or them. We are not here to push one another into certain quarters.
We are here to pull one another closer into understanding one another's perspective, looking at a bigger purpose.
As much as I agree there is no compulsion in religion, I also need us to be aware that there are consequences to every choice made.
As women and human beings in general, we have the liberty of making choices.
But as Believers as we claim to be, every choice we make must always be in line with the one Truth.
Therefore, every act we choose upon must also be done with the intention to comply with the requirement of the Syariah, which is the only Way of Life we Believers should work towards, only if we truly believe as we claimed.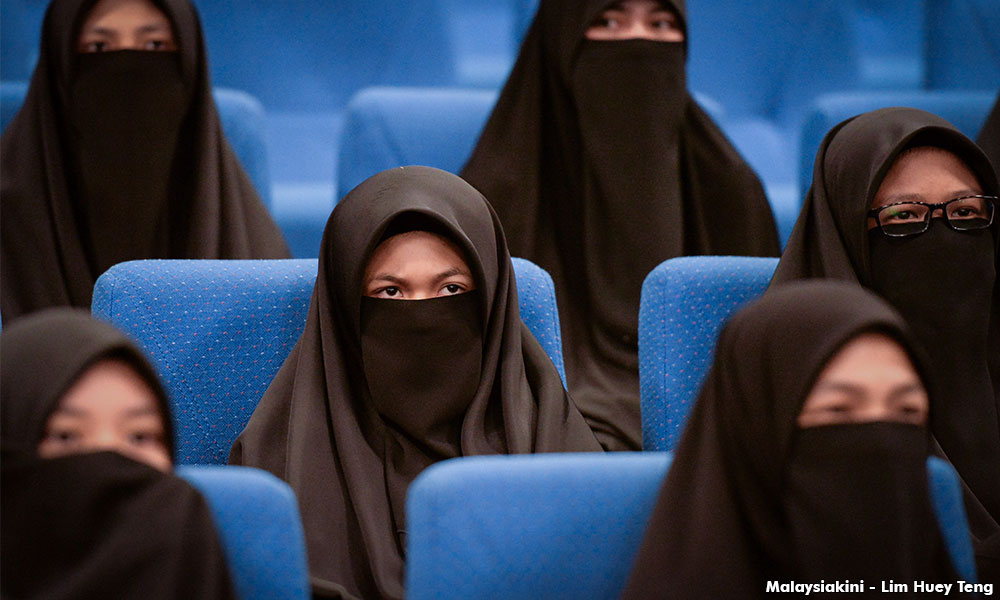 Muslim women today are evidently very much empowered through education and liberation of thoughts.
However, the highest form of liberation is not self-actualization which is attainable by logic.
The truest sense of liberation is God-realization which is only comprehensible with clarity of the heart.
No matter how knowledgeable we think we are, our understanding of the world will never beat the foreknowledge of the Almighty and in that we should truly believe.
That belief will inevitably lead us to the appreciation of the Syariah, which never seeks to burden, but rather aims to protect.
The effectiveness of the implentation meddled by human hands, however, is another crisis that befalls upon us. It is therefore our mutual responsibility to improve on towards that line of truth, instead of giving up on the entire structure just because of a few workable downsides.
Every ruling, provision, encouragement and prohibtion under the Syariah comes with the ultimate Objectives to protect five areas of necessities for mankind to live peacefully, which are life, religion, lineage, intellect and wealth.
These five areas themselves are fundamental areas of human rights.
I respect freedom of choice.
I respect freedom of speech.
I respect freedom of religion.
But for those who have chosen this religion, Islam, we must first and foremost respect the Wisdom of Al-Hakeem, Al-Majeed, Al-Baari'.
I am not giving up on you. Please don't give up on hijab.
The views expressed here are those of the author/contributor and do not necessarily represent the views of Malaysiakini.