LETTER | The Orang Asli, who are natives of Malaysia, have been treated like most Indigenous people worldwide – savagely. They have gone through raids, had their settlements sacked, been systematically executed, held captive, and sold into slavery.
Still today, their economic situation and social status are yet to recover from the many years of continued abuse thrown on them.
However, their latest bout of suffering is somewhat different from the past cruelties which they have endured. In a twisted and unfair series of events, their current pain comes not from the cruel hands of people, but the hands of a mysterious and threatening illness.
Reports of the deadly disease sweeping the Orang Asli community in Kampung Kuala Koh started a few weeks ago, and as time passes, it is becoming clear that the threat is real and that this "mystery illness" has the potential to wipe out an entire population.
The number of those infected in this Bateq tribe has crept up to 112. In a community of fewer than 300, this is disastrous and does not leave a single person unaffected. One woman, 50-year-old Som Yai, has had to watch both her husband and her two children suffer an awful death before her eyes.
"I am so heartbroken. I think of the suffering they (husband and children) went through… I felt so helpless and just could not do anything anymore. They were just lying there in pain and could not even eat or drink anything," said a distraught Som (photo).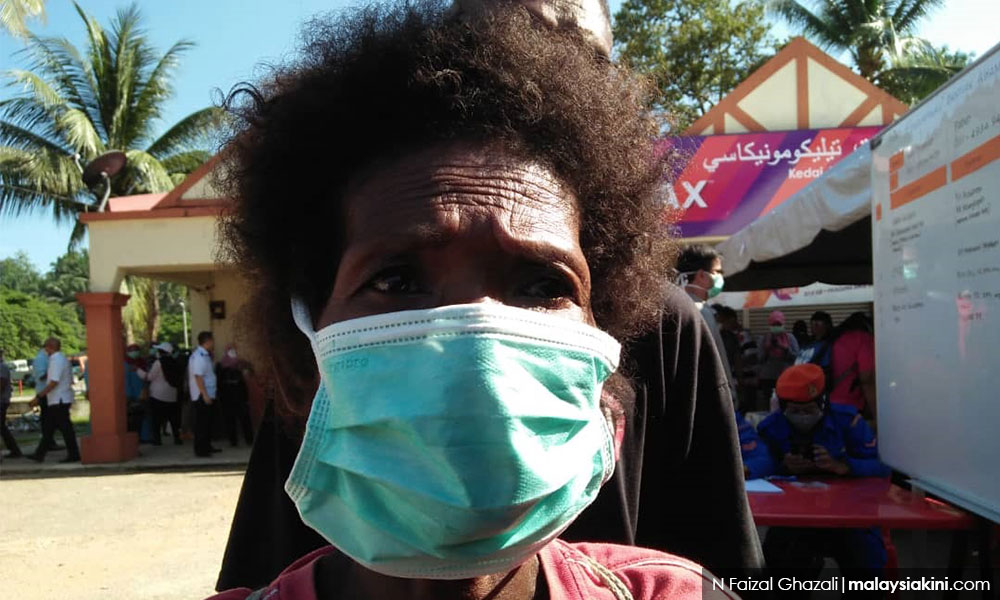 It seems like a cruel twist of fate that a group of people who have gone through more than their fair share of suffering have fallen victim to this epidemic.
For once, the threat against the Orang Asli people is not man-made. However, it is only man that can help through mobilising and utilising the best medical capabilities that the country has to offer – the Malaysian government and all those with the power to assist owe the Orang Asli as much.
However, based on the past treatment towards the Natives by both the prime minister and his government, it is not help but indifference that is expected.
Having long lost hope in the promises of both the past Barisan Nasional government and the present Pakatan Harapan government, the Orang Asli people are not holding their breath for major assistance.
The leader of the Orang Asli people, Tijah Yok Chopil, made it clear when asked her opinion about the new government stating, "we can't afford to put all our harapan (hope) on the new government. We have had so many politicians make so many promises, but we have felt kecewa (let down), again and again".
"We may have new faces, but the same old problems," an Orang Asli friend pointed out, emphasising that their community continues to struggle for their daily existence. Despite government promises, their culture and livelihood remain under permanent threat by extensive development and destruction of their environment.
The new Prime Minister, Dr Mahathir Mohamad, has been vocal himself about his disregard of the indigenous Malays. His claims include stating that when the British entered they dealt only with the Malay government, (conveniently glossing over the forced fleeing of the Orang Asli once they were being sold in slavery by Malays), and pointing out that deferring to the Orang Asli would be like giving Native Americans, or Australian Aboriginals control of the United States or Australia.
With a prime minister that is known for his anti-indigenous remarks, a government that has already let them down, and a pressing health crisis that is threatening their very existence, the Orang Asli people are in dire need of support and moral courage of the people in Malaysia and the question remains: Who will take up the baton of responsibility?
---
NICOLE SHARMA is a student who has been delving into aboriginal studies for the past few years.
The views expressed here are those of the author/contributor and do not necessarily represent the views of Malaysiakini.