LETTER | Within the next two weeks - for the first time in our nation's history - there is a very good chance of some good news happening for Malaysians with disabilities (OKUs) all over our country.
This totally hinges on the Pakatan Harapan government, and its promise and commitment to people with disabilities - especially those who went out in their wheelchairs, crutches and white canes and voted for them.
We are expecting with bated breath for Budget 2020 to announce that the government has approved a permanent monthly allowance of RM500 to give all disabled persons in order to help meet our special needs.
According to the United Nations' statistics worldwide, persons with disabilities rank not only as the "largest minority group" but also as the "poorest among the poor in every society and country".
Assistance of RM500 direct to every disabled person will be a godsend to the disabled who have been struggling to live like everyone else.
This is what we told the Women, Family and Community Development Minister Dr Wan Azizah Wan Ismail (below) and her deputy Hannah Yeoh personally in a special budget consultation meeting in June, together with more than 200 other persons with handicaps and their caregivers.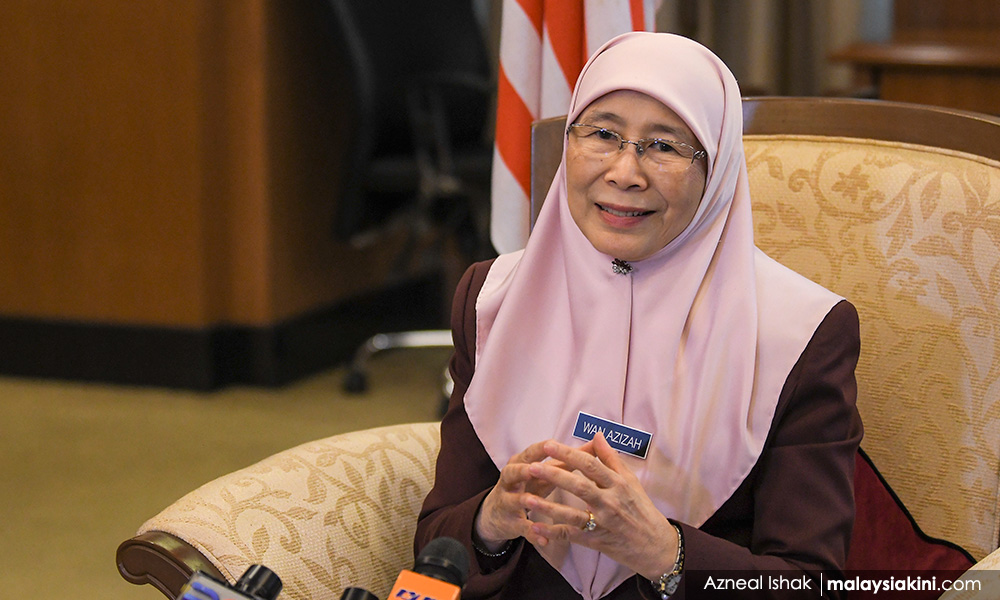 I recall that both of them listened to our proposal with pin-drop silence. With notebooks in their hands, they were all ears, smiles and open hearts - even nodding every now and then as we explained how the extra cash would go a long way to help us.
The best part is that such help would cut across and reach out to all categories of disabled persons.
These include the paraplegic to tetraplegics (persons paralysed from the neck down), the hearing and speech impaired, persons with learning disabilities, those with mental illnesses, and persons with multiple handicaps.
The government assistance will help us pay for a whole host of things from medication, disability aid, food, helpers, etc. Many don't realise that a handicapped person has extra and costly expenses as opposed to being able-bodied.
A single, normal size medical cushion to avoid potentially deadly pressure sores, for example, can cost RM2000 to RM3000 per piece.
Then, there are expensive medications which we are often told can only be purchased in private pharmacies outside a government hospital and so on.
The disabled community has been asking for such financial relief from the previous government for a long time.
However, it only fell on deaf ears. (And I am not referring to disabilities here).
That is why many of us voted for Harapan in the last elections.
We think a new government would finally understand us better and grant us our wish for better support.
What we are asking for is not charity, but justice.
We think this is the least that our "powers-that-be" can do for having not catered for our needs - which is our inalienable rights - when planning the nation's infrastructure from the beginning.
We feel all disabled persons should get financial help in addition to what some OKU might be getting right now from the Welfare Department.
This kind of financial aid will also motivate more parents to come forward to register their disabled children with the government.
So you can understand why so many among us in the disabled community are excited and hopeful over the upcoming Budget 2020.
An RM500 sum may not mean much to many, but for many disabled persons, it makes a whole lot of difference to their lives.
It will not only give us some much-needed financial aid but also more opportunities for a higher quality of life as well.
So, please remember the disabled people of Malaysia in your prayers.
---
ANTHONY THANASAYAN is president of the Malaysian Animal-Assisted Therapy for the Disabled and Elderly Association (Petpositive), a nationally registered non-profit society that uses animals to empower the lives of disabled and elderly persons.
The views expressed here are those of the author/contributor and do not necessarily represent the views of Malaysiakini.