LETTER | On Sept 22, 2020, the Court of Appeal upheld the acquittal of Ambika MA Shan, who was charged with the murder of Adelina Lisao, a domestic worker from Indonesia.
Responding to this news, Katrina Jorene Maliamauv, the executive director of Amnesty International Malaysia, said: "Adelina died two years ago, shortly after being rescued from her employer's home. Before Adelina, there was Mey Sichan, before her Isti Komariyah, before her Mautik Hani, and more names than we can state.
"Domestic workers are systematically subject to abuse at the hands of the families they work for, with little to no legal mechanism they can rely on for protection. Despite the abuse, despite their deaths, justice remains elusive for too many. This is a failure of our society, of our system, and one we should not accept."
Amnesty International's 2010 report "Trapped: The Exploitation of Migrant Workers in Malaysia", highlighted the structural and legal mechanisms that foster discrimination and exploitation of migrant and domestic workers in Malaysia.
The Employment Act 1955 currently classifies domestic workers as 'servants', exempting them from basic protections granted under the law for other workers. Domestic workers are not allotted proper leave or sick days, or fixed working hours, making them prone to exploitation and overwork.
"Many domestic workers in Malaysia are treated like modern-day slaves. They are vulnerable to physical and sexual abuse, deprived of proper working and living conditions and rest, and are sometimes not paid at all for months on end," Katrina said.
"The difficulty in detecting and addressing these cases is exacerbated as many domestic workers are confined to the homes of their employers. They are unable to leave and search for aid, especially when their passports are often held by employers, and the threat of arrest and detention is used to keep them in check."
Amnesty International Malaysia strongly urges the government to address the gaps in policies and practices that facilitate continued discrimination against domestic workers, including by amending the Employment Act to protect domestic workers and complying with international labour standards.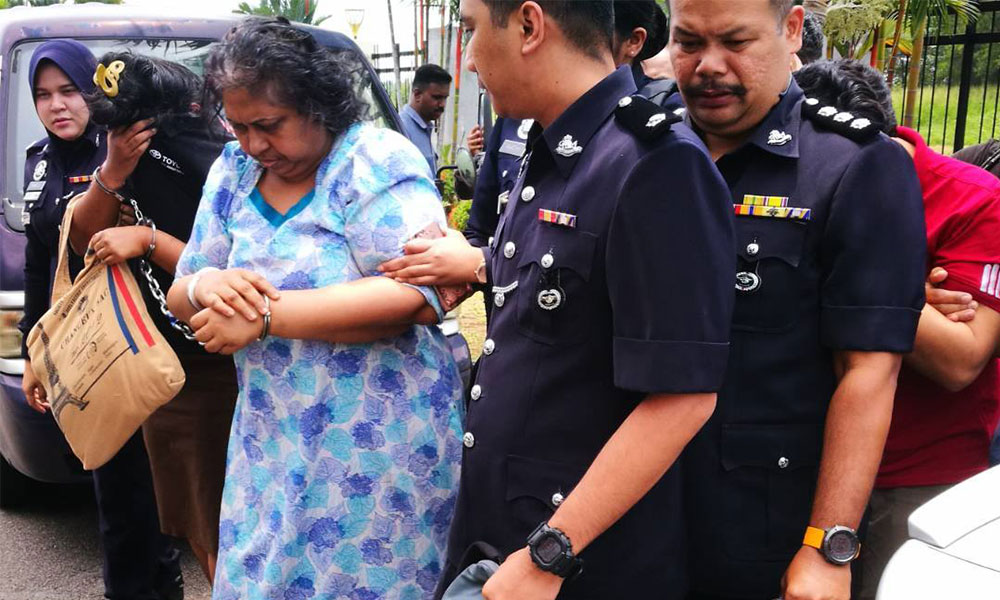 "The government must move with urgency to ensure justice for Adelina. In addition to strict penalties for employers found to have mistreated their domestic workers, the authorities need to ensure that workers are able to report abuses and seek help without fear of being arrested, detained, and deported.
"Civil society groups have highlighted the discrimination and violence endured by domestic workers for many years, yet there haven't been sufficient moves by the government to protect domestic workers. Inaction fosters injustice, and excuses violence," concluded Katrina.
Background
Ambika (above) was charged with murder for the death of her employee Adelina, who succumbed to multiple organ failure after suffering abuse at Ambika's home in Bukit Mertajam, Penang in 2018. Authorities had rescued Adelina and found severe injuries on her swollen face and head, with pus leaking from the infected burn marks on her arms and legs.
The High Court of Penang acquitted the accused in April 2019, and the Court of Appeal upheld the acquittal on Sept 22, 2020.
Civil society organisations including Amnesty International, Tenaganita and Suaram have for many years highlighted the abuses faced by domestic workers and the inadequate legal protections granted to them. In the wake of the Court of Appeal's decision, Tenaganita launched a petition to the attorney-general calling for Ambika to be charged under Section 304 of the Penal Code, which provides for cases of culpable homicide not amounting to murder or deaths due to negligence.
In October 2009, 36-year-old Indonesian domestic worker Mautik succumbed to serious physical injury allegedly caused by her employers. She was found bound at her arms and legs, locked in a bathroom with bruises all over her body, with a wound on her leg that was exposed to the bone. Her employers were subsequently arrested.
In June 2011, 26-year-old Indonesian domestic worker Isti was declared dead upon arrival at the hospital and weighed only 26kg. In 2012, 24-year-old Cambodian domestic worker, Mey, was found dead at her employer's shophouse in Penang. She had injuries on her body and also weighed only 26kg. The employers of Isti and of Mey were initially convicted of murder, but upon appeal, the Federal Court lessened both charges to culpable homicide not amounting to murder.
---
The views expressed here are those of the author/contributor and do not necessarily represent the views of Malaysiakini.