LETTER | The late Dr Anthony (Anthonysamy Savarinathan) who passed away last week (on May 29) was a household name for us the Good Shepherd Sisters, who resided in Hulu Kelang, Ampang and had the great privilege of meeting the doctor. 
Anthony Clinic was a few miles away from our convent and although busy with streams of patients, Dr Anthony would assure us that we could come over whenever we phoned to say we had somebody; a sister, staff or a resident in our centre who was needing to see the doctor. 
Never known to decline a single request, the doctor made time to see us even if it meant that he would have to go over time.
Every visit to Anthony Clinic was a warm experience for us as the doctor welcomed us and every patient new and regular, with a chirpy smile and eased our tensions with his infectious laughter. Most of us experienced Dr Anthony asking about our family or a mutual acquaintance, who, he seemed to remember quite well even after a long time. 
In no time, we realised that we were having a good chat and not feeling as sick as we had felt when we came into the clinic. An endearing comment made some years ago by a teenage girl in our Centre was, "when Dr Anthony gives me an injection, I don't feel any pain. Not like other clinics."
Sensitive and attuned to where people were and what was happening to them, Dr Anthony had the ability to assess the situation and quickly act on it. 
Once, on hearing that a few sisters in the convent falling sick, Dr Anthony insisted that the sisters remain in the convent and made a house call. He reorganised his schedule and quickly came over to the convent to attend to the sisters. This is something Dr Anthony did on a number of occasions when he surprised patients who were too weak to be brought to the clinic with a house call.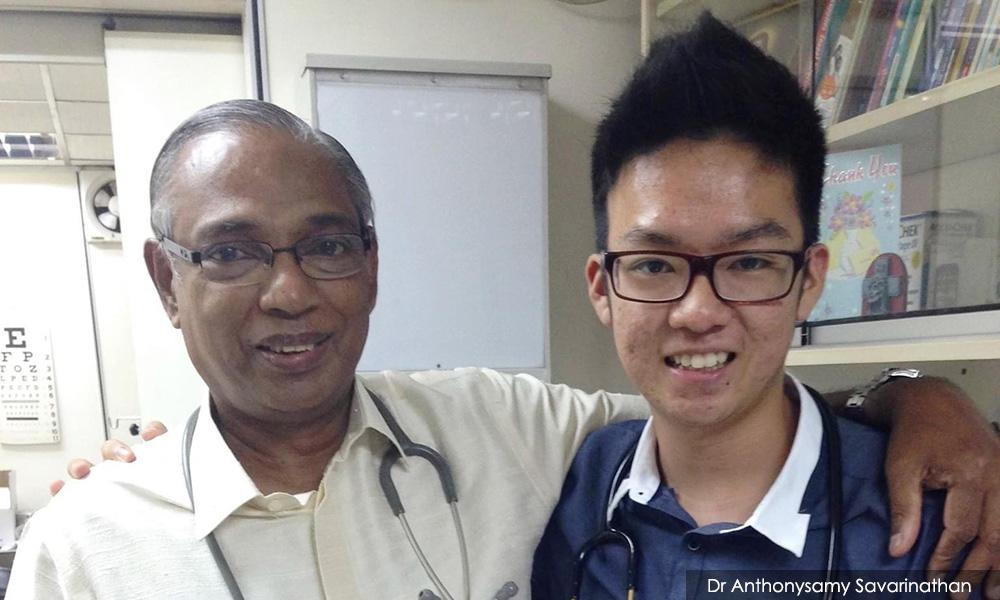 Having short chats with Dr Anthony during consultation and observing the way he interacted with patients enabled us to see a man who was very caring and optimistic. One who sees life and situations from a positive light.
Often his clinic would be overflowing with patients who came from all walks of life and different cultures. A testimony indeed of a person who had built good relationships with his patients. 
Hundreds of residents who passed through our Centre had been to his clinic besides most of the sisters and staff who came to the convent in Ampang. 
He was ery approachable and an empathetic listener who saw good in all persons, treated them with great respect and had a kind word to say to them and for them.
Many former residents, staff and sisters had these sentiments and fond memories of Dr Anthony to share, such as these: 
"There was nothing too small for you, Dr Anthony, that you could not see any of the residents at the Good Shepherd Centre who needed medical attention. You gave your time, love, encouragement and attention to them without hesitation." (Sister)
"To make it less difficult for the residents, Dr Anthony agreed to the idea of starting a little home clinic in the Teenage Centre. Together with Dr Helena Lee, we started the clinic and Dr Anthony faithfully gave free service providing medical care for the girls. Thank you Dr Anthony. Enjoy your reward with the Lord and rest in peace.' (Sister)
"Most of the less fortunate families around Ampang and Berembang had Dr Anthony as their first choice for a doctor. They always had something nice to say about him. A kind and compassionate person, he often waived their fee. (Former staff of Good Shepherd School)
"I remember that it was not painful when you, Dr Anthony, gave me the injection and when I got my blood drawn, you did it in just one shot... thank you. Thank you for being there for us and during this time in the front lines! Your task has been completed... rest in peace doctor." (Former resident)
"Only a Doctor is blessed with the magical powers to treat a life, to bring health into our lives and to be there with us when we have lost all hope. Dr Anthony, your love and care towards us will remain in our hearts. Thank you for fighting for the world at the front lines. May your soul rest in peace Dr Anthony. We will miss you among us, our hero!" (Former resident)
"Your presence has touched many hearts especially Teenage Centre residents. You were kind-hearted and treated us with care and with a pure heart. Your jokes and the advice that you gave us when we were sick literally took away the fear of an injection. 
You never failed in your profession in being a gentlemen. In an endless garden of flowers we'll always pick you. "Thank you" is probably something you heard all the time. But today, when we say those two words, just know we really mean them." (Former resident)
"We had worked with Dr Anthony and the memory of those days are wonderful. We learned so many things in life working with the doctor. He was a wonderful person and we remember his friendly nature which made him often crack jokes with patients and had them laughing." (Former staff of the clinic)
"Dr Anthonysamy as I knew him was a true gentleman! He was always very patient, gentle and caring. Once when I had severe food poisoning at Madonna Heights, he came to treat me in my room with utmost respect and professionalism. His conduct made me feel special as if I was the most important patient! I felt sad over the news of his untimely passing. May his soul Rest In Peace!" (Sister)
"The gentle way that Dr Anthony treated each person reminded me very much of the gentleness of Jesus the Good Shepherd. We, the Good Shepherd sisters did not just lose a wonderful benefactor but also a beloved friend who had been very much a part of our Good Shepherd family in mission". (Sister)
To us, Dr Anthony was a Good Shepherd partner-in-mission who lived his call to mission as a doctor fully and reached out to each person he met with tender compassion and healing. 
We feel the deep loss of not being able to pick up the phone and call Dr Anthony for an appointment at a moment's notice. He would have graciously obliged us. 
Today with myriads of people we bid our goodbye to our dear friend and Doctor who we will always hold in our hearts with sincere gratitude for his life and committed service. 
As his beloved family, Patricia, Fabian and Aloysia - you made it possible for the doctor to carry out his service with commitment. Thank you for your generosity.
Having been there for many – for you as family, for his patients and friends, as painful as it is, let us be assured that our compassionate shepherd God welcomes Dr Anthony with warmth and hearty laughter, which is what our dear doctor had always gifted us with.
---
Jointly written by the Sisters, mission partners, students and residents of GOOD SHEPHERD CENTRE and GOOD SHEPHERD SISTERS,  Malaysia and Singapore.
The views expressed here are those of the author/contributor and do not necessarily represent the views of Malaysiakini.