LETTER | The 'Future for nicotine' was an aptly themed event held at the Global Forum on Nicotine (GFN) 2021 in Liverpool, United Kingdom, on June 17 and 18.
The discussions highlighted the trend in several high-income countries that saw a general drop in smoking rates following an increase in public awareness on the dangers of smoking and the availability of non-combustible nicotine alternatives.
But in the low-to-middle-income countries (LMIC), the situation is different: they still remain a large and vulnerable market for traditional tobacco products and this is unlikely to change in the years ahead.
People smoke to obtain nicotine, a comparatively low-risk substance, but are harmed by thousands of toxins released when tobacco burns such as the generation of tar and the release of carbon monoxide.
With the tobacco harm reduction (THR) approach, adult smokers who cannot quit nicotine are encouraged to switch to safer nicotine products such as vapes (e-cigarettes), pasteurised snus, non-tobacco nicotine pouches and heated tobacco devices.
"Up to 98 million consumers worldwide have already made the switch to safer nicotine products. In England, health authorities support vaping (as a means) to quit smoking and vapes are now the most popular quit aid.
"Tobacco-related mortality in Sweden, where snus has almost replaced smoking, is the lowest in Europe, and in Japan, cigarette sales have dropped by a third since heated tobacco products came to the market.
"Manufacturers must now ensure safer alternatives are affordable to people in LMIC, not just consumers in high-income nations," said GFN director Gerry Stinson.
Stinson, an emeritus professor at the Imperial College London, expressed his concerns over international leaders that have persistently pursued an irresponsible prohibitionist approach to tobacco and nicotine.
Although the World Health Organisation (WHO) actively perpetuates misinformation on new nicotine products, Stinson said the organisation's move to treat it as a "war on nicotine", similar to the "war on drugs", will only fail.
He urged WHO to re-focus its efforts on supporting the 1.1 billion adult smokers to quit by all available means and promote the THR strategy.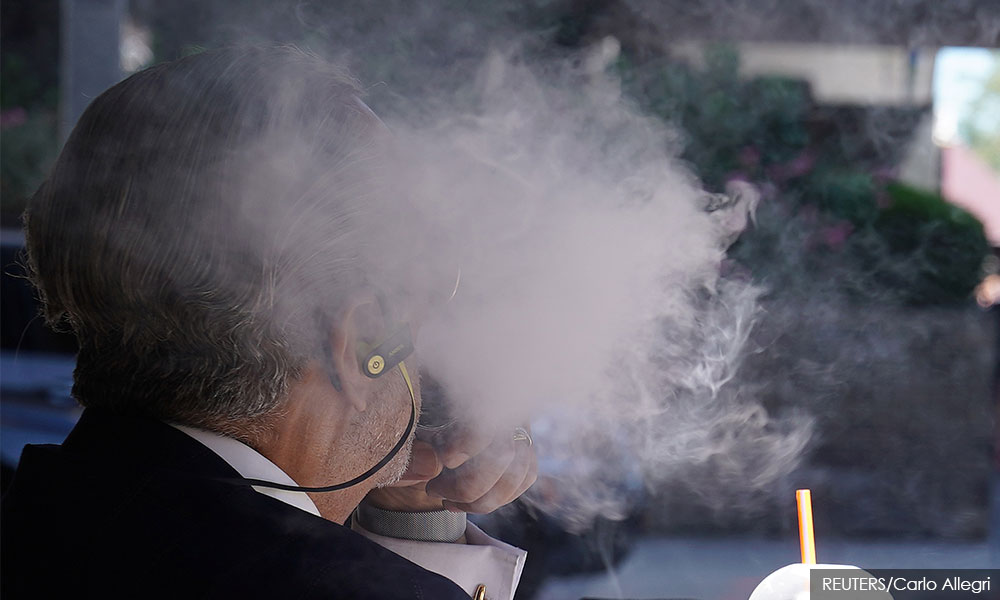 Health psychologist and tobacco addiction expert Sairah Salim-Sartoni pointed out there are alternative nicotine products, which act as "exit strategies" for smokers who intend to quit but have extreme difficulty in doing so.
"We need to meet smokers where they are and there needs to be a variety of exits for them with alternative, non-combustible nicotine products.
"If they are able to use these products, it creates a need to compete with the traditional cigarettes and they will eventually meet an exit. The more products you create, the more exits are available for the smokers. Here is where you start to achieve the goal of ending the smoking endemic," she said on the second day of the forum.
Salim-Sartoni said although industries should create more non-combustible nicotine products for the market, the issue of access to them was more urgent. Alternative products, she said, needed to be sold side-by-side with traditional cigarettes as it gave smokers the ability to purchase the products just as easily as the latter.
Salim-Sartoni, who is currently the director of International Scientific Engagement at Juul Labs (a US-based electronic cigarette company), also spoke about misinformation and lack of awareness when it came to the THR movement.
"Society needs access to correct information because without such information, smokers will be confused, and if they are confused, they don't know what to do.
"Do they trust these non-combustible nicotine products or not? When that is clarified for them, they are then able to make the decision for themselves," she said, adding that there have been studies that showed that public health information videos have actually helped to give correct information and create the interest in buying an alternative nicotine product.
Meanwhile, Foundation for a Smoke-Free World president Dr Derek Yach stated that from a scientific perspective, the hard work had been completed but what remains is the difficult cultural and political work.
"All those following science appear to have arrived at the same conclusion: harm-reduced products play an important role in combating the world's tobacco crisis.
"By contrast, institutions that are more focused on ideology than evidence remain opposed to innovation. There now exist two distinct silos in tobacco research: one in which the evidence for harm reduction is robust and growing; and the other in which such evidence does not exist," said the anti-smoking advocate.
According to the Health Ministry's National Health and Morbidity Survey 2019, the prevalence of smokers in Malaysia stood at 21.3 percent, equivalent to 4.9 million people.
The survey further estimated that more than 27,200 of Malaysian deaths annually are related to smoking.
Addiction Medicine Association of Malaysia president Dr Steven Chow emphasised that the concept of harm reduction was a crucial first step to address this problem, revealing that 50 percent of current smokers in Malaysia were keen to quit and it was their duty as doctors to help them achieve it.
Chow said this in May at the 11th National Conference on Addiction Medicine, urging policymakers in public health and tobacco control to listen to both science on THR and the experiences of consumers benefiting from it daily. He said ideologies must be set aside to prioritise progress towards the common goal, which is to end the habit of smoking.