LETTER | As many starve and with thousands dead, the Perikatan Nasional (PN) government has shown its ineffectiveness and incompetence in handling the pandemic. The failure to contain Covid-19 has naturally sparked outrage across the country, and in certain cases manifesting in different forms of protests.
From black flags to physical demonstrations, people began rallying for better governance and leadership. However, criticisms against these protests were very apparent as well. Critics argued it is not right to protest during a time of crisis because it will facilitate the spread of the virus and impede governance.
But, is there really a right way to protest?
We are often only receptive if protests are peaceful, if it doesn't disrupt the status quo, or if it doesn't cause disturbance to our lives. However, the essence of protest is to disrupt. In fact, for protest to be effective, it has to be jarring; it has to disturb the norms we have come to accept.
Malaysians have been promised that the lockdown measures imposed will be our exit strategy for the pandemic. Yet after over 16 months, there is no exit in sight, and the PN government seems not to have learned anything about handling the pandemic, but is instead busy politicking.
Over 10,000 daily Covid-19 cases, over 6,000 Covid-19 deaths, over 600 suicide cases in a year, over 700,000 jobless, and many starving. These are not just numbers, these are lives.
These black flags are voices of reason. These protests are voices of reason. These are voices trying to let the government know that people are suffering, people are afraid, and people are tired.
However, instead of sympathising, Finance Minister Tengku Zafrul Abdul Aziz disregarded the intent of the white flag campaign (which this government has since hijacked and embraced) and dismissed it as a sign the government has failed.
What's more, Prime Minister Muhyiddin Yassin said Malaysians shouldn't raise white or black flags but raise blue flags instead. Blue, of course, happens to be the colour of his political coalition.
Additionally, the government has installed a new deputy prime minister and a new senior minister to address political instability, rather than focus on crafting a comprehensive welfare plan to help Malaysians in need.
The fact is those in power are ignoring the people's struggles. And history has always shown that protests, in general, have never been met with the approval of the powerful.
They hated Bersih when the people flooded the streets in yellow. They hated Fahmi Reza when he made a jealousy-themed Spotify playlist. They hated contract doctors when they threatened a strike. Now, they hate the people who are raising black flags.
It is almost certain that those who are with power and privilege would think, "I sympathize with these B40s, but do they have to hang black flags to show their dissatisfaction?"
And so, people will still be hated, condemned, and oppressed regardless of the many methods of protests that they might undertake. Therefore, we have to realize that the right place, time, and way to protest is here, now, and by any means necessary.
While there isn't really a right way to protest, this piece doesn't advocate that violence is necessary for a protest. We acknowledge as protests become more extreme, they usually garner less support.
Indeed, violent protests attract more media attention. However, they tend to alienate potential allies. To put it simply, extreme tactics could hurt a movement by causing people who might be sympathetic to the cause, to distance themselves from that cause.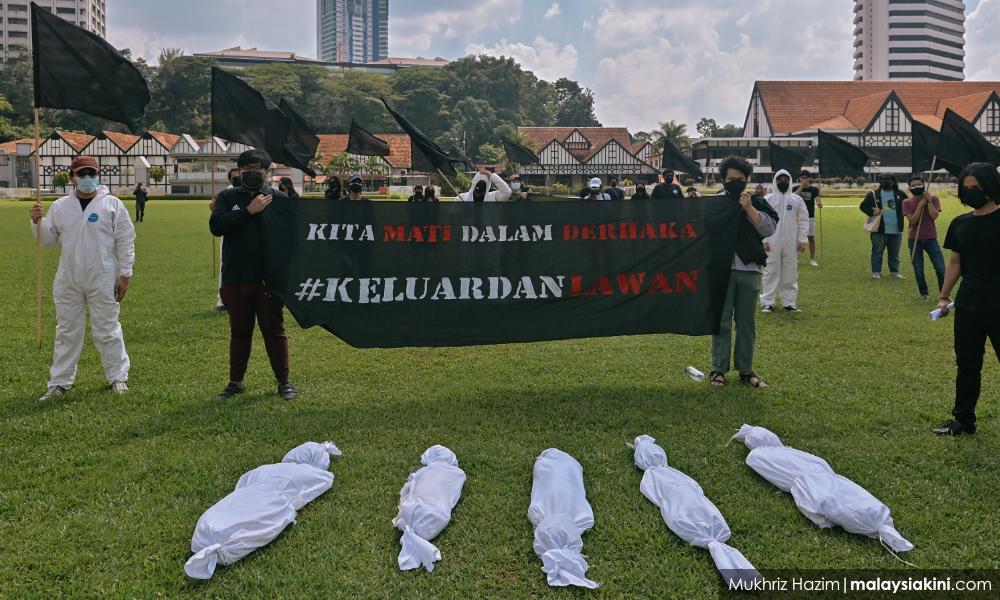 Trevor Noah, host of the US satirical news programme, The Daily Show, put it accurately, "There is no right way to protest because that's what protest is. It can't be considered 'right' by the system that it's protesting."
Protest is the essence of democracy. Sometimes we win, sometimes we lose. Nevertheless, we know we're not alone and we know that it could shift the discourse.
It is time to disrupt the status quo. It is time to acknowledge that seeking validation of where, when, and how a protest should be is antithesis to the reason and function of protesting.
After all, the right way to protest is always wrong.
---
The views expressed here are those of the author/contributor and do not necessarily represent the views of Malaysiakini.