LETTER | Life on land's main goal is to manage forests in a sustainable way, combat desertification, halt and reverse land degradation, and halt biodiversity loss.
Forests cover nearly 31 percent of the land area on our planet. Forests provide us with everything we need, from the air we breathe to the water we drink to the food we eat.
Consider this. Forests provide a living for approximately 1.6 billion people. Land degradation directly affects nearly 75 percent of the world's poor.
Did you know that forests are home to more than 80 percent of all terrestrial animal, plant, and insect species? And, of the 8,300 known animal breeds, eight percent are extinct and 22 percent are on the verge of extinction.
Biodiversity and the ecosystem services it supports can also serve as the foundation for climate change adaptation and disaster risk reduction strategies, as they can provide benefits that increase people's resilience to the effects of climate change.
Forests and nature are also beneficial to recreation and mental health. Natural landscapes are inextricably linked to spiritual values, religious beliefs, and traditional teachings in many cultures.
What if we don't fix the problem?
Biodiversity provides a wide range of services from the local to the global, and responses to biodiversity loss range from emotional to utilitarian. Insects and other pollen carriers, for example, are estimated to be worth more than US$200 billion (RM878 billion) to the global food economy each year.
Three-quarters of the top-ranking global prescription drugs contain plant extract components that would be jeopardised. Natural disasters caused by disrupted ecosystems as a result of human impact and climate change already cost the world more than US$300 billion per year.
Deforestation and forest degradation cause habitat loss for all species, a decrease in freshwater quality, increased soil erosion, land degradation, and higher carbon emissions into the atmosphere. In short, failing to act on forests has an impact on both the health of the planet and our communities.
Threat of deforestation
Deforestation is one of many environmental issues, and logging activities endanger wildlife and indigenous communities' livelihoods.
Malaysia lost 2.7 million hectares of primary forests between 2002 and 2020, according to data from Global Forest Watch, an online platform that monitors forests. This accounted for 34 percent of the country's total tree cover loss.
Malaysia's total primary forest area has also shrunk by 17 percent. Environmentalists say that while corporate and activist replanting efforts are commendable, Malaysia lags far behind in terms of forest preservation.
Amlir Ayat, vice-president of the environmental organisation EcoKnights, recently stated that the figures mentioned in the GFW report "are not surprising."
"Between 2002 and 2020, Malaysia experienced a number of economic problems, which resulted in significant logging, which is a quick source of income.
"Increased demand for housing and agricultural products to meet the needs of an expanding population has also resulted in a sharp increase in deforestation," he said.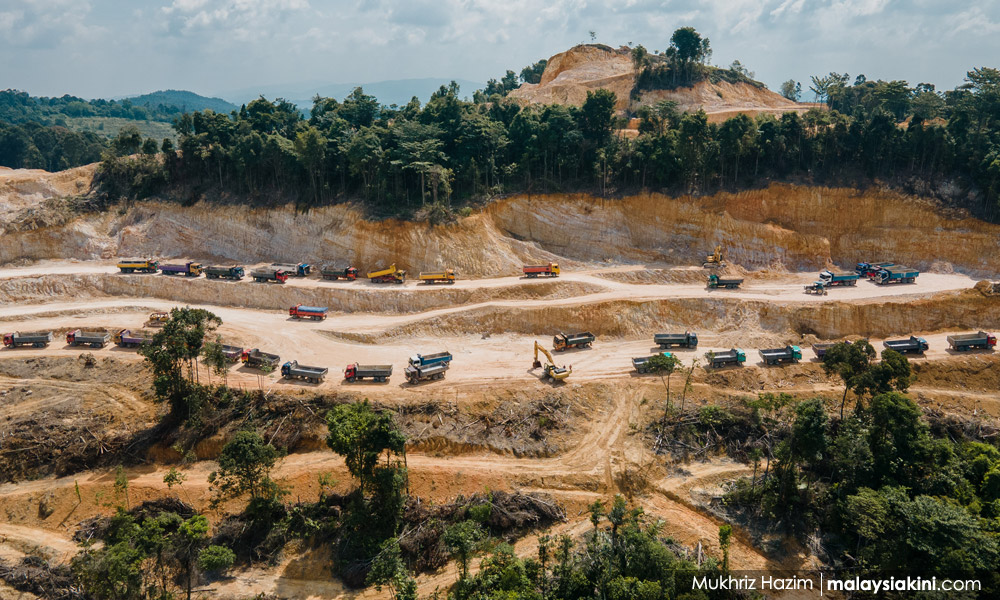 Andrew Sebastian, chief executive officer of the Eco-tourism and Conservation Society Malaysia, echoed the sentiment, emphasising the need for more planned and coordinated educational efforts, possibly led by the state government.
"Such efforts may significantly improve logging concessionaires' motivation to replant deforested areas that have been logged," he said.
"The state that approves the permit is the primary stakeholder. It must first properly plan for the protection of primary forests from climate change as well as the preservation of water catchment areas that support a community.
"The state must restore degraded forests and allow logging only outside natural forests. Similarly, logging concessionaires must replace lost trees," he added.
Amlir also warned of the potential negative consequences of irresponsible tree-planting activities.
"Corporate sectors whose operations have a direct negative impact on forests should be held accountable for replacing the forests they clear.
"They should not achieve this simply by preserving an existing forest or replanting trees from other forests. Replanting should be done by transferring as many seedlings as possible from cleared forested areas.
"Replanting projects involving seedlings from forests that are not going to be cleared or that are already being managed sustainably will serve no purpose because the seedlings will survive there anyway," he said.
Environmental advocate Mohd Rashdan Abd Rashid, on the other hand, expressed hope that current awareness programmes would benefit youths in the long run.
He praised the Malaysian Rubber Council's recent programme to plant 2,022 trees with University Tengku Abdul Rahman Kampar students.
"Their practice is consistent with the 2030 SDGs (sustainable development goals), which include collaborating with experts from Seeds Malaysia and the Tropical Rainforest Conservation and Research Centre to establish the first food forest.
"The project will be evaluated for two years to calculate the carbon footprint and empower the Kampar community as we approach 2030," he said.
What are our options?
We unavoidably alter the ecosystems in which we live, but we can make choices that either affirm or devalue diversity.
Recycling, eating a locally sourced, sustainably sourced diet, consuming only what we need, and limiting energy usage through efficient heating and cooling systems are all things we can do to help.
To avoid wildlife disturbance, we must also be respectful of wildlife and only participate in ecotourism opportunities that are run responsibly and ethically.
Well-managed protected areas promote healthy ecosystems, which in turn promote human health.
It is therefore critical to ensure that local communities are involved in the development and management of these protected areas.
---
The views expressed here are those of the author/contributor and do not necessarily represent the views of Malaysiakini.