At least six new media publications including Malaysiakini have been denied media accreditation by Umno to cover the party's annual general meeting beginning today.
No official reasons were given for the party's decision in denying official access to these news organisations to cover the five-day meet.
Apart from Malaysiakini , the other organisations denied official access are The Nut Graph, Malaysian Insider, Siasah , Merdeka Review and Chinese website Laksou .
Malaysiakini submitted its applications on Feb 27 and was unofficially informed yesterday that it would not be granted accreditation.
Officials at the party headquarters today informed Malaysiakini journalists that the decision to deny the official media tag was made at a higher level.
It is believed that the instruction to reject the applications was given by Umno secretary Tengku Adnan Tengku Mansor ( right ).
"They had a meeting on which media are entitled for the media tags, and there are six 'bloggers' that they have decided to leave out," said Umno media officer Abdul Hamid Satar.
Interestingly, some of these media outfit, including Malaysiakini , have the Information Ministry's approved media tags.
Malaysiakini Editor-in-Chief Steven Gan expressed disappointment over Umno's rejection of the online daily's application for press passes.
"I find it strange that though we were finally recognised by the government last year, the party is now out of step in its dealings with the new media."
He said that despite the restrictions on Malaysiakini journalists, the website will not be deterred from filing reports on the assembly.
"We have been covering the Umno general assembly without fail since 2000 and this year is no exception".
No entry to certain areas
Traditionally, media outlets without accreditation cards from the Information Ministry are not given media passes for the Umno general assembly. Despite this, Malaysiakini has consistently applied for media passes to cover the annual meeting.
However, in 2007, Umno issued press passes to online news portal Agenda Daily.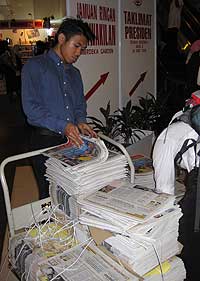 According Agenda Daily editor Rosli Ismail, the Malay political website has been issued press passes again this year. It is perhaps the only new media organisation to be given the passes.
Without the Umno media pass, Malaysiakini journalists would not be allowed access into the main halls of the meeting. Even access to press conferences by party leaders would be difficult.
However, Malaysiakini journalists would still be able to mingle outside the meeting halls at the Putra World Trade Centre in Kuala Lumpur where the assembly will be held.
The Umno meeting this year is an important event as it will see the passing of leadership baton from Abdullah Ahmad Badawi to his deputy, Najib Abdul Razak.
The party polls are also expected to bring about some unexpected results.
Malaysiakini 's run-in with Umno has been on-going since the former was launched almost 10 years ago.
The news organisation was previously barred from covering the party's supreme council meetings, a ban which was lifted about a year ago.