As news about the arrest of academic and activist Wong Chin Huat under the Sedition Act continues to filter in, a few things appear clear to me.
Firstly, the initial promise that the new administration under Najib Abdul Razak would be more accepting of criticism and adopt a more 'liberal' approach towards political dissent, which was hinted at when he freed two Hindraf activists who were detained under the ISA soon after he took office, has been quickly dashed by this latest act.
It is sad that Wong, one of Malaysia's most promising young political scientists, currently teaching at a private university, was targeted, most probably because of his activities in advocating for electoral reform under Bersih - just to mention one of his more prominent roles - and specifically because of his role in urging the Malaysian public to wear black in conjunction with tomorrow's sitting of the Perak state assembly.
Are the actions of a civil society activist and academic so threatening as to warrant his arrest under the Sedition Act?
That Hishammuddin Hussein would allow the arrest of Chin Huat to take place as one of his first acts as the new home minister, most probably with the tacit consent of his cousin Najib, makes this episode even sadder.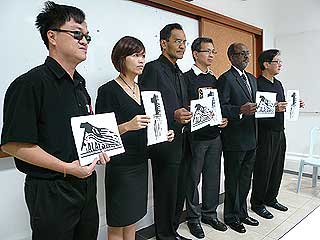 Among those who had gathered yesterday at a press conference under the banner of Bersih, Chin Huat was clearly one of the 'softer' targets. Arresting one of the MPs at that gathering – Dr Dzulkifli Ahmad (PAS), Sivarasa Rasiah (PKR) or Tony Pua (DAP) – would have created a much bigger public outcry. Instead, a young academic was single out.
Secondly, the notion that there was any semblance of academic freedom, especially in the field of political science, has to be seriously questioned.
I have found Chin Huat's writings in the Chinese press, in Malaysiakini and most recently in the Nut Graph , to be intellectually provocative and interesting, and always measured in putting forth his arguments.
More often than not, he was as critical of the opposition as the BN, always maintaining the need to have a check and balance system even if Pakatan Rakyat were to come to power.
What kind of signal does the arrest send about the state of academic freedom in Malaysia? How does this kind of action help project Malaysia's attempts at creating world-class universities, either in the public or private spheres? Is this a sign that only certain types of research can be conducted - those in line with the objectives of the Malaysian government?
An extremely passionate man
Finally, this act calls into question the decency of the Malaysian government. Most people who call Chin Huat a friend would say that he is an extremely passionate man especially with regard to the causes which he believes strongly in.
Some of his actions, which some may interpret as 'controversial' or 'provocative', are a reflection of this passion. While some may disagree with his methods or his delivery, there are none who can question his love for the country and his respect for its institutions.
What Chin Huat has consistently demonstrated in his writings, in his words and in his actions, is a deep desire for wanting to improve the state of politics and governance in the country which he calls home.
I am willing to bet that many of his students at the university were inspired by his passion at the same time as they were imbibing knowledge from his lectures and classes.
That such a person would be targeted by the Malaysian government is a clear sign that there is little recognition of the value of someone like Chin Huat, as a lecturer, as an activist, as an academic, as a journalist and as a citizen of a country he clearly loves dearly.
A decent government with decent people in it would not treat someone like Chin Huat as a threat to national security and have him arrested under the Sedition Act.
With all this in mind, I call on the Malaysian government and PM Najib, as well as Home Minister Hishammuddin, to drop any charges they have against Chin Huat and release him from police custody with immediate effect.
---
ONG KIAN MING is a PhD candidate in Political Science at Duke University. He can be reached at
[email protected]
. He is wearing black today to show that he stands in solidarity with Chin Huat.