The Malaysian Communication and Multimedia Commission (MCMC) today continued its investigations on Malaysiakini by holding a marathon questioning session involving the online daily's 12 staff members.
The eight-hour session began at 10.30am at Malaysiakini's office in Bangsar Utama, Kuala Lumpur, and ended at about 6.30pm.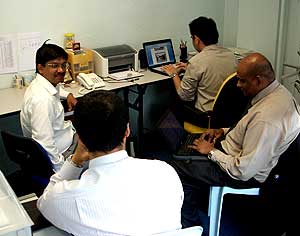 Among those questioned were Malaysiakini chief executive officer Premesh Chandran ( far left ), editors, journalists, video team members and one technical staff.
About eight MCMC officers were involved in the questioning process, who split into three teams to record statements from Malaysiakini staff simultaneously.
Except for Chandran and the technical staff, all the others were involved in the process of news gathering, editing and publishing two stories and videos related to the cow-head protest in Shah Alam on Aug 28 and a press conference by Home Minister Hishammuddin Hussein on Sept 2.
They were journalists Rahmah Ghazali, Jimadie Shah Othman, Andrew Ong, cameraperson Amir Abdullah, editors K Kabilan, Nasharuddin Rahman, Fathi Aris Omar, video editors Shufiyan Shukur, Ng Kok Foong and Lydia Azizan.
The investigation by MCMC centres on two video clips published by Malaysiakini - one on the protest and the other on Hishammuddin's press conference - which were deemed offensive.
The videos cited were the ' Temple demo: Residents march with cow's head ' and ' Hisham: Don't blame cow-head protesters '.
Website's host quizzed too
Apart from the interviews at Malaysiakini office, a separate session was also undertaken by two other MCMC officers against the website's server hosting company at its office in Jalan Kuchai Lama, Kuala Lumpur.
The company was asked to provide technical details pertaining to Malaysiakini's video servers.
On Saturday, MCMC had taken statement from editor-in-chief Steven Gan.
Malaysiakini is accused of contravening the Communication and Multimedia Act (CMA) 1998 by putting those two video clips.
The commission had sent a letter last Thursday requesting the independent news portal to take down two 'provocative' videos from its website.
According to MCMC monitoring and enforcement division senior acting director Abdul Halim Ahman, in his letter, the display of both videos on the news portal "is an offence under Section 211/233 of the CMA".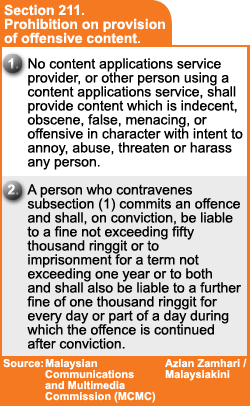 Under the Act, any individual found guilty of publishing content "which is indecent, obscene, false, menacing, or offensive in character with intent to annoy, abuse, threaten or harass any person" is liable to a fine of up to RM50,000 or a jail sentence.
MCMC has asked for one more video team member, Mohd Kamal Ishak - who is on leave - for his statement to be recorded on Thursday.
"I was told by the MCMC officers that apart from this other cameraperson, they have wrapped up their investigations," said Gan.
He said that judging by the speed of the investigation, there appeared to be a move by the Attorney-General's Chambers to take swift action on the case.
"Should we be charged, we are ready to fight it in court. We're not going to take down the two videos as we have not violated the law," said Gan.