Officers from the Malaysian Communication and Multimedia Commission (MCMC) have again visited independent news portal Malaysiakini today to further investigate the " deemed offensive" cow-head videos.
The seven-member MCMC team, which included three digital forensics experts, demanded Malaysiakini to hand over the original tapes of the two videos.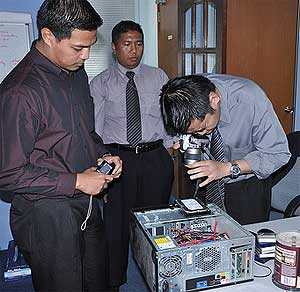 The team, led by Mohd Syukri Jamaluddin ( far right ), has also sought to copy certain parts of the hard disk from two Malaysiakini computers used to edit and upload the videos. Photographs were taken of the hard disks and their serial numbers.
This is to establish a 'digital trail' from the original video footage to the final uploading of the two videos.
"It has been an exhausting," said Malaysiakini chief executive officer Premesh Chandran.
"Since everything is in digital formats, it has been tedious process to come to an agreement on what constitutes a 'digital trail' from source to final product. Our technical staff have given their utmost cooperation in assisting the investigation."
Editor-in-chief Steven Gan said that Malaysiakini was not challenging the fact that it was responsible for uploading the videos.
"We are however disputing that the videos were uploaded to fan the flames of racial and religious hatred."
MCMC officers also interviewed Malaysiakini cameraperson Mohd Kamal Ishak, who covered the press conference held by Home Minister Hishammuddin Hussein following his controversial meeting with cow-head protesters.
Third visit to Malaysiakini
This is the third time MCMC officers have visited the Malaysiakini office in Bangsar Utama, Kuala Lumpur.
T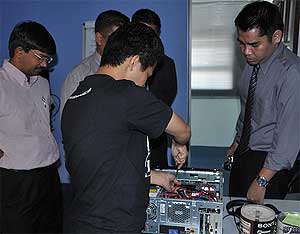 he first was on last Saturday where a three-person team recorded a statement from Gan.
On Tuesday, eight MCMC officers interviewed the online daily's 12 staff in a marathon session lasting eight hours.
Among those questioned were CEO Chandran, editors, journalists, video team members and one technical staff.
Except for Chandran and the technical staff, all the others were involved in the process of news gathering, editing and publishing two stories and videos related to the cow-head protest in Shah Alam on Aug 28 and the press conference by Hishammuddin on Sept 2.
They were journalists Rahmah Ghazali, Jimadie Shah Othman, Andrew Ong, cameraperson Amir Abdullah, editors K Kabilan, Nasharuddin Rahman, Fathi Aris Omar, video editors Shufiyan Shukur, Ng Kok Foong and Lydia Azizan.
The investigation by MCMC centres on two video clips published by Malaysiakini - one on the protest and the other on Hishammuddin's press conference - which were deemed offensive.
The videos cited were the ' Temple demo: Residents march with cow's head ' and ' Hisham: Don't blame cow-head protesters '.
On the same day, MCMC officers have also taken a statement from Malaysiakini's server hosting company.
'Videos to stay online'
Malaysiakini is accused of contravening the Communication and Multimedia Act (CMA) 1998 by putting up the two video clips.
The commission had sent a letter last Thursday requesting the independent news portal to take down two 'provocative' videos from its website.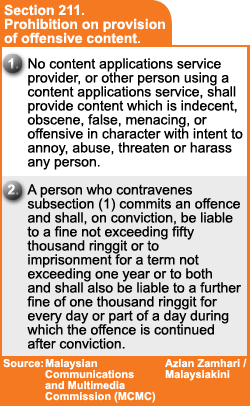 According to MCMC monitoring and enforcement division senior acting director Abdul Halim Ahman, in his letter, the display of both videos on the news portal "is an offence under Section 211/233 of the CMA".
Under the Act, any individual found guilty of publishing content "which is indecent, obscene, false, menacing, or offensive in character with intent to annoy, abuse, threaten or harass any person" is liable to a fine of up to RM50,000 or a jail sentence.
Gan has said that Malaysiakini would not take down the videos.
"Our intent in putting up the videos was not to 'annoy' anyone, but to do our job as journalists to draw attention to the protest and to ensure action is taken so that incidents like this will not happen again in Malaysia."