Anti-graft watchdog Transparency International Malaysia (TI-M) has lauded the proposed Whistleblower Act, which will provide immunity to informants against civil or criminal action.
"By putting in place the protection of whistleblowers, the government (will) promote integrity and freedom of speech, which are crucial conditions for democracy, the rule of law and sustainable development," said TI-M secretary-general Loi Kheng Min in a statement today.
Premier and Finance Minister Najib Abdul Razak announced the intention to enact the law next year, when delivering the 2010 Budget speech last Friday.
Whistleblowers - who detect and report corruption, fraud and mismanagement in the public, private and non-profit sectors - often take high personal risks and may face retaliation, dismissal or even physical danger.
Instead of permitting wrongdoing to go unchecked, TI-M said the private sector should also put in place effective mechanisms to ensure a safe alternative to silence.
TI-M, he said, recognises the need to set up appropriate mechanisms for whistleblower protection as most prominently described in Article 33 of United Nations Convention against Corruption.
Loi also urged the government to "develop dedicated legislation or implement clear and effective improvements in (the) existing legal framework".
"The government should create or strengthen the legal and institutional tools that protect honest and engaged individuals who report wrongdoing," he said.
Public institutions and private sectors should establish programmes to protect whistleblowers against retaliation, including appropriate channels for disclosure, independent review and efficient follow-up mechanisms, he added.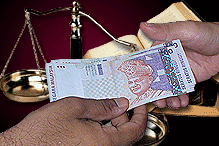 Opposition parties and civil society groups have long urged the government to bring in such an Act, to encourage more reports against corrupt practice.
The law was to have been enacted last year during the tenure of Abdullah Ahmad Badawi, but was shelved .
In the budget speech, Najib also revealed other graft-fighting efforts including the establishment of 14 Special Corruption Sessions Courts and four Special Corruption Appeal High Courts. However, no time frame was specified.