About 50 residents of Taman Permata in Dengkil staged a protest over poor maintenance and the deplorable condition of their flats.
Mainly plantation workers who were relocated from Putrajaya 10 years ago to these units, they hold Permodalan Negeri Selangor Bhd (PNSB) responsible for their predicament.
They began their protest at 11am, carrying banners and chanting slogans in front of the Shah Alam City Council building, urging action. A memorandum was handed over to PNSB.
Mohan Subramaniam said the flats, consisting five blocks and housing 400 residents, are in dire need of repair.
There are cracks on the walls of many units, while broken drains and hollow foundations are causing sewage problems including foul odours, he said.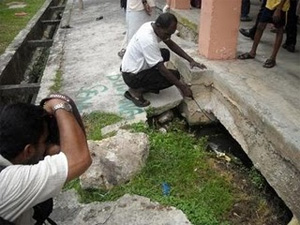 Taman Permata Residents Association deputy chairperson M Panirselvam, said: "When it rains, water leaks into the cracked walls of the units.
"The sewerage system is so bad that when I flush the toilet in my house, it spills through the cracks into my neighbour's unit."
Ramadas Kanapathy, another committee member, claimed that the residents have not received certificates of fitness (CF) for their units.
He also questioned the safety of the location, as a gas pipeline has been installed barely 20m from the site.
Activist S Arutchelvan (left in photo) , who is advising the association, said PNSB is responsible for supervising repairs and maintenance works.
"They are named as the developer of the five blocks of flats in the Sales and Purchase Agreement. They also signed the offer letters, allocating the flats to the residents. Therefore they should be held accountable for the residents predicament."
'We'll look into problems'
PNSB project manager Mohd Yunus Iskandar Mohd Nor said he is aware of the residents' problems as he has visited the area numerous times.
He denied that there are defects in the building structure, attributing the problems to the possibility that some residents may have renovated their units.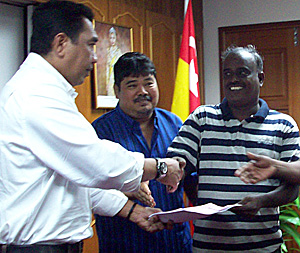 "(Everyone has) collective responsibility to take proper care of the area, as these are flats where they have to share certain amenities like the corridors, car park and the stairs," said Mohd Yunus.
Nevertheless, he pledged to forward the memo received from the protestors for further action by the relevant authorities.
"As far as I know, PNSB has only acted as the vendor for the sale of these flats. Putrajaya Holding was the company in charge of construction," he said.
On the absence of CFs, he said these were issued and sent to the residents when the flats were completed.