DAP parliamentarian Tony Pua today demanded an explanation as to why there is no open tender for the suggested development of 3,000 acres of land in Sungai Buloh as a new hub in the Klang Valley.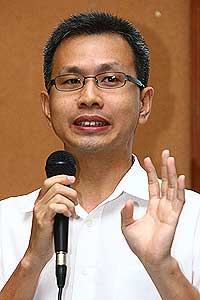 Pua ( left ) said debt-ridden Malaysia Resources Corporation Berhad (MRCB) has been speculated to be the master developer of the project.
"The New Economic Model (NEM) announced by Prime Minister Najib Abdul Razak has promised transparency and competition as its cornerstone," said Pua.
Citing Najib's launch of the NEM yesterday, Pua said that several parcels of land in Kuala Lumpur have been identified to be tendered out and developed by the private sector to promote higher levels of economic investment, expansion and growth.
"However, at the same time, he announced that the government and the EPF (Employment Providence Fund) will form a joint-venture to promote the development of the 3,000 acres of land in Sungai Buloh," said the Petaling Jaya Utara MP.
According to Pua, MRCB had recently failed in its right-issue exercise to raise RM566 million, and the EPF had to buy up RM171.4 million shares at RM1.12 each, worth RM192 million, which were not taken up.
"It had demonstrated a clear lack of market confidence in MRCB, and its major stakeholder EPF had to come to the rescue," he said.
Pua pointed out that if MRCB was made the master developer, it will be contrary to the premier's promises under NEM.
"On what basis is EPF appointed as the joint venture developer for the 3,000 acres of land? On what basis is the MRCB appointed as the master developer for the project? Why has there not been any open tender for the project?" asked Pua.
Cronies get sweetheart deals
Pua also gave Singapore as an example where the neighbouring country had called for an international bid to attract the best ideas and proposal to build resorts in Marina Bay and Sentosa and a ministerial committee was set up to review the proposals in detail before it was awarded to Las Vegas Sands and Genting International.
"The question is why is the government favouring MRCB which itself was facing financial difficulties without any open bidding or proposal from Malaysia or even international business community for a project which the prime minister has estimated that will cost up to RM5 billion to develop," he said.
Pua added that it is similar to the case of giving construction firm Naza TTDI the RM14 billion project to develop Malaysia's largest exhibition and convention centre on a 24.2ha parcel of land near the Malaysia External Trade Development Corp (Matrade) headquarters in Kuala Lumpur.
"The government has once again shown that it is unwilling to let go of its policy to award sweetheart deals to crony companies without transparency," he added.
Pua said that the speculation was a "smack in the face" to Najib's promise that the country can no longer tolerate practices that support the behaviour of rent-seeking and patronage, which have long tarnished the altruistic aims of the New Economic Policy.
Form a select committee on NEM
Meanwhile, Bukit Bendera DAP MP Liew Chin Tong stressed that the NEM needs undergo thorough consultation and affirms its commitment to the people.
"I think one of the very major institution that he (Najib) has to consult is the Parliament and I hereby request that a select committee to be established," said Liew.
"What the government should do is to form a bipartisan committee with people from both sides and to do national public hearing."
He urged for a special sitting to be arranged so that the MPs can debate the NEM and not to be bundled with the 10th Malaysia Plan.
"This is because these are two economic concepts - one is prepared by National Economic Advisory Council (NEAC) and the other is prepared by EPU (Economic Planning Unit).
"As far as I know, EPU and NEAC takes a slightly different approach and documents are also very different," said Liew.
According to Liew, the 10th Malaysia Plan is only given six days of debate, which he said is "grossly insufficient".