The war of words between Americk Sidhu, the lawyer for private eye P Balasubramaniam, and Bayan Baru MP Zahrain Mohamed Hashim escalated today with the former PKR politician being called a "blatant liar".
Zahrain, who left PKR to become an independent parliamentarian in February, had accused his former party of sponsoring blogger Raja Petra Kamarudin who has been living in self-imposed exile in London.
Last Wednesday, Zahrain said he had furnished the proof in the form of e-mail messages to Minister in the Prime Minister's Department Mohd Nazri Aziz.
Zahrain has also said that Balasubramanian's interview with the Malaysian Anti-Corruption Commission (MACC), even if it took place in London, would be fruitless as the private investigator's revelation was scripted by his lawyers.
This has prompted an angry response the next day from Americk, who described the MP as a " dishonourable man ".
Yesterday, Zahrain retaliated and suggested that the furious reaction from Americk could be the result of the lawyer and Raja Petra feeling threatened by his revelation.
Zahrain's feeble threat
In an open letter to Zahrain today, the lawyer said the MP was holding onto the "feeble threat" of having documentary proof of the PKR sponsorship.
"The only proof you could possibly have of any sponsorship of my expenses in London would be copies of my American Express and Visa card bills," said Americk.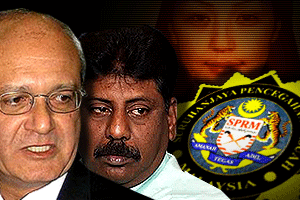 "If you do indeed have copies of these statements, then you will no doubt have realised that whatever it cost to fly to London from Australia, stay in a hotel there for seven nights and then return to Australia, was paid for out of my own hard-earned money and no one else's."
Americk proceeded to provide details of his expenses in London - both his hotel stay and his flight tickets between Perth and London.
"I have bills to back these expenses and I have proof that I paid for them myself," said Americk.
He said the bills were paid through his American Express and Visa credit cards. Americk ended his letter by issuing a challenge to Zahrain.
"I have thrown down the gauntlet, Zahrain. Produce your proof or forever hold your loquacity," said Americk.
Lawyers paid from own pockets
According to Americk, the other two Balasubramaniam lawyers - Manjeet Singh Dhillon and Amarjit Singh Sidhu - also paid for their respective trips to London themselves.
"You may question why we paid all this money out of our own pockets. You may also choose to question why the legal services we are providing Bala are pro bono. The answer is very simple and probably beyond your comprehension. We consider it part of our duty to the nation," Americk said in his letter to Zahrain.
Meanwhile, Balasubramaniam has said earlier that he was sponsored by Deepak Jaikishan , a businessman who has close links with Prime Minister Najib Razak's wife, Rosmah Mansor.
While all the three lawyers were with Balasubramaniam in London last week, the private investigator was accompanied by Manjeet in his trip to Paris to meet with French investigators early this week.
Americk's letter to Zahrain