The 'Save Vui Kong' campaign aims for 100,000 signatures by Aug 23 to support a petition requesting clemency for Yong Vui Kong, a Malaysian who is on death row for drug trafficking in Singapore.
Some 2,000 signatures have been collected since the drive was launched two days ago in support of the 22-year-old from Sandakan, Sabah.
Campaign coordinator Ngeow Chow Ying said the campaigners hope that all 222 members of parliament, 69 senators and 60 Sabah state assemblypersons will count themselves among the signatories.
"We have prepared a card for them to sign and mail back using a stamped self-addressed envelope by (July 31)," she told a press conference in Parliament House today.
The campaign is co-sponsored by the civil rights committee of the Kuala Lumpur-Selangor Chinese Assembly Hall and human rights NGO Suaram.
"Concerned state assemblypersons from other states are also welcome to join in. We will then present these personal plea cards together to the Istana - the Office of the President of Singapore."
Ngeow stressed that, contrary to what Singaporean authorities have said, clemency for Yong would be a boon for the city-state's anti-drugs campaign, as it would prove that wayward youths can be rehabilitated.
"Vui Kong is a completely changed person after his arrest. He has found his spiritual salvation in Buddhism and has vowed to use his remaining days to counsel lost souls like he once was and to campaign against drug trafficking and drug abuse.
"He will do whatever he can to get his message of regret and redemption out to many young lives and save them from drugs. A second chance for Vui Kong is therefore also second chance for many out there."
'Minister overstepped authority'
Singapore law minister K Shanmugam had previously been quoted by local media as saying that granting Yong clemency would "seriously undermine" the city-state's anti-drug policies.
"We (would be) sending a signal to all drug barons out there: Just make sure to choose a victim who is your or a mother of a young child and use them as the people to carry the drugs into Singapore," he was quoted as saying.
Tunku Abdul Aziz, who was among four Pakatan Rakyat senators at the press conference, decried Shanmugam's statement, saying it has done damage to Yong's chances of getting clemency from the president of Singapore.
"This is a case where a minister oversteps his authority. He should allow the appeal to go through. The comment is totally unhelpful," said Tunku Abdul Aziz.
"I really hope the Singapore government, in its wisdom, will take into account the points we (have) raised, as well as the online petition."
The signatures must be submitted to Singapore president Sellapan Ramanathan before the deadline for Yong's clemency plea expires on Aug 26.
Poverty cited
Yong's story is one of tragic youth as he fought his way out of a difficult childhood only to face the gallows for transporting a gift to a client of his "big brother" from Malaysia to Singapore.
The gift turned out to be 47gm of heroin.
He was only 18 years and 6 months old when arrested on June 13, 2007 at a hotel in Singapore for having the drug in his possession.
Raised in a broken home, Yong was forced into back-breaking manual labour when only 12, moving oil palm fruit on his grandfather's estate, as his mother could not support her six children on her meagre salary as a dishwasher.
Their poverty was also the reason why he did not complete his Year 6 education.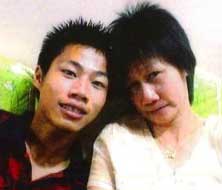 When he turned 15, Yong moved to Kota Kinabalu in search of better opportunities to help his mother, who suffers from chronic depression.
While there, he realised the potential for even greater opportunities by moving to Kuala Lumpur, which he did after saving up enough money.
Arriving with just the shirt on his back, Yong worked at odd jobs - in the process, getting to know "friends" in secret societies.
The situation back home did not get better, especially after one of his sisters was involved in an accident. The trauma pushed his mother over the edge and she attempted suicide.
The last time he was with his family was during a short holiday to celebrate his mother's birthday in Sandakan between May and June 2007, before a "friend" in Kuala Lumpur made him an offer he could not refuse.
Given the promise of a big payout for simply delivering a "gift", he took up the offer in the hope that he could finally help his ailing mother.
He was arrested and charged with drug trafficking. The Singapore courts found him guilty and sentenced him to death on Jan 7, 2009.
His mother still does not know about his sentence, as family members fear that she will not be able to handle the shock.