Not everyone is happy with Penang Chief Minister Lim Guan Eng's accusation that it was Umno who orchestrated the unruly demonstration outside the state assembly last week.
Parti Cinta Malaysia (PCM) vice-president Huan Cheng Guan said the state government must prove that last Tuesday's protest was indeed staged by Umno.
PCM, which was recently formed, is an offshoot of Gerakan. Its members had joined some 100 protestors along with Balik Pulau residents, Komtar traders and members of Umno Youth.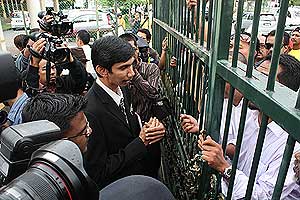 They had wanted to meet Lim who was presenting the 2011 budget but were disappointed when they could not enter the assembly compound because the gate was locked.
"I hope Lim does not spin (the issue) any more (or) point fingers at others. As I have said, he is the King of Spin," said Huan.
"The protestors were protesting against state land acquisition, the hike in water tariffs and parking fees; only a blind person will say that Umno was involved (in organising the protest)."
About 30 PCM members had protested against the hike in parking fees because, in certain areas, the charges have been extended to midnight, Huan said.
Before the Mar
ch 2008 general election, the DAP had promised to reduce parking fees, but has since failed to make good its promise, he said.
"Others who protested included Komtar traders whose business would be highly affected by renovation work in the building," said Huan (left) .
"They have nowhere to voice their grievances as the DAP government will not listen to them or to others."
On Monday, Lim had accused Umno of staging the protest, which he claimed was unruly and violent.
Komtar assemblyperson Ng Wei Aik had told an earlier press conference that PCM had joined hands with Umno by participating in the protest.
'Arrogant Pakatan officials'
Huan said that, since Pakatan Rakyat seized power in March 2008, its officials have become "arrogant" and have misused their power while some of their members behave like "big-time gangsters".
"I recall that before March 2008, the DAP demonstrated daily in all parts of the country but the government was open to that," he said.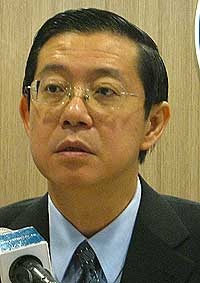 "The protest at the Dewan saw Lim (right) hiding inside. He did not dare appear at all but now it seems he is talking too much."
Huan was disappointed that the gate was locked, saying that he has never encountered such a situation.
"Former chief minister Koh Tsu Koon ran Penang for 18 years, many demonstrations have been held but never before was the gate locked," said Huan.
"If former Gerakan advisor Lim Keng Yaik labelled Koh an ostrich , then more or less, Lim is a chicken," charged Huan.
"As I have said before, Lim is the only CM in the country who calls a press conference nearly every day in order to spin (something) or hit out at someone, especially those in Umno, to make himself popular," he added.
"In fact he does not need to work so he will make no mistake; his work is to spin, he should be conferred the title of 'King of Spin'."