Malaysia is among the countries which registered the highest illicit financial outflows over a period of nine years in the last decade.
According to a ground-breaking report by Washington-based financial watchdog Global Financial Integrity (GFI), money flows out of Malaysia have more than tripled from 2000 to 2008.
The outflow from Malaysia in 2000 was RM67.7 billion (US$22.2 billion). Eight years later, this has ballooned to RM208 billion ($68.2 billion).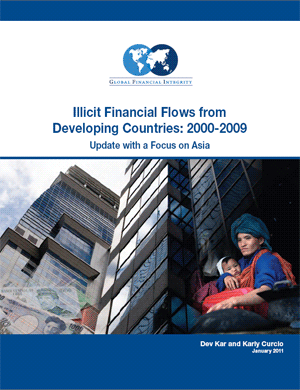 The report warned that the sharp increase of capital flight in Malaysia is "at a scale seen in few Asian countries".
It said that it was difficult to point out the reasons behind this massive outflow of illicit capital - estimated at RM889 billion (US$291 billion) between 2000 and 2008 - without carrying out an in-depth study of Malaysia, which is outside the scope of the report.
"It is clear however that significant governance issues affecting both the public and private sectors have been playing a key role in the cross-border transfer of illicit capital from the country.
"For instance, there are reports in the Malaysian media that large state-owned enterprises such as Petronas could probably be driving illicit flows."
The financial watchdog said that its research has indicated that political instability, rising income inequality and pervasive corruption are some of the structural and governance issues that could be driving illicit capital from many developing countries.
"In the case of Malaysia, the additional factor could well be the significant discrimination in labour markets which move people and unrecorded capital out of the country.
"As a result of some of these factors, the volume of illegal capital flight from Malaysia has come to dwarf legitimate capital inflows into the country in recent years."
The GFI report, 'Illicit Financial Flows from Developing Countries', is penned by GFI economists Karly Curcio and Dev Kar, who is a former senior economist at the International Monetary Fund.
China tops the chart
China tops the chart among the world's exporters of illicit capital with a whopping US$2.8 trillion of outflows, followed by Russia (US$427 billion), Mexico (US$416 billion), Saudi Arabia (US$302 billion) and Malaysia (US$291 billion).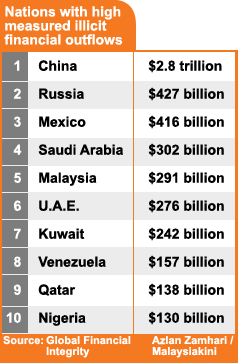 Other Asian countries with high illegal capital flight are Philippines ($109 billion), Indonesia ($104 billion) and India ($104 billion).
GFI has identified deliberate trade mispricing - which allows companies to avoid paying taxes - as the major source of the illicit outflows.
"Trade mispricing was found to account for an average of 54.7 percent of cumulative illicit flows from developing countries over the period 2000-2008 and is the major channel for the transfer of illicit capital from China."
However, bribery and theft are also major reasons for the outflows in many countries.
"Bribery, theft, kickbacks and tax evasion were the greatest conduit for the illicit financial flows from the major exporters of oil such as Kuwait, Nigeria, Qatar, Russia, Saudi Arabia, the United Arab Emirates, and Venezuela."
The report found that about US$1 trillion flows out from developing countries to rich countries each year - a situation which resulted in many of these countries remaining perpetually poor.
GFI offers a silver bullet solution to stem the illicit financial outflows from developing countries - greater transparency.
"Increasing transparency in the global financial system is critical to reducing the outflow of illicit money from developing countries."