A popular Facebook page opposing the 100 storey mega-tower, has now shifted its focus to campaign against proposals to amend the Printing Presses and Publications Act (PPPA).
The fan page on the popular social network website has almost 290,000 followers since its creation on Oct 16 last year, after the government announced plans to construct a 100-storey skyscraper in Kuala Lumpur.
It today embarked on new online protest for the next two weeks beginning today.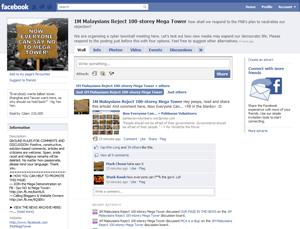 The 'Mega Online Demonstration II' which will run until Feb 14 requires Facebook users to use posters designed by the fan page administrators as their profile photo.
The campaign which kicked off at about noon today, has receive 392 'likes' and 75 comments as of 12 midnight.
"Our internet freedom is at stake. Do you want to see Malaysiakini or The Malaysia Insider crying for publication permits, bloggers being registered, F acebook or Twitter users charged for false news?"
"Will you stand up to defend freedom? Change your Facebook (profile) picture with your constituency stated. Stay tuned for more posters," said the inscription on the wall of the fanpage.
The posters carried slogans such as - 'the Internet - tool of the people: Hands off my Internet, politicians' (top image) , 'I vote to stop you, I want my Internet free' (right) and 'This is my space so get out of my Facebook ' - among others.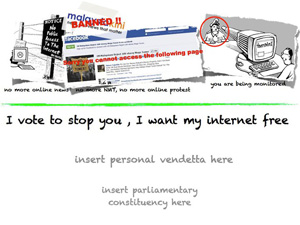 Its administrators has also asked users to continue to visit the fan page for more posters.
Last week, Home Ministry secretary-general Mahmood Adam told national news agency Bernama that the ministry intended to extend the scope of the PPPA to online publications.
Mahmood also said the government planned to table the amendments in the Dewan Rakyat in March.
However, Home Minister Hishammuddin Hussein said later that discussions on the amendment were still in the "very early" stage.
News of the move to include online publications under the PPPA has received strong objections from members of the public, media practitioners and politicians from both BN and Pakatan Rakyat.
The PPPA has been blamed for keeping the print media on a tight leash, as the home ministry-issued publication permits have to be renewed annually.
The government has, under the Multimedia Super Corridor Bill of Guarantees, given its pledge that it will not censor the Internet.