EXCLUSIVE After having received a RM100 million grant from the government, a 'premier' private university has not met its enrolment targets and is left with barely enough money to last another year.
In fact, said its chief executive Leong Choon Heng, the university is now down to "less than RM10 million" and is forced to take aggressive cost-cutting measures to keep afloat.
He was responding to queries after Malaysiakini received a tip-off on the situation.
Founded in 2001 by senator and former cabinet minister Effendi Norwawi, the Malaysian University of Science and Technology (MUST) was supposed to be a premier postgraduate university in partnership with the Massachusetts Institute of Technology (MIT).
The university had received the money in instalments between January 2001 and 2006, via the MUST Ehsan Foundation. Effendi has been a trustee of the foundation since 2001.
But 10 years on, the university is far from even meeting its 2007 target of 500 students, with only 207 enrolled.
Furthermore, most of these students are undergraduates who were enrolled to boost the numbers after an all-time low of 10 students in 2007.
During the tenure of former chief executive Omar Abdul Rahman, who resigned in March and was once advisor of science and technology to then premier Dr Mahathir Mohamad, the university did not acquire much physical assets.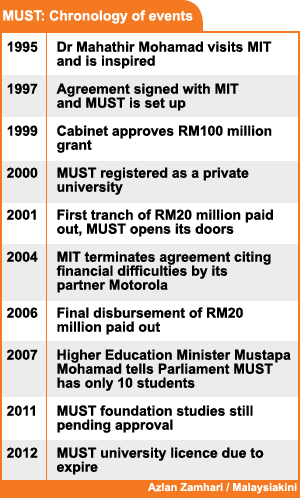 The university has always been located in office lots in Kelana Square, as initial plans to build a campus through MUST Ehsan Development was shelved.
MUST Ehsan Development - a subsidiary of the public-listed Encorp Group founded by Effendi - was supposed to develop the land surrounding the designated site of the campus in Shah Alam.
The revenue from this was to be used to fund the construction of the campus and other university activities.
MUST Ehsan Development has a portfolio of projects worth RM800 million, including the mixed-development project dubbed the Strand in Kota Damansara. However, it has nothing to do with the Foundation or MUST.
Malaysiakini contacted Effendi about two weeks ago as a key representative of the previous management, but he has yet to respond to the issues raised.
Where the money went
Leong, who took over management about three months ago, said most of the grant was spent to finance the students and to recruit faculty members from leading universities abroad.
"From 2002-2006, a sizeable amount of the grant was spent on scholarships and stipend for the pioneer batch of students. The majority needed more than three semesters to graduate, as the MIT curriculum was very demanding," he said.
To date 107 students have graduated under the MUST-MIT programme, which expired in 2004.
This number, said Leong who is also a faculty member, is "a normal figure for post-graduate programmes, as with public universities of similar size over a similar time period".
The university has lab equipment, books and office equipment and three Proton Perdana cars - all of which once cost millions of ringgit but have now depreciated severely in value.
Malaysiakini understands that MUST has been paying rental for about 30 rooms, which it had never used since opening its doors. It is understood that millions of ringgit have been spent on renovations to the premises.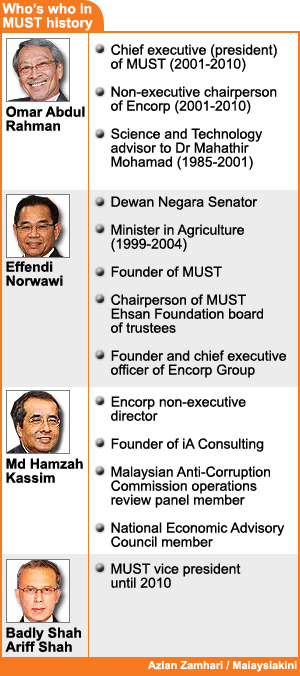 To cut costs and revive the university, the new management team is letting go of several of the four floors it has been renting.
"We've let go of floors and rooms which we have never used and are in the midst of gradually moving to the Strand, which we feel will give us a better profile as there are other colleges located there," said Leong.
Letting go of these rooms is expected to return some RM60,000 to the university's bank account.
The management will channel this to "aggressive marketing", in the hope of attracting more students.
Leong added that the rental for the new premises, owned by MUST Ehsan Development, is expected to be "the same or better" than the sum currently being paid.
For now at least, the Higher Education Ministry is giving MUST another chance to turn things around, even though the university does not meet the minimum of RM20 million paid-up capital that is required of private universities.
"MUST is undergoing a rebranding exercise under new management (and) is now also offering undergraduate degree and diploma courses," explained Mohd Najib Masrom, the ministry's senior assistant director of the private higher education management sector, by email.
The licence for MUST to run its foundation programme is pending renewal.
The university licence will expire in 2012. It is understood that such permits are worth several million ringgit.
Part 2: Troubled MUST strives to clean up its mess