Chief Minister Mohd Ali Rustam has a favourite anecdote he likes to share with anyone willing to lend a ear, at all events during the Merlimau by-election campaign.
In this story, Mohd Ali and Malacca MIC chief R Perumal visit the mostly Indian village of Kampung Paya Buloh to check out a family that DAP claims goes to sleep hungry more often than not.
"I opened their pot and found that it was a quarter full with rice. I asked them, 'What lauk (dishes) are you having today?'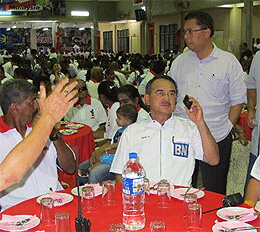 "Perumal opened the other pot and found chicken curry!
"Three chicken thighs, and here is DAP claiming that they are poor," Mohd Ali ( centre in photo ) said on the issue that came to light following a report Malaysia Nanban published several days prior to nomination day.
In its report, the Tamil daily spoke to a 13-year-old boy from the family of five, who said he was now considering quitting school to work full-time as a cowherd to supplement his family's income as both his parents were sickly.
Once published, the reporter responsible was subjected to harassment from "members of the public" angry with her report.
The rear windshield of her car was smashed that night, but nothing inside was taken. The damage cost her about RM400 in repairs.
Malaysiakini 's visit to Kampung Paya Buloh supports the Nanban report.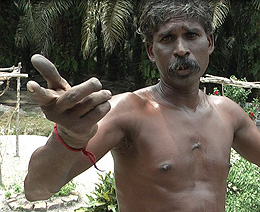 More interestingly, the boy's father, who wanted to only be known as Periamalai ( right ), said the chicken curry that Mohd Ali claimed was in their pot was in fact biawak (monitor lizard) caught by their pet dog.
"We catch biawak several times a week. We don't really eat chicken as we don't have a taste for it," the 47-year-old said.
Indian areas heavily-guarded
The rice Mohd Ali saw, he added, was donated by someone, and that once or twice a week, the family goes to bed with rumbling stomachs after downing some porridge, and on really bad days, only water.
Periamalai said he was unable to do heavy manual labour after he had been slashed in a fight.
He said that he can make RM50 doing odd jobs... that is, if he is working as these jobs are not regular. His wife, who is under medication for severe asthma, is unable to work.
"Yesterday I worked, today I'm not working, I might be working the day after tomorrow... people can help if they want, but I will not beg money from people.
"I've applied for welfare at least five or six times before from the JKKK (village committee) and only after the chief minister's visit has the welfare department come and asked me to fill a form for assistance," he said.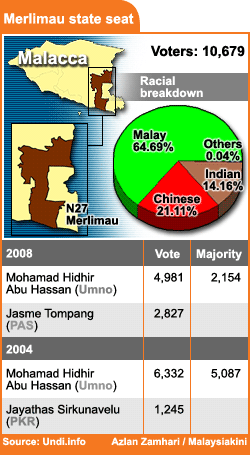 In another rural part of Merlimau, single father M Seleyan is caring for his four children, the oldest aged 13, on a salary of RM550 a month.
"I have worked as a gardener in a Tamil school for decades but my salary is the same, even though I have asked for a raise many times.
"None of my children receive welfare, except for one of my sons who gets free lunch at school, even though I have applied a few times," he said, when met in Kampung Lipat Kajang.
The bill for school fees, books and other schooling needs ran up to several hundred ringgit this year, and he has yet to settle them as rental alone gobbles up half of his salary.
Stories like these, however, are kept hidden from the rest of the constituency.
Since the Nanban report, the village has come under watch by what some claim are plainclothes police officers. Some of these police officers have also come to keep an eye on Malaysiakini journalists visiting Kampung Paya Buloh.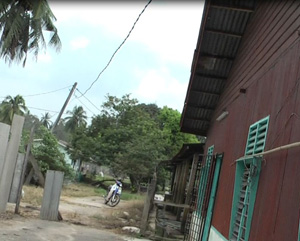 In once incident, four police personnel were present during a Malaysiakini visit .
One stood with his arms crossed, barely an arm's length from the Malaysiakini videographer, uttering not a word as a journalist from the news portal spoke to a group of villagers.
Asked who he was, he replied stonily, "Bukit Aman."
This is not the only Indian-majority area within Merlimau that appears to be heavily guarded by the authorities.
Despite being able to enter the oil palm estates for several days during this election campaign, Pakatan representatives were barred from Kempas estate and several others on Wednesday, with guards saying they received the orders from "headquarters".
BN wants 100 percent Indian votes
At the same time, the 1Malaysia NGO, which in several other by-elections had targeted the Chinese community, yesterday threw a big dinner for about 1,000 from the Indian community.
It is understood that the NGO had distributed free tickets for the gala, where its giveaways included motorcycles, bicycles and electrical appliances.
When asked by Mohd Ali, who repeated the 'chicken curry' story again last night, almost all the adults in the hall raised their hands to show that they are Merlimau voters.
"I want to make sure that we get 101 per cent support from Indian voters so we can ignore the one percent spoiled votes," he said.
Earlier that day, Mohd Ali claimed that BN had won over about 55 percent of Chinese voters, while DAP believes that its opponent could take about 65 of the Malay votes.
With such estimates, Mohd Ali would indeed need all of the 1,510 Indian voters to choose the dacing on Sunday if he wants the winning majority to exceed that in 2008.
The psychological war has also reached the Indian community, with the most recent bearing a Perkasa Malacca logo and the words 'Keling tak sedar diri' (Indians don't know where they stand). 'Keling' is a derogatory term for Indians.
Pakatan is trying to win over the Indian voters by roping in top DAP Indian leaders like Ipoh Barat MP M Kulasegaran, who was expected to be in Merlimau today.
The Pakatan member will need to convince people like Periamalai that voting in PAS candidate Yuhaizad Abdullah will mean more money in his pocket, and fewer hungry days.
"I will go and vote, but I just don't care. I'll go there and just cross whoever," Periamalai said.