In a dramatic turn of events, top blogger Raja Petra Kamaruddin has disclaimed any responsibility for accusations that Prime Minister Najib Razak and his wife Rosmah Mansor were involved in the murder of Mongolian national Altantuya Shaariibuu.

In an exclusive interview with TV3 group editor Ashraf Abdullah and aired on several major television stations tonight, the Malaysia Today webmaster also turned the tables on Opposition leader Anwar Ibrahim - with whom he has long been associated - by claiming people close to Anwar were behind the accusations against Najib to prevent him from succeeding Abdullah Ahmad Badawi as prime minster.
"I have never accused the prime minister or his wife as being involved in the Altantuya Shaariibuu murder case," Raja Petra was recorded as telling Ashraf in Perth, Australia.
In a statutory declaration (SD) made before Raja Petra left for the UK, the political activist had said he had received information from several people purporting Rosmah as having been present at the place when Altantuya was murdered.
"In that SD of mine, I recounted how there were these people who had informed (me) of these things.
"Let those people come and tell their story. The authorities should investigate and call these people. That's what I said in the SD.
"I myself did not raise any accusations. I did not say I know that the wife of the then-deputy prime minister (Najib) was at the scene of the incident. I did not say that. I did not make the accusation.
"What I said was there were people who told me this, but it depends on the authorities to investigate this further and for those people to come forward.
"I mentioned the names of these people. I mentioned them during the interrogation by the police," he said.
Raja Petra had previously blogged that he was introduced to Lt Kol Azmi Zainal Abidin - who he described as being the "number two in the special branch of the military intelligence" - who was the source of the accusation against Rosmah.
The people Raja Petra said introduced him to Azmi, furthermore, were Nik Azmi Nik Daud and John Pang, both of whom had worked for Umno stalwart Tengku Razaleigh Hamzah, and blogger Din Merican who was once close to Anwar.
In the interview with Ashraf, Raja Petra said he does not accept any longer the storyline pushed by the trio.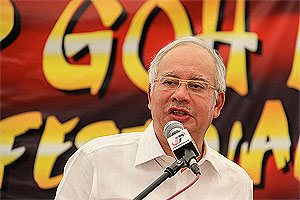 "I don't believe the story anymore. Because I feel, maybe it's impossible. How can the wife of the prime minister have been at that place (where Altantuya killed), as that place is in the middle of the forest.
"I thought, 'would she climb to such a high ground, enter the forest in the middle of the night, midnight? I thought that must be impossible.
According to the TV3 report, Raja Petra said the aim of the three people concerned was to ensure that Najib did not replace Abdullah Ahmad Badawi as prime minister when the latter steps down.
Raja Petra said he had asked Nik Azmi why he was so insistent that he (Raja Petra) make the SD accusing Rosmah of being involved in the case.
"What do you hope to achieve? He (Nik Azmi) said Pak Lah will step down. If we don't block Najib, Najib will be prime minister to succeed Pak Lah."
Raja Petra said further he then asked Din Merican to get Anwar's approval for the SD.
"Din Merican then contacted me again and he said he had spoken to Anwar and Anwar has given the green light. He said okay, this person (Azmi) is no problem. What he says, we can believe.
"Anwar knows him well and he often meets him, this Lt Kol (Azmi). And he has told Anwar a lot about this issue.
"He (Anwar) said proceed. So I proceeded," said Raja Petra, who added he was promised that all the individuals involved would be witnesses if he were charged in court.