For PKR, which won only three of the 49 seats it stood, the Sarawak election today was a case of looking for a silver lining but for its partner DAP, it was another clear sign that Chief Minister Abdul Taib Mahmud has "overstayed his welcome".
While the mood was somewhat sombre at the PKR headquarters in Kuching tonight, Sarawak PKR chief Baru Bian, who flew in from Ba'Kelalan after winning with a thin margin of 473, said that the results are an "excellent start" for Sarawak PKR and Pakatan Rakyat.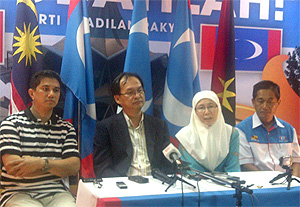 Despite PKR's poor winning percentage, Baru ( second from left ) said that PKR, which only won one seat in 2006, has obviously making inroads into Sarawak and that Pakatan Rakyat is gaining popular support leading up to the general election, particularly in the state.
"We are confident that the popular votes have arisen and that is a sign that the people of Sarawak are moving forward, giving us confidence in upcoming in parliamentary election in Sarawak... It is a sign of approval by the people that a two-party system should stay," he said.
Pakatan took 15 seats, almost doubling the number of victories in 2006 when they won eight. DAP doubled its seats to 12, while another was won by Independent candidate George Lagus, who defeated opponents from PKR and PRS.
In the seats won, only Krian (also won by PKR) and Ba'Kelalan are non-Chinese majority seats, while the rest were both Chinese-majority and urban.
Responding to this, Baru admitted that there are those in more rural areas who "have yet to see into the future, because of (BN's) strategy dangling carrots of projects in front of them".
He added that while he managed to convince voters in rural Ba'Kelalan to ignore such offers, PKR will still need to have a post-mortem study to understand why their strategies against this failed in the other mostly rural seats they contested.
Meanwhile, Baru, who was touted by several Pakatan leaders as the chief minister if Pakatan were to take over government, said that it was premature to announce who the opposition leader would be.
"We would have to discuss this," said the native customary rights lawyer graciously, adding also that his personal priority when in the House would be to look at legal aspects pertaining to land rights.
On a separate matter, PKR election director Azmin Ali, who was also at the press conference, said that the party would review reports from its polling agents and decide on their next course of action pertaining to irregularities during polling.
"Our agents throughout the state were denied copies of the Borang 14 (which states the number of voters and votes at each station), which goes against the Election Act. I contacted the Election Commission throughout the day but did not receive a response on this," he said.
According to Azmin, Pakatan has slashed BN's popular vote from 62.93% to 55.24%.
'Taib hungry to cling on to power'
Meanwhile, in Sibu, Regina Lee reports that DAP reiterated its call for Taib to step down because the election result was a vote of no-confident on his leadership.
"Judging from the results state-wide and the spectacular defeat of SUPP president and Deputy Chief Minister George Chan, it is now clearly untenable for Taib to remain in power.
"The people of Sarawak have effectively delivered a vote of no-confidence to the leadership of the chief minister. If he chooses to cling on to power, he will be openly defying the wishes of the people," said state DAP leader Wong Ho Leng, who was also re-elected as Bukit Assek assemblyperson.
The Sarawak DAP leader also slammed Taib over the sudden swearing in to office.
"It just shows how hungry Taib is to cling onto the chief minister's post," said state DAP leader Wong Ho Leng, who was also re-elected as Bukit Assek assemblyperson.
Speaking to reporters at the DAP operations centre in Bukit Assek, Bukit Bendera MP and the party's point man for Sibu Liew Chin Tong also said that it was a sign of "tension between Petra Jaya and Putrajaya".
Petra Jaya is the state administrative capital.
"He is clinging onto power that does not seem to be agreeable to Putrajaya," said Liew.
Taib was sworn in to his seventh term as chief minister minutes after the Election Commission announced that BN had won a two-thirds majority, though results from other seats have not been made official yet.
Meanwhile, Wong said that the party was not caught unawares by their best-ever showing in the polls.
"I had targetted 12. The journalists here can confirm that I have repeatedly said it.
"We got exactly 12 though a lot of the SUPP leaders thought we were exaggerating. We were realistic. We aimed for 12 and we got 12," he said.
While refusing to comment on who would be the next opposition leader in the state assembly, Wong said that the polls were a milestone for the people of Sarawak.
"This is a clear and bold message to the BN government that under no uncertain terms, they want change," he said, reading out from a statement.
DAP has won 12 out of the 15 seats it contested, even slaying SUPP heavyweights such as party president George Chan and vice-chief Tiong Thai King.