Pakatan Rakyat succeeded in making major inroads in Sarawak, doubling its representation in the state legislative assembly and severely crippling the state BN second-largest component party, the Sarawak United People's Party (SUPP).
A major urban revolt against Chief Minister Abdul Taib Mahmud nearly wiped out SUPP in the cities and sent numerous party strongmen to stunning defeats by DAP's stable of new faces.
The biggest shock, however, came through a surprise win by PKR in Krian, who fielded a virtual unknown against a Sarawak People's Democratic Party junior minister.
Another major surprise came in form of a win by Independent candidate George Lagong, who beat PRS' new face Stanley Nyitar @ Unya Anak Malan in a four-corner contest.
PKR also scored a major symbolic victory in Ba'Kelalan, where the party's state chief Baru Bian scraped through to win with just 473 votes to mark the party's first triumph in Sarawak's interiors.
There is however no doubt that the biggest victors of the polls is DAP which won 12 out of 15 seats contested.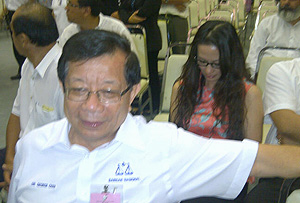 The biggest casualties at the hands of DAP was SUPP president Dr George Chan, who was unseated in Piasau by a greenhorn, after serving as the state assemblyperson there for seven terms.
Chan's defeat comes after record crowd attendance at DAP ceramah in the constituency of Piasau and Pujut, which also fell to DAP.
PKR was however unable to unseat SUPP in Senadin, losing by just 58 votes. The results however underscore growing disenchantment with the SUPP, who are long seen as Taib's loyalists and henchmen.
One SUPP strongman escape purge
The wave of discontent against SUPP was also helped DAP make further inroads in the Sarikei area, with heavyweight David Teng, the SUPP treasurer, succumbing to a DAP unknown. DAP also managed to retain hold of its Meradong seat here.
Strangely, SUPP deputy secretary-general Wong Soon Koh escaped the purge, holding on to his Bawang Assan seat. His comrades who contested in the Sibu area all perished.
SUPP lost its Pelawan and Dudong seat while failing to unseat DAP in the Bukit Assek. Up north in Bintulu, DAP managed to hang on to its Kidurong seat.
In Kuching, five SUPP candidates – dubbed the SUPP's 'Five Kuching Tigers' – had their roar virtually ignored during the campaign by DAP and PKR, routing them in the process.
Not only did DAP manage to defend the Pending and Kota Sentosa seats with increased majorities, the party also sent Padungan incumbent Dominique Ng ( right ), who stood as an Independent, crashing to a humiliating defeat, losing his deposit in the process.
For the Batu Lintang seat, PKR trounced the SUPP candidate Sih Hua Tong, an aide to Taib, nearly doubling the majority obtained by DAP in the same seat in the 2006 polls.
DAP also wrested Batu Kawah seat, a semi-rural seat south of Kuching, which is considered a BN stronghold.
BN firmly in control of rural vote
In total, SUPP lost six of its seats while SPDP lost two and PRS one. As such, PRS is now the second biggest party replacing SUPP.
Tellingly, BN is still firmly in control of the Malay-Melanau vote with PBB winning all 35 seats contested, which a cursory look indicates that they won with an increased majority.
PAS was routed in all five seats in contested in and a preliminary analysis shows that it is unable to make an impact among Malay-Melanau voters.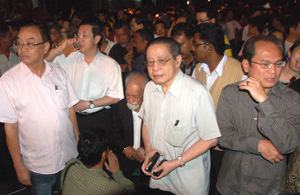 Despite failing to achieve the two-thirds majority target, DAP supremo Lim Kit Siang said that the polls proven that BN is not infallible.
"It is a setback for (prime minister) Najib (Abdul Razak). Sarawak is no longer fix deposit. It will have far reaching implications for the general elections," he told reporters after the results were announced.
The immediate question now is how the results would affect Taib's position. While he may have most of the urban vote, the the rural voters, who make up the majority are still solidly behind him.
Won
PBB
35
35
SUPP
19
6
PRS
9
8
SPDP
8
6
.
DAP
15
12
PKR
49
3
PAS
5
0
.
PCM
6
0
SNAP
26
0
IND
41
1