Despite failing to deny Sarawak BN of its two-thirds majority at yesterday's polls, Pakatan Rakyat is content with the fact that the ruling coalition's popular vote has slumped eight percent.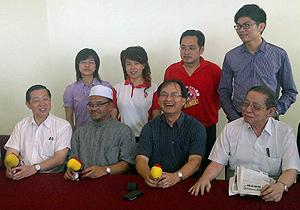 DAP secretary-general Lim Guan Eng ( far left in photo ) said BN's popular vote has been slashed from 63 percent in the 2006 state election to 55 percent.
"I believe the election shows that Sarawak is not the fixed deposit of BN as claimed by them.
"This is a swing of eight percent, which is a big swing. If this trend continues in the upcoming parliamentary elections, BN will lose more seats," said Guan Eng.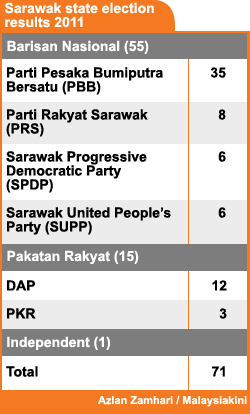 He was speaking during a press conference in Kuching along with top Pakatan leaders.
As polls closed last night, BN was left virtually wiped out in the urban areas and lost three rural seats. In all, Pakatan took 15 seats while an Independent won one. There are 71 seats in the Sarawak legislative assembly.
DAP adviser Lim Kit Siang points out that although the Taib administration had retained more than two-thirds of the seats, the facts show that he does not have the support of two-thirds of the voters.
Added to the fact that there is now a bigger opposition bench, Kit Siang said that this was the "lowest point" for Taib in terms of electoral performance.
Ubah DAP's lucky charm
Meanwhile, Kit Siang also poked fun at Taib's haste in being sworn in as chief minister immediately after results were announced last night.
"As if there were higher powers that may stop him and sabotage his reappointment as the Sarawak chief minister," he said.
Guan Eng chimed in that when Pakatan won Penang in 2008, he was sworn in three days after the elections, and at a formal ceremony where all state assemblypersons would be brought in to witness.
PAS deputy president Nasharuddin Mat Isa meanwhile said although his party had failed to win any of the five seats they contested, it has made some inroads, particularly by reducing BN's majority in Beting Maro.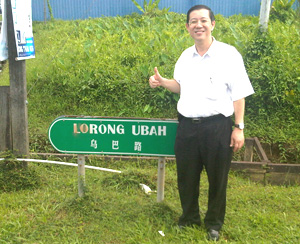 "The Pakatan spirit shows that we are committed to bringing change to Sarawak. The land is very fertile for Pakatan," he said.
On a lighter note, DAP chairperson Karpal Singh said the party mascot 'Ubah', displayed on almost all DAP election campaign material, deserved some credit for DAP's success as well.
"The mascot brought us luck," he remarked.