Seven women will make their way to the Sarawak state legislative assembly after winning in the just concluded state election.
16 women entered the fray.
Four incumbents from BN - Fatimah Abdullah, Sharifah Hasidah Sayeed Aman Ghazali, Simoi Peri and Rosey Yunus (Bekenu) - retained their respective seats.
Fatimah, 54, won Dalat with a majority of 4,990 votes in a three-cornered fight. Fatimah, who is Parti Pesaka Bumiputera Bersatu Wanita deputy chief, was the only woman minister in the last cabinet.
Sharifah Hasidah, 42, retained her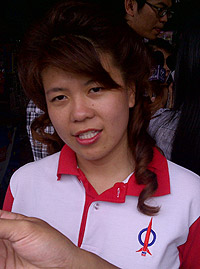 Semariang seat with a 5,431-vote majority in a straight fight against Zulrusdi Mohamad Hol of PKR.
Simoi, 47, kept her Lingga seat, with a majority of 2,506 votes in a three-cornered fight while Rosey, 55, of the Sarawak Progressive Democratic Party, won the Bekenu seat with a majority of 3,714 votes in a four-cornered fight.
DAP fielded four women - Violet Yong ( right ) in Pending, Ting Tze Fui in Meradong and two new faces, Alice Lau Kiong Yieng in Bawang Assan and Christina Chiew in Batu Kawah.
Yong, 34, won against cardiologist Prof Dr Sim Kui Hian of BN in Pending with a majority of 7,595 votes while Ting, 30, defeated Ling Kie King of SUPP in a straight-fight.
Chiew, 27, a newcomer who holds a Masters degree in biochemistry, turned out to be a giant killer, beating Tan Joo Phoi, assistant minister in the chief minister's office.
Chiew, the youngest DAP candidate in the election, won the Batu Kawah seat with a majority of 543 votes.
Pharmacist Lau, 29, also a first-timer, failed to wrest the Bawang Assan seat from SUPP heavyweight Wong Soon Koh, who won by a 1,808-vote majority.
Lau is a daughter of Chinese community leader and president of the United Chinese Association of Sibu, Lau Cheng Kiong.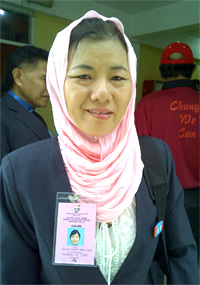 PKR's woman candidate, sundry shop owner Suriati Abdullah ( left ), 50, lost her deposit challenging Chief Minister Abdul Taib Mahmud in Balingian, managing only 871 votes in a three-cornered contest.
The party's two other women candidates, businesswoman Zolhaidah Suboh, 38, and Ibi Uding, 49, respectively lost in Lambir in a three-cornered fight and in Balai Ringin against five opponents.
The two PAS women candidates lost along with the other three contestants from the party.
Nani Sahari lost to Tan Sri Adenan Satem of BN in Tanjung Datu while Noraini Hamzah was defeated by Mohammad Ali Mahmud in Muara Tuang.
The sole woman candidate from Parti Cinta Malaysia, Datin Dayang Juliana Awang Tambi, 44, lost her deposit in a four-cornered fight in Bekenu.
Independent woman candidate in Batu Lintang Soo Lina, 52, lost her deposit, obtaining 290 votes in a three-cornered fight.
- Bernama