No action can be taken against Perkasa chief Ibrahim Ali over his warnings of violence against the Christian community as such remarks are now a Malaysian norm, said de facto law minister Mohd Nazri Abdul Aziz.
No matter how unsettling such remarks are, Malaysians therefore "need to live" and "be mature" in dealing with such characters as Ibrahim and his ilk since social platforms and media such as Twitter and blogs have allowed statements such as Ibrahim's to proliferate beyond the government's ability to proscribe - or punish - them, he added.
"It's difficult to take action against Ibrahim now with the existence of Twitter and blogs ... because we cannot be selective in our prosecution," he told Malaysiakini when contacted today.
Ibrahim had caused public outrage after issued an ultimatum of sorts against "ungrateful Christians" if they went on with a purported plot to subvert the position of Islam as the official religion of the federation.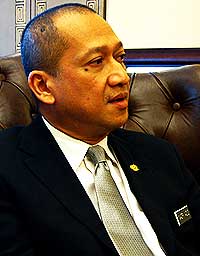 Ibrahim had based his remarks on an Utusan Malaysia report earlier this month that alleged Christian leaders were conspiring to change the federal constitution in order to install a Christian as a prime minister and turn the Muslim-majority country into a Christian state.
Nazri (left) said users of Twitter and bloggers have been guilty of making statements deemed sensitive to one or other group.
"If I take action now (against Ibrahim), I have to move on all (of such) blogs and those (issuing similar remarks) on Twitter," said Nazri.
That, he added, will be a difficult task as the government would then be accused of stifling freedom of speech.
"The courts will be full of prosecutions against (persons accused of making) seditious statements," he reasoned.
He stressed the mammoth prospect of such a task presently compared to a few years ago when those propagating extremism and those uttering racial insinuations were hauled to court and punished.
Nazri: Live with it
Mohd Nazri had previously said that the government should " get rid " of the right-wing group, as it had acted in an extreme manner.
His comments came at a time when Perkasa had acted as a major stumbling block to Prime Minister Najib Abdul Razak's economic reform efforts, as the group had decisively opposed the PM's proposal to gradually lift affirmative action policies to encourage open competition.
Mohd Nazri had then stressed that action can be taken if leaders of such groups uttered seditious remark.
In contrast, Nazri now says, "The state of the country is now beyond this... we have to live with it now."
Religious leaders, critics and politicians from both sides of the fence have been mounting pressure on the government to act against Umno-linked Utusan Malaysia for its reckless reports on the alleged 'Christian conspiracy'.
Utusan front-paged an article titled 'Kristian Agama Rasmi?' (Christianity the official religion?) that cited unsubstantiated allegations on two pro-Umno blogs that Christian pastors were supposedly hatching a conspiracy to take over the country, abolish Islam as the religion of the federation and install a Christian prime minister.
The parties alleged to be involved have vehemently denied the reports and had lodged police reports against the Malay daily, and Utusan as well as the bloggers are presently under police investigation.
Muslim lawyers: 'Crusade' out of the question
Moderation is the way forward, says Najib
Lateral thinking needed to avoid 'new Osama'
Caution needed in handling religious issues
The reasons why Ibrahim Ali is untouchable