While the attempt by Subang Jaya assemblyperson Hannah Yeoh to register her daughter's race as 'Anak Malaysia' has sparked a debate, there is another group that has even more reason to voice discontent with the national registration system.
The 150,000 indigenous people in Peninsular Malaysia, or Orang Asli, are categorised as 'lain-lain' (others) in all official documents and forms, a term deemed as an insult to the first peoples of the country.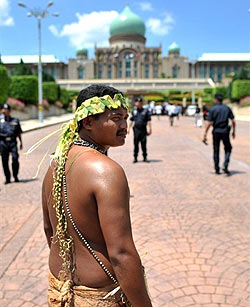 Malaysiakini
learnt from several Orang Asli community representatives that, while they were allowed to register their children's race as 'Orang Asli' and state their sub-ethnic group in the birth certificate, the recognition stops there.
The 'race' column in all other government and official documents only allow them to choose the option 'lain-lain' .
"This is an insult. It is as if Orang Asli don't exist," Juli Blat, supreme council member of the Peninsular Malaysia Orang Asli Association, said when contacted yesterday.
"It seems that our status as indigenous people in Malaysia is not recognised. This is an issue that upsets many Orang Asli activists."
Calls intensify for abolition
Orang Asli activist Bob Manolan from Pahang argued that the current practice does not reflect the 1Malaysia concept trumpeted by the prime minister.
"Who is this 'lain-lain '? If the government wants to categorise us as 'lain-lain' , they should also do away other races like Malay, Chinese and Indians - just put our nationality and abolish race.
"If they want to state 'race', then the options should cover all the races," he said.
Sharing this view, Peninsular Malaysia Orang Asli Villages Network coordinator Tijah Yok Chopil said the right to state ethnicity should not be exclusive to certain communities.
"We are the indigenous people here but when it comes to race, we are categorised as 'lain-lain' , this is not fair," said the Perak-based activist.
"The government should just abolish it. Just state that we are Malaysians."
Juli, who is also a member of the Selangor Orang Asli Land Task Force, urged the federal government to give due recognition to the Orang Asli community in the peninsula, similar to that enjoyed by the native communities in Sabah and Sarawak.
"The federal government knows very well that we exist, but this shows their political attitude against us," he claimed.
Related reports
Lawmaker fails to register child as 'anak Malaysia'
One Malaysia, but three sets of registration rules
Hannah and hubby: Officer listed 'Chinese'
NRD says no to 'Anak Malaysia'
'Racial distinction good, anak Malaysia bad'
DAP preps 'Anak Malaysia' row for court