The appellate court judge accused of plagiarising the judgment of a Singapore judge had ironically done so in a copyright infringement case.
This was revealed by veteran lawyer Karpal Singh, who yesterday submitted a motion to the office of the Parliament speaker against the judge, with the support of close to 60 Pakatan Rakyat MPs, to have him placed before a tribunal and be removed.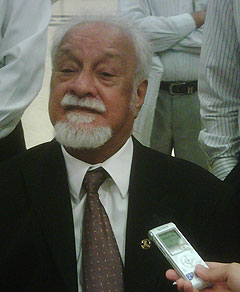 "It is rather odd that, I am told, the reputed judge had chosen to plagiarise former Singapore judge GP Selvam's judgment on a copyright issue," Karpal said, laughing.
"I am also told that this created an uproar between the judges of Singapore and Malaysia. I was made to understand the Singapore chief justice has also written to our CJ (chief justice) to complain about the matter."
Karpal said this to Malaysiakini on the sidelines of Anwar Ibrahim's application before the Federal Court today.
Commenting on the issue as well, Anwar, who is opposition leader and PKR de facto leader, said this showed that some Malaysian judges lacked integrity.
The name of the Court of Appeal judge is being withheld until he is willing to reply to the allegation.
Malaysiakini tried to contact the judge a number of times, but the only response we could get was from his secretary, who said, "he is not available".
Yesterday, Karpal had submitted a motion on the matter to the office of the Dewan Rakyat speaker, under Standing Orders 27, read with 36(8) and Article 127 of the federal constitution, which he wants tabled in Parliament.
He explained that he had sent a letter to the judge on Aug 22 and gave him seven days to respond.
However, there has been no response to date. Karpal further wrote another letter, on Sept 29, informing the judge that since there was no reply, it would amount to an admission of the misconduct.
The speaker has seven days to decide whether to present the motion before Parliament.
The judge accused of plagiarism had once served as a High Court judge in Johor Baru.
CJ Eusoff and Rais had responded then
Malaysiakini asked Karpal whether he was referring to two news reports in Singapore's Straits Times - March 8 and April 13, 2000 - and he confirmed the matter.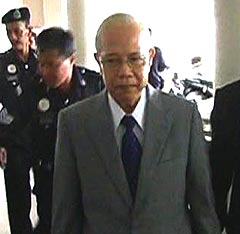 The newspaper quoted then chief justice Eusoff Chin as having written to his Singapore counterpart, justice Yong Pung How, asking for more information on the allegation of plagiarism.
A month later, Eusoff told journalists that the matter was resolved and that it had arisen out of a "misunderstanding." He however did not elaborate.
Then minister in the Prime Minister's Department Rais Yatim was also reported to have promised an investigation.
Rais had said it was not easy to establish plagiarism because it was normal for judges to quote one another extensively.
"Quoting another judge is not plagiarism," he said.
The Straits Times report of March 18, 2000, also quoted the former Singapore judge accusing the Malaysian judge of having obtained a copy of his (Selvam's) judgment through a lawyer and "having copied chunks from me without acknowledging".
Selvam was also quoted to have said the Malaysian judge backdated his judgment so that people "will think I copied from him!"