Anwar Ibrahim's ease at finding parallels between seemingly contending beliefs and his comfort in paradox was in evidence at a forum in Kolkata over the weekend.
Invited to an Indian Muslim NGO's silver jubilee conference themed 'Good Governance in a Globalising World', Anwar held forth on 'Governance and Ethics' in one segment of the three-day affair organised by the Institute of Objective Studies, a highly regarded research organisation with links to the International Institute of Islamic Thought and the Economic and Social Council of the United Nations.
The thrust of Anwar's presentation revolved around the temptation of power to think that it is always twinned with virtue.
He cited the admonitory wisdom of Caliph Umar Abdul Aziz, one of Prophet Muhammad's political successors, who appointed monitors to watch over his conduct.
Anwar quoted Umar's rationale to his monitors: "Rulers usually appoint people to watch over their subjects. I appoint you to watch over me and my conduct."
This oft-cited quotation from Umar helps the Malaysian opposition leader to dilate on another favorite oracular pronouncement: "Man's capacity for justice makes democracy possible, but man's inclination to injustice makes democracy necessary" – this one from the Christian theologian Reinhold Niebuhr.
As long ago as his 1996 Budget speech to Parliament as finance minister, Anwar cited this cautionary wisdom as a check on the temptations of power to vanity, complacency and hypocrisy.
Anwar told the audience during his segment of the conference that a critique of hubris was necessary to keep the apparatus of even democratic states from the temptations of extrajudicial procedures that result in injustice and the muzzling of dissent and opposition.
Yet again, he held up as a guide for the restraint of power the maqasid shariah, the 12th century formulation of the Islamic jurist Al Shatibi, which posited the protection of life, property and the preservation of peace as the higher goals of syariah.
Anwar said a holistic conception of the maqasid shariah was the guarantee against the rigid interpretation and application of syariah.
Tagore's poetry
Anwar said he was conscious that the venue of the conference, Jesuit St Xavier's College, was where Nobel literary laureate Rabindranath Tagore studied as a boy.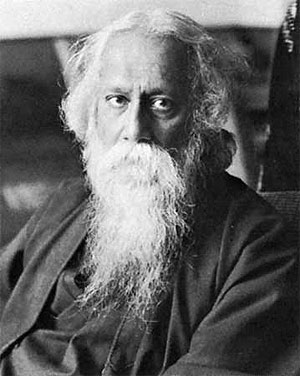 "In this year of the 150th anniversary of his birth, I am reminded of Sir Rabindranath Tagore's gesture of returning his knighthood in protest against the Amritsar massacre of 1919," said Anwar who has cited Tagore (right) as one of the progenitors of the 'Asian Renaissance' espoused by the Malaysian leader since the mid-1990s.
"Not only must power resist the temptation to think that it is always twinned with virtue, but fame must always be accompanied by solicitude for those who suffer from man's inhumanity to man," said Anwar in praise of Tagore who was born in Kolkata in 1841, received the Nobel for literature in 1913, and was knighted in 1915.
Anwar said that in Tagore's poetry and short stories there was always the emphasis on freedom and reason and because he conveyed these ideas in mystic terms, he encountered much misunderstanding in the West.
In expatiating on the philosophic identity of noble minds, Anwar quoted the following lines from Tagore's poetry:
"Where the mind is without fear and
the head is held high
Where knowledge is free
Where the world has not been
broken up into fragments by
narrow domestic walls."
He said that the lines conveyed the same sentiment embodied in Philippine national hero Jose Rizal's declaration in his book El Filibusterismo: "Within a few centuries, when humanity has become redeemed and enlightened, when there are no races, when all peoples are free, when they are neither tyrants nor slaves, colonies nor mother countries, when justice rules and man is a citizen of the world..."
"These two men born in the same year in different countries on the same continent, articulators and strugglers for the liberation of not only their peoples but also of their continents, are the precursors of the Asian Renaissance through their lofty vision of the human pageant and of where it should eventuate.
"Their dream was not only for human emancipation but also for man's ethical governance without which all struggle is futile and all striving meaningless," concluded Anwar.