Selangor PAS has confirmed that its former commissioner Hasan Ali has not received sufficient nominations from local branches for him to defend the Gombak Setia state legislative assembly seat.
In a telephone interview, state information chief Saari Sungib said branches in each division would submit names of three candidates, which would be considered by the party central leadership.
"Hasan did receive nominations, but they were fewer than the other three individuals. It was not enough, not none at all," he said.
Thus, at the state leadership level, Hasan's name is not on the list of candidates, but Saari said the central leadership can include him in the line-up later.
Asked if it was possible that Hasan would be fielded elsewhere, Saari indicated that the possibility may be remote.
"Usually for state seats we give priority to persons who are actually living in a particular area," explained the Hulu Kelang state assemblyperson.
Hasan, who once led Selangor PAS, currently holds the highest ranking position among the Islamic party's representatives in the state cabinet.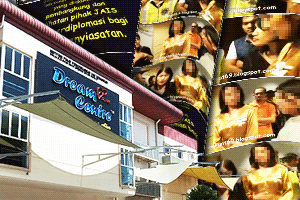 However, he has often run afoul of the Pakatan-led state government for his controversial stands on several matters that contradicted state government decisions.
One issue in particular was the furore surrounding the Damansara Utama Methodist Church 'inspection' by the Selangor Islamic Affairs Department (Jais) on claims of proselytising.
Gag orders against Hasan
The state government later issued a gag order against Hasan for widely speaking on the subject.
Hasan had also been issued with a gag order from the central PAS leadership prior to that, for his vocal stand on the use of the term 'Allah' by non-Muslims.
It is understood that Hasan's candidacy for Gombak Setia during the 2008 general election was a last-minute decision. Pundits said he was not well-received by the grassroots.
His open defiance of party, Pakatan and state policies as well as perceived links with the 'unity government' faction that espouses a PAS-Umno political alliance, also did not endear him to the electorate and party hierarchy.
First contesting for PAS in 1999, he won in both the Sungai Burong state seat and the Parit Buntar parliamentary seat, though he lost both in the 2004 election.
Attempts to contact Hasan for his comments were unsuccessful at the time of writing.