The big spending habits of another member of Prime Minister Najib Abdul Razak's family caught the attention of the Australian media again today - this time in Sydney.
In the 'Private Sydney' section of the Australian daily Sydney Morning Herald , columnist Andrew Hornery called Rosmah the "first lady of shopping", allegedly for spending A$100,000 (RM325,000) at a Sydney boutique.
Quoting Sydney designer Carl Kapp, the columnist reported that Kapp's "biggest customer" had spent the astounding amount during a "private holiday" there "a little more than a fortnight ago".
According to the column, Rosmah and Najib had during the holiday stayed at the A$20,000 (RM65,100) a night penthouse ( right ) at the newly-minted five-star Darling Hotel.
Headlined 'Super Kerr Now a Model Citizen', the column also reported that Rosmah had requested "valet parking for her limo" and was flying Kapp out to Malaysia for fittings of the clothes she ordered.
"(Kapp said) he was being flown to Malaysia next month with a collection of ' toiles ' for (Rosmah) Mansor to try on before completing her massive order of 61 dresses, pants and tops.
"All made from the finest silk and in a variety of exotic colours and prints, Kapp said his new muse had 'a very good eye for colour and she likes a lot of prints'," the prominent daily's lifestyle column reported.
PM's wife 'absolutely gracious'
Rosmah had recently been under fire for allegedly purchasing a diamond ring worth RM24 million, which she has vehemently denied, and for owning several Hermes handbags worth thousands of ringgit.
"In recent months, (Rosmah) Mansor... has been forced to deny reports she had bought a US$24 million diamond and a US$200,000 (RM621,000)-plus crocodile skin, bejewelled Hermes handbag," said Hornery in his SMH column.
"Kapp, who has a keen eye for such bags, having worked for Hermes, said he did not see any such handbag when he met her."
The designer also added that Rosmah is nothing like her critics accuse her of being but was "absolutely gracious and easy to deal with".
It noted that the alleged shopping spree of the PM's wife was first reported on fashion blog Frockwriter , in a Jan 17 posting.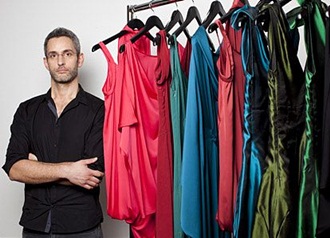 Kapp ( right ) was quoted as saying that he had also met Najib, who was "relaxing, snuggling up and looking very happy together" with his wife.
"There, surrounded by samples, fabric swatches, sketches and Rosmah's many attendants, who appeared to be gearing up for a New Year's Eve party, Kapp was introduced to a casually-attired Malaysian Prime Minister Najib Razak," it read.
Malaysiakini has contacted the PM's office for a response.
Last October, Najib's daughter, who was not named, was reported by the Western Australian of having spent lavishly at David Jones in Perth during the Commonwealth Heads of Government Meeting (CHOGM).
The daily later issued a correction to the report, which cited anonymous sources, after Najib said that his daughter was not in Perth at the time.
Related stories
Rosmah denies shopping spree in Sydney
Columnist defends Rosmah's shopping spree report
Sydney designer: Rosmah did make purchases
Columnist: I verified details with designer Kapp
'First Lady of Shopping' reported to MACC