An Umno Youth member who was on the frontline of the demonstration at the Sembrong PKR headquarters last Sunday night said things went haywire when Opposition Leader Anwar Ibrahim's Mercedes Benz accidentally hit a demonstrator.
According to the Umno member who claimed to have witnessed the entire incident, but refused to be named, other demonstrators retaliated by kicking Anwar's car, resulting in damage to the door and windshield.
"It was a Mercedes, not a Kancil. It must have been painful (to be struck by the car).
"So when that happened, the NGO members started kicking Anwar's car. Others who didn't see the incident but who saw what their friends were doing followed suit," he said.
The youth, who was there from 8pm to 12.30am, claimed police broke up the fracas and that it was not true to say that police did not do their job.
"They formed a human barricade to stop us from moving forward. They even pulled a guy aside and searched him but couldn't find any firecrackers on him," he said, referring to claims that protesters threw firecrackers at Anwar.
The 26-year-old Kluang native, who said he is a freelance photographer, added that the demonstration was a collaboration between local NGOs and Umno Youth.
About 80 NGO members together with 20 Umno Youth members were there.
"Umno Youth wore red as it is Umno's colour. I was in the front row, wearing a Johor Umno vest," he said.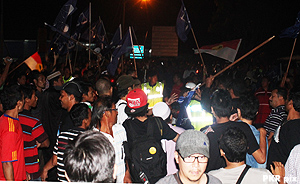 He said that firecrackers were actually thrown by Sembrong Umno Youth who had come all the way from Sembrong, which is quite far from Kluang.
"The person who spoke before Anwar's speech had maligned (Sembrong MP and home minister) Hishammuddin Hussein.
"The Sembrong Umno Youth members didn't want to hurt anyone. They started throwing firecrackers before Anwar arrived in the hope that he will be scared and not come," he said.
'Bangladeshis attended Anwar's ceramah
'
He added that the NGOs, which were mostly Islamic groups that he declined to name, were the ones who pelted Anwar's car with rotten eggs as a result of "more than 10 years' of frustration".
The eyewitness said the Kluang NGOs had waited a long time for Anwar to come to the area and were really angry about the opposition leader's alleged close ties with Israel.
The youth, who has been involved in politics since the age of 15 through the Putera Umno movement, added: "About 70-80 percent of people in Kluang hate Anwar.
"At least half of the people who attended the ceramah that night were Bangladeshis. We know, as we're locals. The rest are PKR supporters from elsewhere," he said, adding that he had a good laugh over it.
He said no arrest was made on Sunday and none of his friends have been called by the police to assist in their investigations.
Kluang police are currently probing the incident following a police report lodged by local PKR leaders.
Hishammuddin yesterday said that the incident did not take place in his constituency , as claimed by PKR members, but is located in the Kluang constituency.
Meanwhile, asked about on the fracas, Umno Youth secretary Megat Firdouz Megat Junid denied that the wing had a hand on it.
"You should ask the Johoreans, for it they were the hosts.
"When you enter somebody's house, aren't you supposed to ask for their permission?" Megat Firdouz said, hinting at the local sentiments against Anwar.