EXCLUSIVE Keretapi Tanah Melayu Bhd (KTMB) has allegedly issued a circular to its officers telling them to allow BN flags to be put up at its Komuter stations in Selangor.
According to a source, the circular was issued by KTMB chairperson Mohd Zin Mohamed ( right ), who is also Selangor BN coordinator.
The circular states that the exercise was to have started on Wednesday.
KTMB officers have been asked to ensure that the BN flags are placed at suitable places and would not affect the safety of any station or the operations of the trains, the circular states.
Auxillary police, it adds, must ensure that the flags are safe and not sabotaged.
'Officers sympathetic to BN'
However, when contacted by Malaysiakini today, Mohd Zin denied that he issued any specific instruction to put up the BN flags.
"I did not issue any directive. But if they want to put up the flags, there is no problem... just don't obstruct any signage.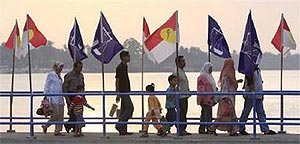 "It is no problem either if others want to put up flags, as long as it does not disrupt safety (at the stations)," Mohd Zin said.
He believes that there could be a KTMB officer sympathising with the BN because it was the opposition in Selangor.
"I don't remember signing any directive... maybe my (KTMB) officers want to help us (the BN).
In Selangor, we are the opposition. If we put up BN flags, the local authorities will take them down, so maybe there are those who sympathise with us and want to help us to campaign," Mohd Zin added.