Tired of running from the police crackdown on Bersih 3.0 in Kuala Lumpur, schoolteacher Toh Chin Hong, 27, sat on the road outside the Masjid Jamek LRT station, with a straw hat on his head, a troop of riot police officers in front, and tear gas billowing all around him.
"Since they (the police) won't let me sit in Dataran Merdeka, I'd sit in front of them," he told Malaysiakini in an interview on Monday, recalling his thoughts at that defining moment.
His defiance brought him fame as several photos and a video of him went viral on the Internet, earning him the moniker 'Mr Straw Hat'.
One photograph (right) taken from behind Toh, shows him sitting in front of some 30 police officers in riot gear was shared on Facebook over 1,500 times, while the YouTube video taken from the LRT platform attracted 160,000 viewers.
Despite receiving a hero's welcome when he returned to the independent high school where he teaches, Toh did not think much of his newfound fame.
"The focus of the April 28 rally should not be on just one person, it would detract us from our main cause, which is Bersih's electoral reforms.
"We must keep that in mind. If we forget, the whole rally would be meaningless," the chemistry teacher said.
Recalling the incident, Toh said he had spent the night at a friend's home near one of Bersih 3.0's rally points at Jalan Sultan, and joined the rally with two other friends the next morning.
Despite being a veteran of several protests including last year's Bersih 2.0, the 2007 Hindraf rally and the 2006 anti-oil price hike protest at the Twin Towers, he said he did not expect any trouble this time, so he uncharacteristically went to the rally empty-handed.
"Before, when I participated in rallies, I'd go fully equipped with salt, masks, and more, but I didn't bring anything this time except a hat - and it's not even my hat," he said, explaining the now famous straw hat.
It was in Jalan Sultan when he had a chance meeting with a friend where he got his hat. His friend, who had bought several hats, and gave him one, seeing that Toh had nothing on him but his Bersih T-shirt.
"The weather is so hot and you don't even have a hat," he quoted his friend as saying.
Around noon, he left Jalan Sultan and headed towards Dataran Merdeka with the carnival-like crowd, taking nearly two hours to reach the Bar Council office about 500m away due to the congested roads jam-packed with protesters.
' People started panicking'
Toh was later able to make his way to the OCBC Bank near Masjid Jamek LRT station and waited with some 10,000 others who had gathered in Jalan Tun Perak, not knowing whether to advance or retreat.
"Suddenly the people in front started to move back ... so we moved too. Since the people in front were turning back, perhaps the rally was over.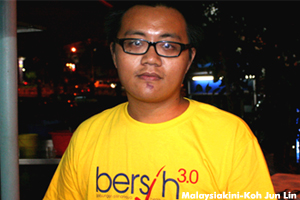 "As we were moving back, we could smell tear gas... people started panicking," he said.
Toh ( left ), along with several others, called on the crowd to calm down out of concern that the panic would lead to a stampede.
With the whiffs of tear gas getting stronger, his two friends considered jumping on to the Klang River bank below to escape the mayhem, but abandoned the idea when they saw the long drop to the cement-lined bank.
Toh also said some people, about 30 to 40 of them, were already running along the river banks, but besides spotting one group that had organised itself into a human pyramid, he was not sure how they got down there.
It was then the gates to the LRT station opened, and Toh's friends decided that was their sanctuary.
However, Toh differed, thinking that he was safer from arrest by staying on the streets because the station was an enclosed space.
The trio parted ways with Toh heading back to OCBC Bank, but was instead pushed in the opposite direction by the crowd towards the nearby Burger King restaurant.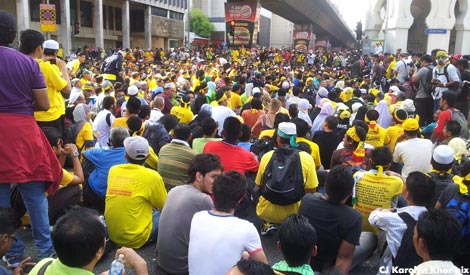 "At Burger King, I spotted two strange people in the crowd," he said.
He said one, with his face concealed by a yellow motorcycle helmet, had in his many pockets small water bottles and he was hurling them at the police.
"I pulled him aside and asked him who he was and why was he doing that. He wouldn't say anything except to keep saying, 'sorry'".
Toh then shouted at him to remove the water-filled bottles - there were at least 10 of them - from his pockets, and told him, "I don't care who you are, just leave."
He said he was concerned that the man was an agent provocateur and feared that he could be lynched by Bersih protesters regrouping near him. The man complied with Toh's instructions.
The other person was hurling plastic chairs at the police, and was similarly told off.
"The riot police shot tear gas at us, at least three salvos, and we kept falling back. With every salvo, we gave ground... and suddenly a group of riot police showed up behind us (from Wisma Lee Rubber).
"There were riot police in front and behind us. I didn't know where to go. I was feeling really tired.
"And instead of playing cat-and-mouse with the police, I decided that I might as well just sit down on the road," he said, feeling that running away would weaken the call for clean and fair elections.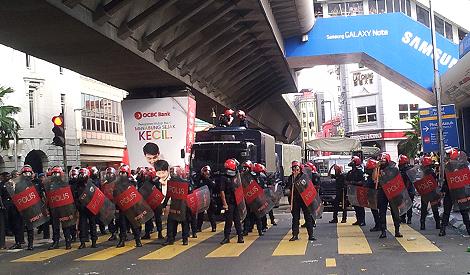 "I felt at peace (sitting in the middle of the road), because I was no longer running. When on the run, I had to keep thinking about where to go. But once I sat down, I felt calm because the rest was up to the police and not me - whether they want to interfere or not," he said.
He was suddenly joined by a stranger, a Caucasian male, who held his hand. When Toh asked him why he did that, the response was, "Solidarity."
Toh then lowered his head, protected by nothing but his straw hat, and prepared for the incoming tear-gas canisters.
The riot police lobbed a barrage of tear-gas grenades, all of which fell behind Toh and his new-found comrade. However, the crowd picked them up and threw the grenades back at the police line.
Despite photos and videos depicting thick clouds of tear gas, Toh said he did not feel its effects.
"Maybe it was the wind," he said.
Seeing that the tear gas barrage was ineffective in uprooting him, Toh said one plainclothes police officer kicked a tear-gas canister towards him. He picked it up and threw it back, burning his right hand in the process.
This apparently angered the police officer, who was about to beat him with a T-baton, but hesitated when reporters rushed forward to photograph the scene.
He said several police officers in uniform, but without name tags, then roughly hauled the duo away, but released them several metres away behind the police line and left them alone.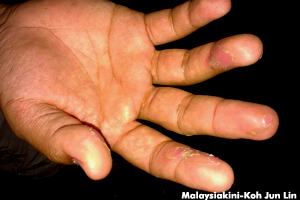 While being dragged away, Toh said his questions on whether he was being arrested and the grounds of arrest, were not entertained.
He then sought medical treatment for his burnt hand before rejoining his friends at Chinatown some time after 5pm.
Toh quits teaching
Upon returning to school on May 2 - four days after the rally - Toh said he saw his students' eyes glow when they met him, and one class clapped and shouted "Mr Straw Hat!" as he passed by. Some students told him that they were proud of him.
Nevertheless, he tendered his resignation that day to protest the school's announcement on the eve of the Bersih rally banning students from participating on penalty of expulsion.
He said it was unreasonable as the school has no right to dictate the students' behaviour outside school grounds, and the students would be in a dilemma if their parents had brought them to the rally.
Toh added that some students thought he was being sacked, and mulled protests, with some even suggesting an 'occupy' movement on school grounds, until he clarified the matter on Facebook.
"Facebook is a very powerful social network these days. Even 13-year-olds know what 'Occupy Dataran' is.
"So when the headmaster told the students not to attend the rally, I could not accept it," he said.
Asked about his future plans, Toh, who is also a member of the Kuala Lumpur and Selangor Chinese Assembly Hall's civil rights committee, said he wanted to go into the tourism industry.
"I could organise a themed tour, maybe call it 'Malaysia Back Then'. We can have cultural or historical tours to visit places such as the former Japanese 'comfort women' den in Negri Sembilan or the many old streets of Malacca," he said.