While French police investigations have revealed that Altantuya Shaariibuu never entered France from 1999 to 2006, there are photographs of her taken in Paris published several years ago, that indicate otherwise.
A report on the French police investigations was carried by online news portal Free Malaysia Today ( FMT ) in an article headlined 'French probe: Altantuya never entered France' .
The report published yesterday was based on confidential investigative documents submitted to the French judicial inquiry that is looking into alleged kickbacks paid out in the 2002 Scorpene submarine deal between French firm DCNS and the Malaysian government.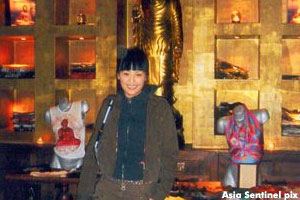 However, in 2007, a series of photographs made available to Asia Sentinel by Syed Abdul Rahman Al-Habshi, the former honourary Mongolian consul-general in Malaysia, showed Altantuya "on the trip of her life to Europe".
According to the Hong Kong-based news portal, Syed Abdul Rahman had then declined to say where the pictures came from.
They are believed to have been found among Altantuya's possessions after she was killed, according to Asia Sentinel in an article headlined 'Who was Altantuya Shaariibuu?' , written by John Berthelsen on Dec 5 of that year.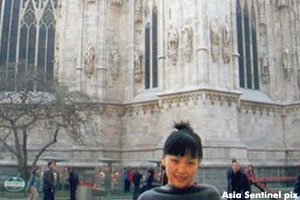 "If you go to the Asia Sentinel site, you will see pictures of her standing in front of a Louis Vuitton store, the Buddha Bar, Notre Dame Cathedral and a whole flock of other locations in Paris," Berthelsen told Malaysiakini .
Berthelsen, a former Asian Wall Street Journal correspondent in Malaysia, also said Altantuya's family had declined to elaborate on the photographs.
However, in April this year, Altantuya's father Setev Shaariibuu told a press conference hosted by Suaram in Kuala Lumpur that his daughter's visa to France was issued in Kuala Lumpur under the name "Amina Abdullah" and that she was supposed to enter Paris after flying to Germany.
Red flag on alleged Altantuya-Najib photo
The FMT report says the latest revelation from the French police investigation raises a red flag on the existence of a photograph of the Mongolian woman, Prime Minister Najib Abdul Razak and his close ally, Abdul Razak Baginda in Paris, allegedly taken between 2004 and 2006.
The alleged photograph was made known at the murder trial of Altantuya during the testimony of her cousin Burmaa Oyunchimeg, who had accompanied the Altantuya to Kuala Lumpur to purportedly extort money from Abdul Razak.
The photograph was not among Altantuya's possessions after her body - blown into bits with C4 military explosives - was found in a jungle clearing in Shah Alam in October 2006.
Two police officers who were once bodyguards to Najib have been convicted of Altantuya's murder and sentenced to death. They are now awaiting their appeal.
Abdul Razak ( left ) was also charged with abetment in Altantuya's murder, but he was acquitted without being called to make his defence.
FMT reported that the French police investigation papers revealed that Najib - who was defence minister at that time - and Razak were on an official visit to Paris from June 16 to 18 in 2000.
Najib also visited France in July 2001, July 2003, June 2005 and October 2007 but it is possible that Najib and his entourage could have entered France through diplomatic channels, the FMT report said.
Officials of state-owned defence giant DCNS have also informed the French police that they never met a person named Altantuya and did not know who she was during the course of their negotiations for the Scorpene deal, the report said.
The confidential documents also raise questions about Altantuya's role as a translator for the deal since the DCNS officials had also informed the French police that negotiations for the submarines were done in Malaysia, not in France.
"One official - DCNS former sales manager in Malaysia, Fredric Faura - told the French investigators that the negotiations were conducted in English, not in French, so there is no need for an interpreter," FMT added in its report.
"Furthermore, Altantuya did not speak French, so she could not have acted as an English-French interpreter."
Related stories
PKR: Zahid must answer for leaked naval documents
Scorpene surfaces to 'sting' PM ahead of polls