An internal investigation by the Selangor treasury has found various irregularities in the procurement of services and products for Karnival Terima Kasih Rakyat, a carnival organised in March to celebrate Pakatan Rakyat's fourth year rule of the state.
The carnival involved over RM1 million in goods and services procured by 15 suppliers.
Most payments to suppliers have been suspended upon the advice of the state treasury. However, up until yesterday, the suppliers were still queueing up at the state government building to plead for their long overdue payments.
Investigations found that there was an absence of quotations and procurement approvals for products and services over RM50,000, suppliers who had not registered with both state and federal treasury, and suppliers who were rendering services and products that were outside their normal job scope.
However, the carnival's coordinator Ronnie Liu ( right ), who is also the state local government, research and development committee chairperson, denied any irregularity and claimed that it was a "misunderstanding" .
He explained that the procurements should have been made by Menteri Besar Incorporated (MBI), a state-owned company led by Menteri Besar Abdul Khalid Ibrahim, which has less stringent procurement procedures, and not the state treasury.
The said carnival at Kuala Selangor stadium on March 25 drew tens of thousands. Starting from 7am and lasting till 12 midnight, the programme included sports, competitions, lucky draws, mini concerts and other performances.
The highlight of the carnival was the political ceramah at night featuring Khalid, PKR de facto leader Anwar Ibrahim, PAS president Abdul Hadi Awang and DAP parliamentary leader Lim Kit Siang.
The annual political programme aims to publicise the achievements of the Pakatan state government, including its financial performance and welfare projects for the people.
Khalid withheld payments
According to well-placed sources in the state government, the state treasury had conducted an audit observation on the carnival expenses after receiving doubtful bills from suppliers.
A thorough audit observation was carried out - from procurement processes, registration status of the suppliers, physical visits to the suppliers' premises - to verifying the identity of lucky draw winners.
The report was presented at the exco meeting on May 9 and till now, Khalid has withheld most of the payments, sources revealed.
"Many suppliers have been approaching Liu and the state government for the payments but Khalid has stood his ground," they said.
All state exco members and senior civil servants who attended the exco meeting have received a copy of the audit observation report, which was attached with the minutes of the meeting
However, Liu claimed that the report was eventually withdrawn by the state cabinet after realising it was a "misunderstanding", but Malaysiakini could not independently verify this.
Multiple irregularities found
Malaysiakini has sighted a copy of the report, that disclosed that the total claims of the carnival was RM1,118,216 involving 15 suppliers - 14 private companies and the Kuala Selangor local council.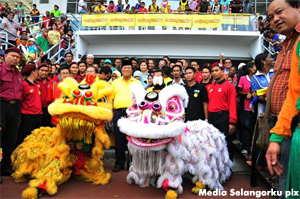 However, the report found that only two companies had registered with the Selangor Economic Planning Unit (Upen), while five companies had registered with the federal Finance Ministry (MOF).
The registration of another two companies with the Companies Commission of Malaysia (CCM) had expired.
All procurements with the private companies were done without complying with the state's financial rules, according to the report.
Indeed, some companies were found with multiple irregularities. For example, local orders were not issued to 13 companies, and four companies that supplied services and products over RM50,000, did not go through the quotations process and had failed to get financial approval.
After capturing Selangor government in 2008, the Pakatan administration has stipulated that any procurement above RM50,000 must be made through open tender, to promote transparency and minimise corruption.
Exceptions are only allowed under special circumstances.
State procedures contravened
One company had a company registration number that differed from CCM's record, and two companies provided services and products outside of their business fields as registered with the authorities.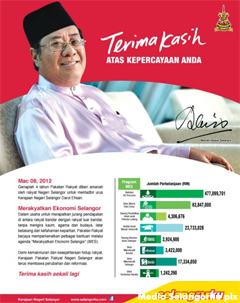 For example, one company registered with both Upen and MOF as providers of cleaning, rubbish dumping and landscaping services, was found providing a motorcycle to the carnival as a lucky draw prize.
Another company registered for the same business was given the tender to supply balloons, cash for exchange, and artistes and personalities for the carnival.
A third company with no record in both Upen and MOF had registered itself with CCM as a catfish breeder, but was put in charge of transportation of the carnival. Its CCM registration had also expired.
The physical visits to their business addresses also unearthed more suspicious details.
According to the report, one company had no address, one used a container as an operations office, two could not be located, three were located in residential houses, two had business premises but no operations, and one had a business premise but bearing a different name.
The report found only four companies had business premises and were in operation.
The report recommended that the state withhold payments to the 14 companies as they had contravened state procurement procedures, but however said they could be paid via MBI.
When contacted, Menteri Besar's Office said Khalid is aware of the issue and an investigation is underway.
Ronnie Liu responds: 'Misunderstanding, not irregularities'