Water levels at all seven dams in Selangor are at peak capacity, Selangor exco member Ronnie Liu today, and he warned state water concessionaire Syarikat Bekalan Air Selangor (Syabas) not to manufacture a water crisis.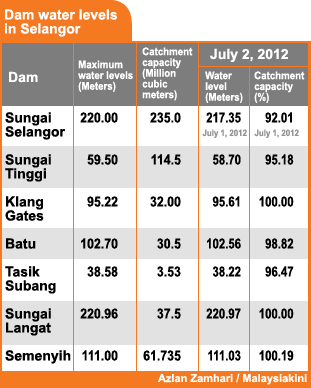 Liu, who chairs the state's local government, research and development committee, said he, several village chiefs and local councillors visited the dams this morning and found them to be full.
He questioned Syabas' proposal to ration water in the Klang Valley since there was no shortage of water.
"We do not believe their story since all the dams are full and the rivers are full.
"Why rationing? Is Syabas admitting that it does not know how to effectively treat water? There is plenty of raw water," Liu told Malaysiakini .
He said if Syabas was indeed incapable of treating the water, then it should support Menteri Besar Abdul Khalid Ibrahim's plan to take over its operations.
Asked about the federal government's argument that there was insufficient capacity in the treatment plants, Liu said he federal government had been making different arguments, depending on whose press conference one attended.
He said these arguments included water levels, shortage of water treatment capacity, or that there was still a three percent buffer.
"So, they have been coming up with different kinds of stories. Even ministers have come up with different stories.
"Everybody out there is confused, so we are now trying to correct the picture. That's why, besides the Selangor Economic Planning Unit (Upen), we have appointed three auditing companies to do the (water) auditing," he said.
Liu ( right ) also pointed out that the federal government's plan to set up the Sungai Langat Two Water Treatment Plant could not be completed in time to meet the growing demand.
Three treatment plants being upgraded
Instead, he said, three treatment plants were being upgraded and a new one was being built in Labu, which would be supplying water to the state by next year and is expected to meet the demand up to 2016.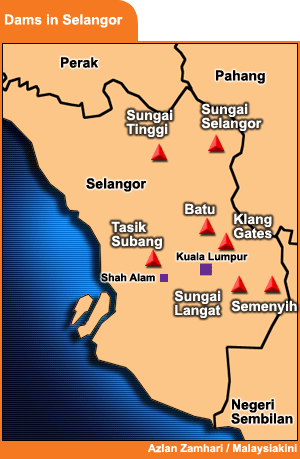 "So we want to tell the whole world that we don't have a shortage of water. We do not have a shortage of raw water. We also do not have a shortage of treated water.
"We are warning Syabas not to manufacture a water crisis just because it can. If it shuts off all the taps, then immediately we won't have water," Liu said.
In a related development, Malay daily Berita Harian today quoted Energy, Green Technology, and Water Minister Peter Chin urging the Selangor government not to rush into its Syabas takeover bid before considering alternatives such as the Sungai Langat Two Water Treatment Plant.
Chin is reported to have said said any takeover of a company that has skilled labour, such as Syabas, would be a complicated move that was bound to make the rakyat suffer.
"If he (Khalid) says there is water, where is it? If he wants to build a new plant, where is it? There needs to be proof before such decisions are made," Berita Harian quotes Chin as saying.
His comments ran alongside two photographs purportedly showing that the treated water reservoir at Loji Imbangan Puncak Niaga, Sungai Langat, is at an alarmingly low level, just about half a metre instead of the usual three metres.
Meanwhile, another Selangor exco member, Xavier Jeyakumar, had also conducted a surprise check on the Semenyih dam and similarly found the water level to be at its maximum level.
In a statement, Xavier said a briefing by the dam's management said it had never been asked by Syabas' water treatment plant located downstream to release water from its reservoir for the past year.
This, he added, indicated that the water in Sungai Semenyih was more than enough for the plant and there was no need for water from the dam.
Related stories
Water tariff under BN will go up, warns S'gor exco man
Selangor has authority to override Syabas, says Khalid
Syabas to MB's move, privatisation has gone rogue