Unimpressed with the official 55th National Day celebration logo, local graphic designers are proving they can walk their talk by competing to come up with alternate logos for the Aug 31 event.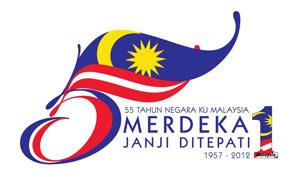 Barely four days since it opened, the competition organised by local design company Empayar Kukubesi has already received more than 45 entries, and counting.
According to company manager Bella Juhari, her boss - a mysterious designer who only wants to be known as 'Kukubesi' - got the idea for the contest after the issue become a "hot topic" among local design enthusiasts.
"We run monthly competitions and this month we noticed that the logo issue was quite a hot topic, so we decided to choose that (as a theme). We thought that instead of complaining about it, why not show what (local designers) can do," Bella said.
Contacted today, Bella said the response has been very positive, with many entries of quality in the mix.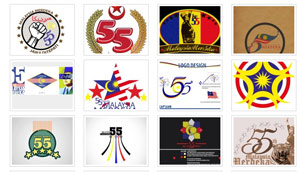 "Not all of them are serious. Some are just trolling, but there are some really good designs," she said, referring to gag logos which, among others, included the Kentucky Fried Chicken mascot Colonel Sanders.
Checks on Kukubesi's Facebook page, where entries can be posted, showed that the "trolls" were fairly few and far between, with most designers submitting designs worth considering.
Bella said Kukubesi, which specialises in T-shirt design, initially sought "retro designs" but has also accepted those that do not necessarily fit that description.
'As long as it looks cun melecun'
According to the regulations, all designs must include a five-pointed star and the words 'Malaysia Merdeka' and the rest is left completely up to the designers. However, these rules too seem to have been bent.
"As long as it looks cun melecun (gorgeous)," the regulations say.
The competition ends on Aug 10 and the those who come up with the top five logos - as decided "by veto power" by Kukubesi - will walk away with merchandise produced by the company.
The official 55th National Day logo, revealed online this week, has received severe criticism, particularly from the online community, which has come up with many parody versions of it.
Also circulating on the Internet is a 'tutorial' to show how simple it is to create the logo, which many argued went against basic design principles.
While admitting on Twitter that the logo is too "petty" an issue to discuss, Rembau MP and Umno Youth chief Khairy Jamaluddin too agreed that the official logo was "aesthetically challenged".
The official logo also includes the term 'Janji Ditepati' (Promises Fulfilled), coined by the BN for its campaign launched several months ago and which has since been much disputed, as the National Day theme for this year.
The opposition has given the government a one-week ultimatum to change the theme, which it has declared as politically biased.
Related stories
Kit Siang: National Day logo, theme a laughing stock
Online survey calls for change to Merdeka Day theme