A ground-breaking report released by Swiss-based NGO Bruno Manser Fund (BMF) estimated the assets of Sarawak Chief Minister Abdul Taib Mahmud's family at US$21 billion (RM64 billion).
The wealth of Taib himself has been put at a whopping US$15 billion (RM46 billion), making him Malaysia's richest man, outstripping tycoon Robert Kuok who has US$12.5 billion.
The report entitled 'The Taib Timber Mafia: Facts and Figures on Politically Exposed Persons from Sarawak, Malaysia' was released today in Brussels to coincide with a visit by the Malaysian Plantation Industries and Commodities Minister Bernard Dompok to the European Commission.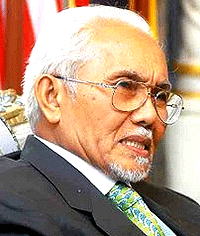 It is the first report that describes in detail the business activities and personal wealth of 20 members of the Taib family in Malaysia, Australia, Canada, Hong Kong, United Kingdom, United States and other countries.
The report aimed to build international pressure against the Sarawak's first family and provide investigating bodies, journalists, Sarawakians and interested parties with hard evidence on the Taib financial empire.
BMF estimated the combined net worth of 20 Taib family members at close to US$21 billion, spread over 400 companies around the globe - all built through their near complete political and economic control of Sarawak - one of the poorest states in Malaysia - over three decades.
However, the research is restricted to Taib's family members and does not include the wealth of Taib's close associates, all of whom have benefitted from the powerful chief minister's patronage during his almost 31 years in power.
Taib holds three key posts
In particular, the family of the longest-serving chief minister in Malaysia has established monopolies over the granting of logging and plantation concessions, the export of timber, the maintenance of public roads as well as the production and sale of cement, and a number of other construction materials.

"The Taib family's business outfits, particularly its flagship company Cahya Mata Sarawak (CMS), have also benefitted from untendered public contracts worth hundreds of millions of US dollars," said BMF.
CMS is the largest private company in the state with net assets totalling RM2.4 billion in 2010.
It has been awarded some of the state's largest contracts including the RM300 million construction of the state legislative assembly building in Kuching, a contract over the maintenance of all 4,000km-long state roads in Sarawak and a 15-year concession to maintain 643km of federal roads.
The report claimed that the Sarawak state government enjoys total autonomy as to the use of the state's forest resources and state lands, while Taib has abused his triple positions as chief minister, state finance minister, and planning and resources minister, to award his family members vast timber concessions, palm oil concessions, state contracts and directorships in Sarawak's largest companies.
"In 2009, his three ministries controlled 49.6 percent of the state's operating expenditure of RM1.19 billion and 80 percent of the state's development expenditure of RM3.08 billion, with the other 10 ministers sharing the rest."
As Sarawak planning and resources minister, the report explained, Taib has ultimate control over the granting of logging concessions in Sarawak that are worth several billion US dollars.
"Already in the late 1980s, family members and clients loyal to Taib were estimated to control over 1.6 million hectares of timber concessions in Sarawak which constitute more than 10 percent of the total land mass of Sarawak".
All in the family
The report also zoomed in on Taib's modus operandi as to how these assets were transferred overseas to countries such as Canada (Sakto group of companies), US (Sakti Corporation and related companies), Australia (Sitehost Pty Ltd), UK (Ridgeford Properties), Hong Kong (Richfold Investment Ltd) and to a number of offshore finance centres, in particular the British Virgin Islands.

"While the above-mentioned companies officially name Taib family members as their shareholders or directors, it is believed that many other companies are held through nominees."
Individuals profiled in the extensive 45-page report include Taib's brother Onn Mahmud, who is second richest family member with an estimated net worth of US$2 billion, while Taib's eldest son, Mahmud Abu Bekir Taib, a major player in the Sarawak construction, property and energy business, is ranked third at US$1.5 billion.
Next in line are Taib's Canada-based socialite daughter Jamilah Taib Murray (US$1 billion), Taib's brother and timber entrepreneur Tufail Mahmud (US$600 million), sister Raziah Mahmud (US$500 million), daughter Hanifah (US$400 million) and son Sulaiman (US$300 million).
Meanwhile, timber conglomerate Ta Ann founder and Sarawak Energy chairperson Hamed Sepawi, a first cousin of the chief minister, has an estimated wealth of US$175 million.
Faced with mounting criticism, Taib had last year took to the Internet to defend his family's wealth.
In particular, Taib explained that his daughter Jamilah's ( right ) business was initially funded from his income as a federal minister, which his daughter through her business acumen expanded into a global empire.
"Well, my children make money, yes, quite big. I don't know whether what they said 100 million is correct... in Canada," he said in a four-minute video posted on YouTube a month before the Sarawak state election last year.
"But it all started (when) I gave money to my daughter. I was resigning from the federal government. I got gratuity, I gave some money to her to start a new business, it thrived.
"It is a property development company. When our town was still small, they had foresight to buy pieces of land and sell them quickly," he said.
BMF compares Taib's family with the clans of former Indonesian president Suharto and former Philippines president Ferdinand Marcos - the two families had embezzled between US$15 billion and US$35 billion, and between US$20 billion and US$900 billion respectively.
"We believe our research is showing merely the tip of the iceberg as many (Taib) family assets are likely to be hidden overseas or in offshore districts where information is virtually impossible to obtain," said the report.
"BMF is therefore calling on anti-corruption and anti-money-laundering authorities worldwide to investigate the Taib family's business activities."