BOOK REVIEW Malaysian-born Sunil Nair's first novel ' When all the lights are stripped away ' offers a striking proposition when it toys with the idea of whether a non-Malay and non-Muslim could be prime minister in Malaysia.
Although this is not the book's main plot, it nevertheless offers a bold proposal as the desire comes from a member of the minority Indian community, who wants to see his son achieve the status.
Sankaran Pillay - a well-established lawyer with powerful links to Umno, the ruling party, is the estranged father of the main protagonist Anil.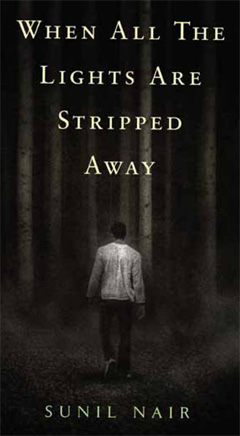 Sankaran harbours the great ambition but whether Anil fulfil this dream is another story, especially when he is told by his dad's associate - a powerful politician - that he could only become one if he is Malay and Muslim.
"Not unless there is a revolution or a change in the constitution," the politician Dr Razak Mohammed says.
Few would dare, even now, to dream of assuming the post, especially if one is born a minority, but Anil responds "And what if I bring about that revolution? Or at least become a bridge?" (Page 215).
The book is set in post-colonial times but this topic is contemporary as the constitutional aspect of the issue tends to pop up every now and then in political discussions.
It does not help that the country, though independent for 55 years, has become more divided along ethnic and religious lines despite frequent calls for unity and patriotism.
'Truth and Justice' party
Author Sunil is an academic publisher, who currently lives in London with his spouse but despite staying away, it is obvious that Sunil is deeply touched by the socio-political ongoings in his homeland.
Published by Marshall Cavendish only this year, the 283-page book comes with an interesting cover of a solitary man walking into the darkness.
Is this where Sunil sees his countrywoman and men heading to - a Malaysia full of uncertainties?
Like the easy and sometimes poetic manner in which the writer relates his tale, Sunil's characters get to push the envelopes and dare the controversies of the societies they live in without coming out bloody.
Still, Sunil ( left ) leaves us with hope that the notion of a Malaysian PM is possible, perhaps in decades to come, if the fight for 'truth and justice' prevails.
In his book, 'Truth and Justice' is also a new political party, headed by the wife of Onn Rahim, a politician who is in prison, awaiting trial for corruption and sodomy.
Onn claims that the charges are trumped up by Sankaran, whom we know is dying as he sends Anil a short but powerful message that says "come home, I am dying. Acha".
Anil has been in KL for three years after storming out of his dad's home, when he caught the old man having sex with the maid Aini, just days following his mother Leela's death.
After meeting Onn, Anil gets a taste of reformasi, of how it was to participate in an "illegal" demonstration, to clash with FRU trucks, baton-wielding personnel, or get shot by tear-gas and drenched in chemical laced water.
The rally he attended in his hometown ended up with him being detained with 200 over people but Anil has got political connections, and is soon released.
Sound familiar?
This political turn of events in the book was unexpected. In the beginning, the reader is taken on a personal and intimate journey into the lives of Anil and his parents, who hail from Muar, a small town in Johor.
Leela dies early in the book, when she falls down a flight of stone steps of the 'Palace of Stilts', the family abode, which is Sankaran's only financial splurge despite his wealth.
An emotional scene is when Anil has to carry out the Hindu final burial rites for his mother, as he recounts how important his role is as the only son of the family, responsible for the duty, though he was laden with sadness.
This episode (Page 68) reminds the reader of how rampant are episodes of body-snatching in Malaysia - a violent act that tramples upon cultural and religious sensitivities of minorities, paying no heed to the misery of wives, sons or daughters involved when the body of deceased relatives are seized by religious authorities.
Meanwhile, in Kuala Lumpur, Anil becomes a poster artist, later branching out into political cartoons, which places him in a risky position.
This new found arena in his career excites him but irks even his modern and liberal-minded girlfriend Santhia, an editor of an 'independent' newspaper which publishes his works.
Later, we see Anil venture into places even angels would fear to tread, like carrying out an act of euthanasia, where he ends up inheriting all his father's wealth, name and position.
Sunil does not tell us what Anil does with his legacy but we get a hint, though, of what he must do at the end.
In a way, Anil does two things - get involved in the struggle for truth and justice, albeit only financially, and pays for his father's sins:
"All the money will not be able to save Onn from spending years in a prison cell, Anil thinks. But it could help his wife's newly-formed party and it could help Onn start again after he gets out". (Page 276).
Challenging moral boundaries
We live in interesting times as the nation clamours for change. Likewise, in every chapter, the book shows us the changing landscapes the main characters go through, like a history book, how the changes affects their lives, relationships and careers.
Against this backdrop, what remains stable, like most heart-warming fiction, is the strength of human relationships of the various characters.
Between Anil and his dad, we learn the fragility of life, the nearness of death and yet, the ability of human beings to forgive and establish bonds despite the hatred, prejudice and animosity earlier found between them.
Between Anil and Santhia, who bears him a son the day his father dies, is the beauty of love and acceptance despite the imperfections, commitment, responsibility and duty, even when there is no guarantee of marriage or a typical traditional relationship or an official contract.
Between Anil and his childhood friend Normah is not only the boldness to engage in forbidden sex but intimacy between youths from different communities and social status, who dare to challenge the moral boundaries of their cultures and religions because of their friendship.
Between Anil and his "crazy" bunch of friends, who kept him sane, while he tried to break away and live independently of his father, we are shown the real workings of a plural society that is truly Malaysia, where despite all the differences and quirkiness, friendship, faith and humanity reign supreme.
A suggestion for improvement, though, is to make the dialogues between the characters believable in that each person must have her or his own distinct voice.
In Sunil's characters, they all sound and speak in the same way, whether one is a top-notch politician, a driver, a housekeeper, legal clerk, hawker, a university student, trainee engineer, insurance salesman or magazine writer.