Deputy Foreign Minister A Kohilan Pillay has contended that he was not involved in the approval of a controversial 29-storey condominium near the Batu Caves temple, although he was a local councillor when the decision was made.
Denying the allegation by Selangor exco member Ronnie Liu, the senator claimed that the approval was given by the One Stop Centre (OSC) of the Selayang Municipal Council (MPS).
"I was only a councillor. It was not me who gave the approval. It was the OSC in the council that gave the approval. I was not involved. If he (Liu) wants to accuse, (he should provide) the facts...
"Many facts have been spun. There was nothing to show (that I) gave the approval. I have checked the files. I was not involved in giving the approval," he told Malaysiakini yesterday.
According to the official MPS website, the function of the OSC is to receive and process applications for building plans, land work plans and project planning for approval by the local council.
Kohilan was an MPS councillor for 11 years, serving from 1997 to 2008.
The plan to build a massive condominium near the iconic Subramaniar Temple in Batu Caves came under the spotlight after the temple committee, backed by MIC top guns including former president S Samy Vellu, led a protest against the Selangor government last week.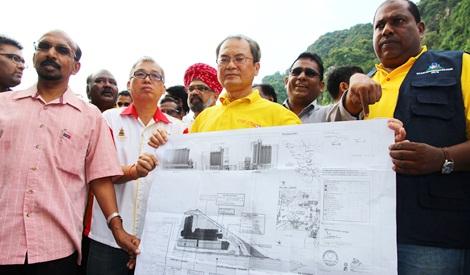 However, Liu then revealed documents to show the BN had approved the tower block - considered by many as an eyesore - when it controlled Selangor in 2007.
Last Wednesday, Liu reportedly said Kohilan and Hulu Selangor MP P Kamalanathan were among those responsible for approving the condominium project.
However, Kamalanathan denied the accusation yesterday and lodged a police report on the matter. Kohilan also lodged a similar report last night, at the Batu Caves police station.
About-turn by Kohilan
Kohilan told Malaysiakini that he found out that he and Kamalanathan were linked to the condo approval after this was raised by the temple committee recently.
He described the allegation as "baseless" and "reckless".
"See who actually made (the decision in approving the project). Don't simply guess. This (allegation) smells of a political agenda."
W
hile Kohilan conceded that the approval for the project was given during the BN administration - an about-turn from his allegation last Friday - he nevertheless ticked off the current councillors appointed by the Pakatan government.
"Did they monitor it (the project) or are they not aware of the issue... What have the councillors been doing (after Pakatan took over Selangor)?" he asked.