Malaysiakini chief executive officer Premesh Chandran has been named 'Media Personality of 2012' by the Association of Accredited Advertising Agents (4As) at a gala dinner last night.
He received the honour from 4As president Tony Savarimuthu as part of the Kancil Awards, widely regarded as Malaysia's largest and most prestigious award in the advertising industry.
"I would like to thank the 4As for recognising Malaysiakini's contribution in the Malaysian media," said Premesh following the award.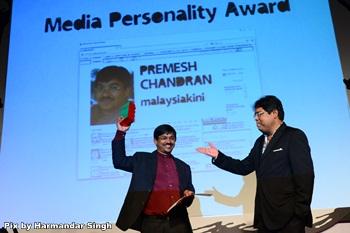 " Malaysiakini will continue to hold those in power accountable to justice and democracy.
"We will continue to play our small role to rid our country of corruption, to realise the demand for fair elections and to ensure the government of the day - both federal and state - serves the interest of the people."
Premesh also thanked the advertising agencies for using Malaysiakini as a media to reach out to opinion shapers.
The three-year-old media personality award is given to recognise and pay tribute to outstanding media personalities in Malaysia who "seek the truth without fear or favour".
Second award for Malaysiakini
This is the second time Malaysiakini has won the award. Malaysiakini editor-in-chief Steven Gan was Media Personality of 2010 .
Past recipients of the award are The Sun political editor Zainon Ahmad (also in 2010) and The Sun editor and columnist R Nadeswaran (2009).
At yesterday's event, 56 categories of awards were given out to Malaysian advertising agencies for outstanding creative work in film, print, digital and radio with much hype and cheering from the crowd.
They included Advertiser of the Year, won by Petronas; Agency of the Year, Y & R; as well as the Chairman's Award, which went to Astro's chief operating officer Henry Tan.