Mysterious leaflets alleging PKR de facto leader Anwar Ibrahim is a believer of religious pluralism, with a close relationship with Christian leaders, were distributed around Slim River this morning, a day before the opposition leader's ceramah there.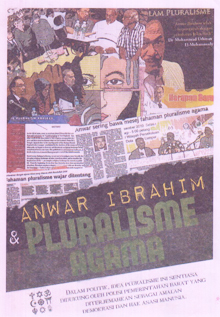 According to PKR Wanita exco member Chua Yee Ling, the leaflets, written in Malay, were mostly found at food courts and marketplaces. Some shop owners claimed that they received the leaflets in their mail boxes.
"Our members received the leaflets defaming Anwar everywhere in Slim River town centre... they don't know who distributed them," she said when contacted.
The most striking among them was a full colour eight page booklet 'Anwar Ibrahim & Pluralisme Agama' (Anwar Ibrahim & Religious Pluralism).
Religious pluralism is a belief that all religions should be treated as the same.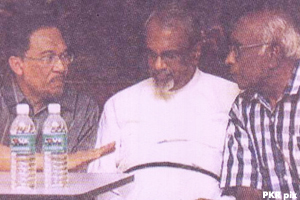 The booklet contained photographs of Anwar attending events hosted by the Christian community and interacting with prominent Christian leaders and priests who were circled in red for clarity.
Descriptions of the pictures were accompanied by captions of the events and the text passages constantly highlighted the fact that Anwar allowed the word 'Allah' to be used by the Christians.
There was also a photograph of Anwar paying his respects at the late Selangor state government aide Teoh Beng Hock's funeral with a caption underneath stating, "As a follower of pluralism, practicing the religious ceremonies of other religions is a norm."
One leaflet attacked Anwar over the use of a private jet during his campaign in Sabah, as well as the PKR campaign truck and bus, saying that he was "cheating the rakyat to lead a luxurious life" and questioning whether they were sponsored by the Jews.
Utusan Malaysia' s clippings of some of Anwar's past quotes criticising PAS and DAP were printed on another leaflet.
No publisher or source was indicated within the booklet and other leaflets.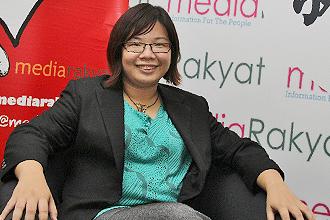 Chua ( right ) believes the leaflets were distributed in conjunction with tomorrow night's PKR ceramah where Anwar will be speaking to local residents.
"This is all done to scare the public and to create unrest," she said, adding that of the 12 banners hung around Tanjung Malim to promote the ceramah, two were found missing and one had been slashed.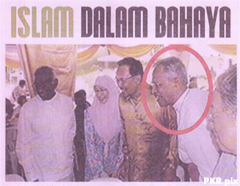 She was however confident that the people would come out to attend and listen to the ceramah regardless of the tactics used by the anti-Anwar faction.
Chua added that a police report will be lodged later in the afternoon and the security for tomorrow's event will be increased.
Anwar will be speaking at Dewan Tokong Khai Kee Theng at Slim River tomorrow night followed by Dataran Tanah Lesen Parit Baru at Sabak Bernam on the same night.