A team of 15 police officers visited the Malaysiakini office this evening to investigate a reader's letter related to the 'no compulsion in Islam' remark made by PKR vice-president Nurul Izzah Anwar.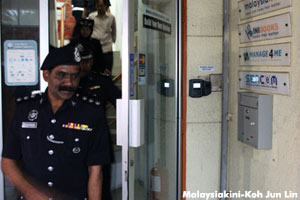 Malaysiakini is being investigated under Section 298 of the Penal Code which deals with the offence of "uttering words ... with deliberate intent to wound the religious feelings of any person".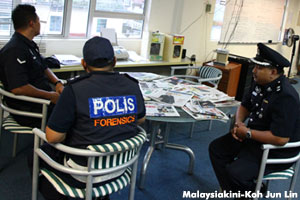 If found guilty, the offender can be punished with imprisonment for a term up to one year or a fine or both.
The letter being investigated was authored by Steve Oh and published on Malaysiakini on Monday, entitled 'Nurul's watershed idea for the nation' .
The police team led by Subang Jaya police district headquarters senior investigating officer ASP Nadzri Harun arrived at the news portal's headquarters in Bangsar, Kuala Lumpur, at 5.15pm.
The team included the forensic unit from Cheras police district headquarters.
Intimidation and harassment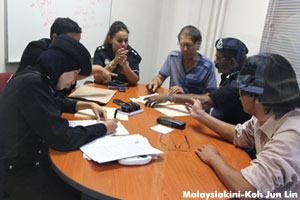 Armed with a search warrant issued by Petaling Jaya magistrate under Sedition Act, they spent about 90 minutes recording statements from Malaysiakini chief editor Fathi Aris Omar, news editor Gerald Martinez and human resource manager A Shamini.
The police left around 6.50pm without confiscating any item from the office. However, they will be returning to Malaysiakini tomorrow for further investigation.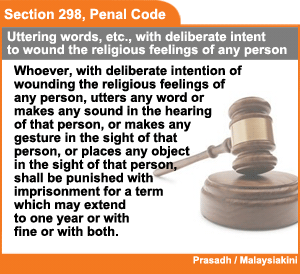 Editor-in-chief Steven Gan described the visit as "yet another case of intimidation and harassment".
"There is nothing considered as seditious in Oh's letter. We are consulting our lawyers on the matter," he said.
Malaysiakini was raided by the police in 2003 and 19 computers were seized, also over a letter to the editor written by a reader.
However, no charge was filed and the case was eventually closed.
Related stories
End the smear campaign on Nurul Izzah
Nurul Izzah to lodge complaint with Jais tomorrow
PAS Youth distances itself from Nurul Izzah protest SMS
Transcript of Nurul Izzah's Q&A at forum
Defend Islam against pluralism threat, says PM
Muhyiddin: Nurul should sue Malaysiakini instead
S'gor MB welcomes probe on Nurul Izzah's statement