Himpunan Hijau activists have completed their 300km journey on foot from Kuantan to Kuala Lumpur as a sign of protest against the Lynas rare earth refinery in Gebeng, Pahang.
From 70 participants, they gradually gained momentum and by the time the group reached Dataran Merdeka, an estimated 20,000 people had joined in.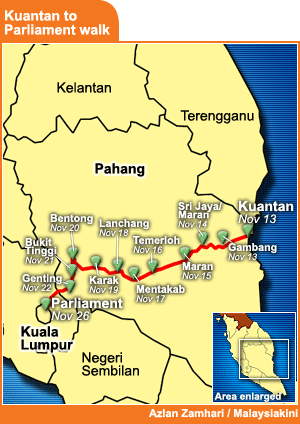 By about 5.20pm, Himpunan Hijau chairperson Wong Tack announced to the crowd that the march was a massive success because Malaysians from all walks of life participated.
"You have come forward... Malaysia has come forward...," he said.
Wong and a few of his comrades will be spending the night near police barricades. He said Himpunan Hijau would leave it to the public to decide whether to follow suit.
The final leg of the journey involved a 22km trek from PAS' former headquarters in Gombak, where some 2,000 participants spent the night, to Dataran Merdeka.
Live reports of today's march follow:
11.15am - Gombak: Some 2,000 people, including several families, march from PAS' former headquarters in Gombak towards the city centre.
PAS' unit amal members are controlling the traffic flow while a handful of police personnel nearby are keeping watch.
It is a sunny Sunday morning and the marchers are in high spirits.
11.30am - Gombak: The crowd sized is growing and they are marching along the DUKE Highway towards Kampung Railway, Sentul for a short break.
Many participants are holding the national flag and Himpunan Hijau's flag. They are repeatedly chanting "Stop Lynas".
They are also receiving a morale boost from many motorists who are honking in support.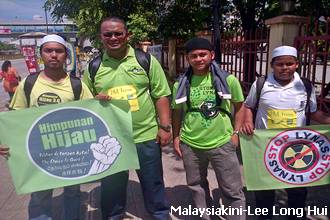 11.57am - Sentul: The group is now approaching Sentul and are pressing on under the sweltering heat.
Many are armed with umbrellas and straw hats.
12.22am - Sentul: The marchers are approaching Jalan Sentul Pasar where many participants are buying water from petrol stations to stay cool.
They are hoping to arrive at Kampung Railway - their final rest stop - before heading off again at 2pm.
12.49pm - Sentul: March participants were given a warm welcome at Kampung Railway at a PKR Deepavali event, organised by the Batu PKR division.
This particular stop was not part of the group's itinerary.
The group were ushered towards the buffet lines by Batu MP Tian Chua. They are taking a short rest before heading off to the Sentul KTM station, a rendevous point.
It is estimated that the crowd is now 3,000 strong.
1.24pm - Sentul: The group finally reaches Kampung Railway, Sentul which is final stop before the marchers enter the city centre.
Himpunan Hijau chairperson Wong Tack addresses the crowd and reminds them to show discipline.
"We will be at Dataran in few hours, when we arrive, that's not the final destination, that's only our place to rest our foot, and then we will move forward," he said.
Wong insist that the group will stay spend a night at Dataran Merdeka tonight and urge the public to visit them so they can have a dialogue session.
"We will spend a night there and wait for sunrise tomorrow," he added.
2:15pm - Sentul: PKR vice-president Nurul Izzah Anwar ( right ), who is wearing a floppy straw hat, was spotted at the Batu PKR division open house event and is seen mingling with the march participants.
2.20pm - Sentul: Participants are on the move again, this time heading towards the Sentul KTM Komuter station and the Titiwangsa Monorail station which are designated rendevous points with other groups.
Joining the march are Nurul Izzah and Batu PAS division chief Ishak Surin.
2.27pm - Sentul: A man identified only as Ahmad, 44, from Kuantan, tells Malaysiakini that his decision to participate in the gruelling trek was obvious.
"Of course (I need to be here). This is my homeland. Don't you think that thing (rare earth refinery) is dangerous? You do not need to ask (such a question)," said the miffed activist.
2.47pm - Sentul: About 500 people march from the Sentul Monorail. They are trying to meet up with the main group.
3.01pm - Sentul: March participants are slowly making their way along Jalan Sentul towards Jalan Tun Razak while steadily growing in numbers.
The latest estimate is 5,000. The weather appears to be holding up. They are expected to arrive at Dataran Merdeka at 4pm.
3.04pm - Jalan Tun Razak: Some participants are waiting at the Titiwangsa Monorail station for the main group to arrive.
Among them is Tan Mei Yin ( right ), 23, who took a three-hour bus from Segamat, Johor, to join the rally. She says that she is ready for police action.
"I prepared salt, towel, water... this is for the future of my children," said Tan, who is in a green T-shirt along with a yellow scarf.
3.22pm - Sentul: Rohaidah Mohammad from Bandar Tun Razak, is joining the march this afternoon with her husband and three kids in tow.
They took the KTM Komuter to reach the Sentul station and almost immediately join the main group.
The mother of three said that the reason they support the walk is they don't want their children to stay in a unhealthy environment.
"When they grow up, I want them to know that we've done something for them, and whether we can achieve our target or not is second," said the 36-year-old.
3.25pm - Jalan Ipoh: Activist Adam Adli is spotted leading a group of students chanting slogans.
Another participant, BC Tan, 30, from Penang told Malaysiakini that he appreciated the warm hospitality that he received at PAS' former headquarters where he and many others spent the night.
"That place was nice. It had all the facilities we need. We were treated well," said Tan.
Another participant that is turning many heads is one man who said he has been spinning a hula-hoop around his waist since he joined the march at Kampung Awa, Pahang.
The man, who declined to be named, said he only stops spinning during breaks.
3.45pm - Chow Kit: The participants are now in the Chow Kit area and are inching their way closer towards Dataran Merdeka.
3.50pm - Chow Kit : Chong Mee Chin from Pontian Johor says she has been marching for the past three days with her dog, Fei Fei.
But for the final leg of the march, the 38-year-old said Fei Fei is going to piggyback all the way to Dataran Merdeka.
"He has been walking for the past two days. He's very tired now, so I've decided not to let him walk," she told Malaysiakini .
Chong said that she didn't stay at the PAS former headquarters at Gombak last night because she had to care for her dog.
"I am carrying a dog, so I slept somewhere else. I don't even enter their building to show respect to the Muslims," she said.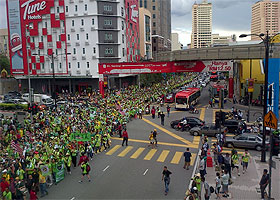 4pm - Jalan TAR: Participants are now taking two lanes of the busy Jalan Tuanku Abdul Rahman and are about 2km away from Dataran Merdeka.
4.15pm - Jalan TAR - The main group has finally made it to Maju Junction Mall, where they are greeted by a few hundred green-shirts waiting to join in. They are now just a short walk away from Dataran Merdeka.
There are reports of heavy police presence behind the Sultan Abdul Samad building.
4.20pm - Jalan TAR: There is a bit of rain here but the crowd is growing exponentially. Latest estimate: 10,000.
4.23pm - Jalan TAR: March participants now occupy the entire width of Jalan Tuanku Abdul Rahman as the police and PAS unit amal volunteers prevent vehicles from entering the road after Maju Junction Mall.
As the rain is beginning to fall, many participants are putting on rain coats and opening up their umbrellas while marching.
4.30pm - Jalan TAR: The march goes pass Sogo shopping complex. Dataran Merdeka is just a few minutes away.
Bersih 2.0 co-chairperson Ambiga Sreenevasan is spotted among the crowd.
4:53pm - Dataran Merdeka: The crowd swells to well over 15,000 now and they are currently grouped up near the northernmost tip of Dataran Merdeka.
It appears that Jalan Parlimen and Jalan Tun Perak, which is perpendicular to Jalan Tuanku Abdul Rahman, has been blocked off to motorists.
This has allowed march participants and tourists to flood the streets at the very location that Bersih 3.0 was dispersed back in April 28.
The rain has ceased but the weather may not hold.
5pm - Dataran Merdeka: The police are manning two layers of barricades at the northernmost point of the Sultan Abdul Samad building.
Himpunan Hijau activists are creating their own human barricade in order to create a substantial buffer between march participants and the police.
5:05pm - Dataran Merdeka: Human Rights Commission member James Nayagam said the police had asked him to become the intermediary to talk to Himpunan Hijau supporters.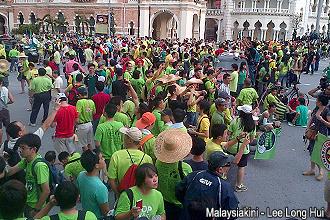 He said that the police had promised not to take action unless the barricade was breached.
5.20pm - Dataran Merdeka: March participants appear to be just idling while waiting for march leaders to decide on the next course of action.
Many were sitting on the Jalan Parlimen-Jalan Tun Perak-Jalan Tuanku Abdul Rahman junction which would be normally be choking with traffic.
5.25pm - Dataran Merdeka: Himpunan Hijau chairperson Wong Tack is triumphantly hoisted on top of a parked car to address the crowd.
He thanked Malaysians for showing support for the movement.
"You have come forward... Malaysia has come forward... ," he said. Latest estimate of the crowd: 20,000.
5.37pm - Dataran Merdeka: Dang Wangi district police chief Zainuddin Ahmad announces through the loudhailer that rally organisers will be investigated under the Peaceful Assembly Act for failing to seek permission for the event.
Zainuddin warned that investigations will be conducted under Section 9 (1) of the law and action can be taken under Section 9 (5) of the same law.
There is tension in the air as the authorities finally react.
Wong Tack responds by addressing Himpunan Hijau supporters again.
He said that throughout the 300km journey, doors were opened to march participants. But at Dataran Merdeka, the field is closed to them.
5.45pm - Dataran Merdeka: Tensions have cooled after Wong Tack's speech and rows of police personnel sat down. Many participants are finding places to sit as the rain begins to pour.
Wong is seen addressing reporters.
6pm - Dataran Merdeka: Wong Tack says he and a few of his followers will be sitting in front of the barricade until 9am the next morning.
"This (march) is not organised by any organisation. I am here as an individual. You are all here as individuals.
"I am responsible for myself and I will sit here. And you can all choose to sit here, or not," he announced.
6.30pm - Dataran Merdeka: Participants start trickling out of the venue peacefully. There are no reports of arrests.
Reporting by Lee Long Hui, Zulaikha Zulkifli and Lu Wei Hoong.
VIDEOS